Jarrod Maidens THW Close Up:
Date of Birth: March 4, 1994
Place of Birth: Grimsby, ON, CAN
Ht: 6-1 Wt: 178 lbs
Shoots: Left
Position: Center/Left Wing
NHL Draft Eligibility: 2012 1st year eligible
THW Ranking (May): 45th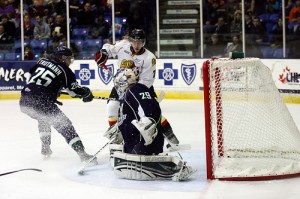 *Click here for Notes Up Front for various topics covered below in the live updated NHL 2012 Entry Draft Guide – The Next Ones home page – your quintessential draft resource.
Nicknamed 'Iron' in reference to his Maidens last name resembling heavy metal band "Iron Maiden", Jarrod wishes that his body was indeed made out of metal at times after battling through injuries during his first two Ontario Hockey League season. Drafted fourth overall in the 2010 OHL Priority Selection Draft, Jarrod Maidens scorched game sheets as a member of the Hamilton Jr. Bulldogs minor midget team racking up 63 goals and finishing with 104 points in a mere 57 games. Entering his rookie OHL seasons, Owen Sound was thrilled to add Maidens and his lethal shooting arsenal to the lineup. As an OHL freshman, Maidens missed twenty-plus games to a hip injury but returned in time to help his Owen Sound Attack make their triumphant run at the J. Ross Robertson Cup. Cue game seven of the OHL Championship versus the Mississauga Majors and in struts six-foot-one pivot Jarrod Maidens ready to leave his mark on OHL history. The young centre scored two goals including the overtime championship game winner giving the City of Owen Sound their first OHL title in franchise history.
Maidens' storybook season included an appearance on Canada's U18 team where he helped the red and white bring home gold from the Ivan Hlinka Memorial Tournament. After restoring hope in Ontario's small-market OHL franchises scoring the game winner and then adding gold to his trophy case, Maidens headed into his sophomore major junior season with loads of momentum. Unfortunately, after recording an impressive 23 points in his opening 28 games setting career highs in goals and points in half the games, Maidens suffered an injury in late November that would cost him the rest of his season. Jarrod's strong start to his draft season came to an abrupt end as his (undisclosed) injury kept him from competing in the CHL Top Prospects game and withheld him from the NHL Scouting Combine in May as well.
From my own personal observations in DobberHockey's Fantasy Prospects Guide,
The big centerman plays a strong north-south game leaving his mark around the goal crease with his ability to stickhandle and shoot in traffic. Once considered a first round lock, Maidens is an enticing package of size, grit and skill and his hard-nose approach will attract suitors but his latest injury will raise serious concerns.
Maidens' suspected concussion has to concern everyone following Maidens game including NHL scouts that were becoming captivated by his impressive skating mechanics and high character game. Entering the season, Maidens was projected as a late first round pick but with questions swirling around his health and lost development time, teams could let Maidens slide to the end of the second or start of the third round.
Analyzing Maidens' hockey skills has become difficult given his limited playing time but drawing off of his strong OHL Championship run and strong Ivan Hlinka tournament it is easy to see what attracts scouts. Maidens is a big pivot, also capable of playing the wing, that possesses strong puck possession skills using his reach and body to shield the puck. He is a strong positional player that reads the ice well in all three zones. Blessed with a terrific shot that features a hair-trigger release and pin-point accuracy, Maidens has the ability to score from any location. He will need to bulk up his lanky frame but the Grimsby native certainly has a knack for driving the net, a skill that will serve him well at the next level.
Jarrod Maidens' biggest weakness is best explained by a simple statement from OHL scout Sean Lafortune,
The major concern about Maidens game is not something that he can work on. Sadly, this season has almost been a lost one for him due to an undisclosed injury that took away a large portion of his season. The nature of the injury has not been revealed publically by the Owen Sound Attack, but the injury will be a significant factor in determining where he places in the 2012 NHL Draft.
While Maidens can improve his physicality, quickness and consistency, the uncertainties surrounding his suspected concussions cannot be discharged at this point in time. Given Jarrod Maidens' natural size and raw skill set, there is a chance that this intelligent player becomes a first round selection; however, if not, then Maidens has the potential to eventually become a draft day steal.
Scout's Honour:
Maiden's is a highly-athletic player who's an excellent skater, enabled by his upright posture and stride which allow for powerful thrusts that help him enter the zone effectively. He is always around the puck due to his skating and size.
David Burstyn –McKeen's Hockey Director of Scouting
When healthy, Maidens shows a lot of tools that make you think he could be a solid top 6 forward at the next level. His biggest asset is his strength and compete level. He is one of the better board players in the draft. He is strong at winning battles for the puck along the boards in the offensive zone. He uses his body to protect the puck from opposition defenders. He makes crisp tape-to-tape passes from behind the net. He is an underrated skater who shows strong footwork. He projects out as a good top 6 forward with leadership abilities.
Sean Lafortune – Future Considerations Scout and Founder of The Prospect Blog
Jarrod Maidens struggled with concussions all year, but has very good upside and could be considered in the first round. One of the better OHL scorers when healthy, Maidens has a shooter's instinct with a very good shot. He powers into dirty areas on the ice and shows a fiery attitude to win.
The Hockey Guys' Final 2012 NHL Draft Rankings
Maidens is not a flashy player who wows spectators with puck skills or skating but he does everything well and is what scouts have called a "classic underrated type". His best skill is his hockey sense, which is plus and translates into his offensive game through his positional play and great vision as well as his play in the defensive end. He regularly makes impressive feeds and will show high-end playmaking ability.
Corey Pronman – ESPN and Hockey Prospectus Draft Writer
Statistics:
Bio/Interview(s)/Link(s):
Neate Sager's Draft Tracker: 5 Questions with Jarrod Maidens, Owen Sound Attack
ETA = 3 years
Risk-Reward Analysis:
Risk= 3/5 Reward = 3/5
NHL Potential:
Top-six versatile forward with grit and scoring ability
Strengths:
*See "THW Close-Up" section above.
– Elite level shot
– High character player
– Strong positioning
– Good natural size
– Versatile
– Good leadership qualities
– Underrated playmaking abilities
Flaws/Aspects He Needs To Work On:
– Improve top speed
– Add strength to his frame
– Continue conditioning to prevent injuries
Fantasy Hockey Potential:
Offensive = 7/10 Defensive = 7.5/10
NHL Player(s) Comparison:
– Erik Cole
– David Backes (but less physical)
Video:
Off The Iron (Interesting Notes):
Follow Jarrod Maidens on twitter @jarrod_maids
Jarrod Maidens scored the Championship winning goal in overtime of game seven to give the Owen Sound Attack their first league championship in franchise history.
Ranked 35th among North American Skaters by NHL Central Scouting
Ranked 47th by McKeen's Hockey
THW's The Next Ones prospect profile template design architect: Chris Ralph
Follow @RossyYoungblood on Twitter for 2012 NHL Draft Day coverage