Jeremy McKenna
2017-18 Team: Moncton Wildcats (No. 12)
Date of Birth: Apr. 20, 1999
Place of Birth: Summerside, PE
Ht: 5'10" Wt: 175 lbs
Shoots: Right
Position: Right-wing
NHL Draft Eligibility: 2018 second-year eligible
Rankings
Jeremy McKenna is a second-year NHL draft eligible forward who has basically forced his way onto scouts' radars with his strong play and dedication to his craft. The 19-year-old forward recently completed his second QMJHL season and wound up tripling his offensive production by improving from 26 points in 2016-17 to 77 points in 2017-18.
The Summerside native led his Moncton Wildcats team in regular-season scoring and has shown an increased confidence with the puck on his stick. McKenna's heavy shot and quick release are his best assets and were a major reason for his 2017-18 36-goal campaign. The 5-foot-10 winger could hit the scoresheet even more frequently next season if he can further improve his skating.
Selected in the fifth round of the 2015 QMJHL draft, McKenna has taken an unconventional path to get to where he is today. The top scorer in the 2012-13 PEI Bantam AAA circuit, the winger took his talents to Saskatchewan for the next two seasons where he enjoyed success with the Notre Dame Hounds Bantam and Midget AAA programs. Following his selection in the QMJHL draft, McKenna spent his 16-year-old season playing in Austria on the same team as 2018 top prospect and childhood friend Noah Dobson. The duo returned to the Maritimes in 2016-17 and entered the QMJHL playing for provincial rivals.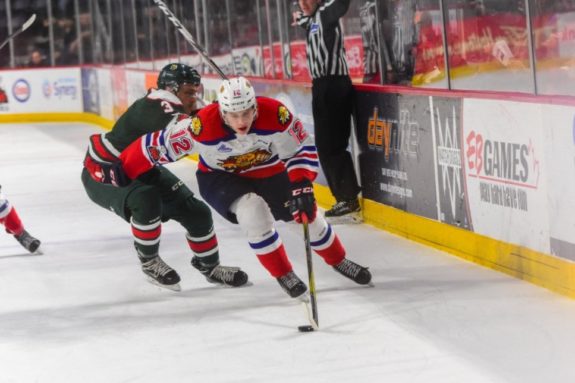 McKenna is a volume shooter and averaged 4.6 shots per game during the 2017-18 season. In fact, the right-shooting forward led the entire QMJHL with 313 shots on goal throughout the course of the year. Of those 313 shots, 200 of them were considered to be from dangerous scoring areas.
Wildcats head coach Darren Rumble rewarded the second-year forward's strong play with increased responsibilities by giving him time on both the power play and penalty kill. McKenna, in return, rewarded his coach by scoring 10 power play goals as well as three shorthanded tallies.
Despite his high shot totals, the Wildcats winger does not have tunnel vision like some other high-volume shooters. McKenna has actually developed somewhat of an underrated play-making ability as evidenced by his 41 assists this season. A double threat whenever he has the puck in the offensive zone, Mckenna's play away from the puck could still use some improvement.
Related: THW's 2018 NHL Draft Guide
Another area that could use some additional work is McKenna's first couple steps and overall skating ability. If the 19-year-old can add some more strength and explosiveness during the offseason then he could see his point totals take off even further in 2018-19.
McKenna's size and speed would be the major hurdles he'd have to clear in order to make a career at the professional level.
Jeremy McKenna – NHL Draft Projection
McKenna is a second-year eligible player so there's no guarantee that he's selected at all. His year-over-year offensive improvement has garnered some well-deserved attention and his willingness to put in the work definitely plays in his favor. He could hear his name called somewhere in the later rounds of the draft.
Quotables
"What set Jeremy apart this season was his offseason commitment to fitness. He put the work in this year which definitely gets the attention of scouts, plus he had good numbers as well and teams notice that." – Troy Dumville, NHL Central Scouting
"Jeremy's attitude, work ethic and ability to generate offense all make him attractive as a player." – Shane Turner, Amateur Scout – Dallas Stars
Strengths
Volume shooter
Excellent work ethic
Pro release
Under Construction (Improvements to Make)
Explosiveness
Strength
Play away from the puck
Other 2018 NHL Draft Profiles
NHL Potential
McKenna enjoyed substantial improvement in a multitude of areas this past season. He tripled his offensive production from 2016-17 and will be looking to make another jump next season. If McKenna can continue to improve his speed then he will have a chance to reach the NHL as a complementary scorer. McKenna's heavy shot is already pro-level.
Risk-Reward Analysis
Risk – 3/5, Reward – 3.5/5
Fantasy Hockey Potential
Offense 7.5/10, Defense 7/10
Awards/Achievements
Played his 2015-16 season in Austria alongside fellow 2018 NHL draft prospects Noah Dobson and Sampo Ranta, where he registered a team-leading 40 points in 24 games. McKenna has represented Prince Edward Island in various tournaments and events.
Interview/Profile Links
Videos