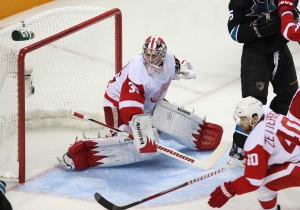 Just as things looked to be firing on all cylinders for the Detroit Red Wings and their newly improved road game, they were met with the inevitable injury set back. Friday morning, following their 4-3 shootout victory over Vancouver, it was revealed that workhorse goaltender Jimmy Howard had suffered a broken finger and would miss at least 2 games before being reevaluated in Detroit. The devastating blow comes as Detroit increased their lead over the rest of the West to 4 points with their league best 35th win.
Howard, the goaltender on record for 32 of those victories, has started in 44 of Detroit's 52 games this season thanks in large to the consistently spectacular play that earned him his first All-Star nod this season. In addition to this play, the faltering performance of backup Ty Conklin has resulted in an increased workload for the 27 year-old netminder.
While the severity of Howard's injury looks to be minute, the Red Wings will surely be cautious with the goalie they've relied on so much this season. Howard has been Detroit's MVP through the first 52 games, and the only player who has been consistently good through thick and thin. Bailing the team out time and time again, his sensational play has spoiled Red Wings' defenders by covering the majority of their mistakes, something Conklin hasn't proven able to do thus far.
While a 2 game hiccup wont spell doomsday for Detroit, every point is important in a Central Division that sees 4 teams sitting in the top 6 playoff spots in the West. Can Ty Conklin step up to the challenge, even if it is for just a short time? Can Detroit's defenders step up their game in accordance?
This may actually be a good thing for Detroit down the stretch. Barring any long-term consequences of such an injury for Howard, it will force Detroit to play better. Either Conklin or the defense will have to step up, and the Wings can benefit from both. It also results in an unplanned rest for Howard, who was on pace to start 70 games this season, before taking Detroit on a run in the playoffs. Such a workload could easily exhaust Howard, and after not receiving the same rest most players enjoy over the All-Star break, this may be much-needed recuperation time.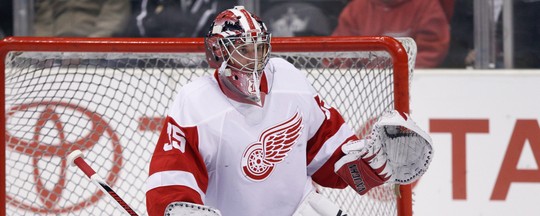 If Conklin does step up, it could result in even more rest for Howard down the road, as Detroit will feel confident rolling either netminder. If Conklin fails to step up, it could prompt Detroit to look elsewhere for a backup as the trade deadline nears, and depending on the amount of games Howard will miss, could see 3rd string goalie Joey MacDonald starting in his place.
There is no question that this isn't ideal for a Red Wings team that is beginning to surge. Going 9-1 over their last 10 and relying heavily on Howard during shootouts in that stretch, the team has looked increasingly better as the season has gone on. Finally pulling their road record back above .500 (15-14-0), Detroit has exuded most of their dominance at home, where they've won 17 straight, all with Howard in net. If Howard is forced to miss more than 2 games, Detroit will need to find a way to win at home without him on Wednesday when the Oilers come to town.
All great teams must face, and overcome, adversity. Whether the length of this adversity is 2 games or 10, Detroit will need to overcome the hurdle and prove they have what it takes to go deep in the playoffs. This presents itself like a mini-test for the team to see where they're at this season. When you are the measuring stick for everyone else, you must be your own as well. Will they pass this test with flying colors, or will problems that need fixing be exposed? Will they live up to the recent hype they've garnered, or come crashing to the ground without their All-Star goalie? The next 2 games hold those answers.
Andrew is a passionate hockey fan at heart, and has been since a very young age. Residing in Michigan, he grew up with the team he currently covers at THW, the Detroit Red Wings.