Oh say, can you see… how Team USA might win the men's hockey gold medal at the Winter Olympics in Sochi, Russia? 
I'm Canadian, but I'll tell you: Team USA seem a formidable foe in Sochi. And I say that with love for the esteemed group that will round out Team Canada's roster at the 2014 Winter Olympics. Canada are the defending goal medalists; winners of two of the last three Olympic hockey tournaments; they're stacked on paper and I wouldn't be surprised if they win gold in Sochi. Nope, I wouldn't be the slightest bit shocked if Sidney Crosby, Drew Doughty, Ryan Getzlaf and the bunch return to NHL action in late Feb. with golden medallions around their necks and four more years of bragging rights in their back pockets. That being said, the twenty-five American hockey players that will make the trek to Sochi next week, well, I think they got what it takes.
For all the grit and great goaltending that defines the 2014 Olympic edition of Team USA – and there is plenty of it – I'm especially intrigued by America's dynamic duo of right wingers. Phil Kessel and Patrick Kane will lead a group of American forwards who are more than capable of conquering foreign territory and claiming supremacy as hockey's top nation.
Kane and Kessel
Kessel and Kane, or Kane and Kessel if you prefer – these two young Americans don't have much in common, but there is one trait they share: they're two of hockey's most lethal offensive players. And elite offence is required to win a gold medal in hockey at the Winter Olympics. Check.
Heading into this Saturday's action Phil Kessel and Patrick Kane are tied with 63 points apiece, good enough for fourth in NHL scoring. They trail Canada's Ryan Getzlaf (64), John Tavares (65), and the incredible Sidney Crosby whose 78 points place him well ahead of the pack.
What makes Kessel and Kane so dangerous to the opposition in Sochi is that both players are world class dynamic offensive weapons. In a one-game elimination tournament like the event upcoming at the Winter Olympics, America's top right-wingers can account for decisive finality on the scoreboard. Kane or Kessel might become an American hero in the very near future; not quite a Miracle On Ice, but a Masterpiece In Sochi.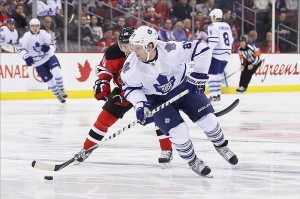 Kessel: he's a pure sniper; maybe even the purest in hockey. Phil The Thrill is a speedy shooter who can bury from here, there, and everywhere. Furthermore, Kessel is one of few shooters in the NHL who doesn't need plenty of space or ideal circumstances to locate a mesh target and hit it with an archer's accuracy while skating at full speed. In fact, there are only a handful of players who can snipe with the delicate deadliness of the Leafs' top gun, and Patrick Kane himself is not even one of them.
Kane: he's a knife through hot butter; a bullet with butterfly wings. No one in the National Hockey League is as adept at puck on stick proficiency. Patrick Kane of the Chicago Blackhawks is a magician as much as he is a hockey player, simply put. His wand is a graphite stick, although if you've read James Mirtle's recent post for The Globe And Mail you'd think Kessel's cue has its own magical powers, and it might.
Kessel and Kane are as divergent as apples and oranges. Sure, there are similarities between the two American born superstars, however, their differences are what separate them as two of hockey's most uniquely gifted offensive threats.
Kessel can pass, and he's exceptional at carrying the puck in full flight – qualities Kane is well known for. Kane can shoot, and his backhand or spin-o-rama flair allow him to deceive goaltenders more often than most who earn an NHL pay-cheque. He's a scorer, not unlike Phil. But Kessel doesn't dangle like Kane. Kane doesn't fly a straight line and finish at full-speed like Kessel. They both wreak havoc, but they do it with their own distinct style. Good luck stopping them in Sochi.
Whereas Kane is a lock to penetrate the stifling neutral zone trapping efforts of Europe's most well-coached teams, Kessel is equally as deadly a proposition in that moment when a defenceman makes an ill-advised pinch or gets caught allowing Phil to explode in the opposite direction on a 2-on-1 or breakaway. There is a reason Team Canada insisted on bringing properly handed defencemen to grace all four D pairings. The last thing any coach wants in an elimination game is to succumb to tournament death because a right-handed defenceman on the left-side makes a soft backhand play that springs a guy like Phil Kessel or Patrick Kane in the opposite direction with the game on the line. Game over.
Winning Gold In Sochi Won't Be Easy For Team USA
Team USA isn't the only Olympic hockey team with elite scoring options. Good luck stopping Crosby, Tavares, Perry and the rest of Canada's NHL captains, and major trophy winners. As of today, Crosby has a 13 point lead on the rest of the pack in the NHL. Sid The Kid is the best, but the best player doesn't always win. That being said, if I can argue that Kane and Kessel are offensively lethal enough to decide an important game, I'd be remiss to not clearly point out that Crosby is by all accounts even more deadly at any given moment. Game over.
http://www.youtube.com/watch?v=4yeiWaXkJSo
Good luck shutting down the NHL's leading goal scorer Alex Ovechkin and a host of supporting cast members that consists of Cup winning heroes the likes of Evgeni Malkin and Pavel Datsyuk. Oh, and best wishes to any Olympic hockey team hoping to stop Ilya Kovalchuk; one of the few who can decide a game with as much menace as anyone, and possibly more authority. That's to say nothing of Alex Semin – last minute addition to the Russian men's hockey team – he can, on any given night (say in a gold medal game on home soil) be the best player on the ice. Semin is deadly when he's motivated. He might be motivated in Sochi. Team Russia is plethoric with game enders.
Kessel, Kane, and the rest of Team USA: they won't have it easy in the hockey tournament at the Winter Olympics in Sochi. Not easy, but maybe rewarding in the end. Team USA may only be a few weeks away from its first Olympic gold medal in men's hockey since 1980 when America upset the heavy favourite Soviet Union, signifying the most important event in American hockey history; Team USA's version of the Summit Series.
Team USA enter the 2014 Winter Olympics hockey tournament facing stiff competition, as well as, the lingering ghosts of Games gone bad with an NHL roster in a foreign land. But, they have Kessel and Kane; a duo that is more than capable of playing hero against even the finest collection of competitors from Canada, Russia, Sweden or 2014's version of Cinderella.
Kessel and Kane
Kessel: he's spent several years proving his nay-sayers wrong. He has the ability to make a big time splash in the I-showed-you department representing America over the next few weeks in Sochi. Kicked out of Boston as a 21-year-old; traded to the lowly Toronto Maple Leafs for two first round picks! The Bruins won the Cup shortly after the Kessel Trade, while Phil quietly scored 30 or more goals every full season only to be best known as the guy who got picked last at an  All-Star game. Tough going, but he did, and continues to do, his thing. Toronto has learned to love the shy Phil Kessel – he's one of hockey's most natural goal scorers, plain and simple. America may soon love him very much, too. They'll be cheering in Boston if Phil plays hero in Sochi.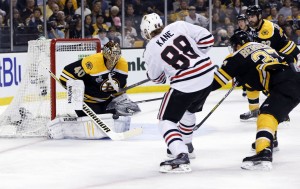 Kane: born with a silver mug in his mouth. The Blackhawks 1st overall selection in 2007 won a Stanley Cup to cap off his third pro season at the young age of 21-yeard-old. Heck, Kane even scored the infamous Cup-winning goal against the finalists from Philadelphia back in 2010. The silent killer. Where's the puck?
Mere months ago, P Kane won his second Stanley Cup and a Conn Smythe trophy, as well. He has experienced the finest moments with the Hawks but it's earned him a whole lot of silver; not enough gold. Much like Kessel, Kane's professional international resume is equally lacking in golden work experience. But they're young, and with sheer offensive brilliance, Kessel and Kane can change everything for Team USA with efforts that equate to ending elimination games and a lengthy American gold medal drought in men's hockey at the Olympics. This could be the dawn of a new era in American hockey with Kessel and Kane making headlines as heroes; as goal scorers who come through in the clutch.
Kane and Kessel both: they obviously want to win a gold medal in Sochi, but what's even more relevant is that they are capable of achieving that goal.
If you've ever seen Kessel or Kane play you're well aware that each player can single handedly dictate the outcome of a game. In Sochi, they'll be tasked with doing much of the same they've done for their respective club teams over the last few seasons – create offence and destroy the competition.
But Team USA isn't a top contender simply because it will ice a roster that includes two of the NHL's top five point producers this season. No, no, America brings to Sochi a well-rounded roster of supporting soldiers who will help USA's top guns attempt victory.
Zach Parise will wear the captain's "C" for Team USA in Sochi. The big money native of Minnesota and member of the Wild is a goal scorer in his own right, and one of the game's finest two-way players. He led an underdog New Jersey Devils to the Stanley Cup finals in 2012. At the Winter Olympics in Sochi, Parise will enjoy a more potent supporting cast than he's accustomed to, and for all the talk about what Kane and Kessel are capable of, it's worth noting that Parise is cut from the same scoring cloth.
Ryan Miller and Jonathan Quick are the goaltenders who will vie to shutdown all who whip rubber at American blue soil on the ice in Sochi. Take your pick as to who should start for America in the elimination games that await, but the truth is, it hardly matters. Miller or Quick: America will not be lacking between the pipes.
Team USA's fearsome foursome won't go down without a fight in Russia. Ryan Kesler, Dustin Brown, David Backes and Ryan Callahan will serve as America's generals at Sochi's hockey tourney. No other nation brought a group like those four. These are punishers; fierce competitors who are as mean as they are skilled, and they don't like to lose. The distaste for defeat that makes Kesler, Brown, Backes and Callahan so vicious and effective will ensure that one-upping America at Olympic men's hockey is going to be a torturous task.
When Team USA lost to Canada at the 2010 Winter Olympics in Vancouver they did so by one goal, and in overtime. The victors write the history books, thus, Canada rightfully claims the glory from 2010, but America was so close. It could be close again, is what I'm saying. And this time, I won't be shocked if it's Team USA that wins a gold medal in men's hockey at the Winter Olympics.
Kane and Kessel could provide the necessary offence to play hero in a medal round overtime scenario against a great hockey nation like Canada, Russia or Sweden because at any given moment, these two American shooters are talented enough to be the difference between life and death in hockey terms. With one swift swing of the stick, it's Kessel who can end a gold medal game. It's Kane who can seal his nation's fate like he's done in the past with the Chicago Blackhawks.
The great thing about the 2014 men's hockey tournament at the Winter Olympics is that the winner isn't obvious beforehand. Sure, Canada and Russia are pre-tournament favourites, but would anyone be shocked if Team USA bests them both? I won't be shocked. In fact, it wouldn't even be mildly surprising to me if Team USA wins the gold medal in men's hockey at the Winter Olympics in Sochi. And I certainly won't be flabbergasted if one of Patrick Kane or Phil Kessel return to North America with tournament MVP honours and a gold medal.