Kevin Fiala is considered the best Swiss prospect and one of the most NHL ready forwards the country has produced lately. He was drafted 2014 by the Nashville Predators with their first pick and selected 11th overall. After spending time in different leagues in Europe and North America to develop his game, He seems to be ready for the next step.
Looking for development in Sweden
While in Nashville the name Fiala might start to gain more attention, in his home country Switzerland he wasn't on the radar of many hockey fans until he suited up for Switzerland at the World Championship 2014 in Belarus, where he caught attention not only because he wore a full face shield, but because he convinced with fearless, energetic appearances and tons of joy to play. He left his home country back in 2012 to join the Malmo junior team in Sweden. There have been several Swiss players who tried out this career path to get more attention by NHL teams and to benefit from the excellent youth academies in Sweden. One of the most famous names going this road is former NHL goaltender Martin Gerber, who joined Farjestads and ended up being drafted by the Anaheim Mighty Ducks. Back in 2012 when Fiala joined Malmo, he was only 16 years old. He left his familiar environment because he was convinced to have the best possible development somewhere else and together with his father he agreed Sweden is the best place for him. North America wasn't an option at that point because of his lack of size.
Fiala's break out year and Draft party
One year later Fiala changed into the organization of league rival HV71 from Jonkoping. He wanted to be part of a bigger team to develop his game further and in the season 13/14 he played his first season games in the highest Swedish league with HV71. Fiala had already an impact in his 17 regular season games and 8 playoff appearances notching a total of 17 points. It was definitely Fiala's coming out party and his stock started to rise. He participated in the U18 and U20 Worlds plus the Swiss National team invited him to play in the World Championship tournament in Belarus. After this tournament he flew to Philadelphia for the draft where he was picked 11th overall by the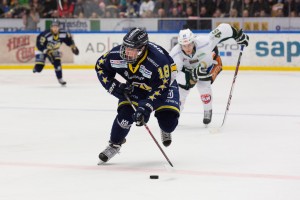 Nashville Predators. He started this season in the Swedish league with HV71 but in January the Predators believed Fiala is ready for the next step and it is the best for his development if he joins their AHL-affiliate Milwaukee Admirals to get used to the North American game. He didn't need a lot of time to get accustomed to his new home and had 20 points in 30 games with the Admirals. On 24th March things worked out well for him when he was recalled by the Predators because of injuries and he suited up for his very first NHL game. He skated on a line with  Mike Fisher and Craig Smith and impressed Coach Peter Laviolette with creativity and offensive involvement. After finishing his season in Nashville including one playoff appearance he played in his second straight World Championship tournament and travelled to Prague to join his fellow countrymen. A very special moment for Kevin Fiala whose parents are both Czech and when he scored against the hosts he described it as one of the best moments in his career because his grandmother as well as his parents watched the game.
Per the #Preds TV broadcast, Kevin Fiala the 6th youngest player to ever make his NHL playoff debut at 18 years & 273 days. #whippersnapper

— Brooks Bratten (@brooksbratten) April 22, 2015
There have been uncertainties about his size and if this is hindering him from playing in the NHL one day. Fiala is listed at only 5'10 and 187 lbs and doesn't always show good balance along board battles. His boyish appearance is underlining this impression. However, he is working to become more physical and often he manages to get rid of opponent players with his quick legs and explosive acceleration. Fiala shows good vision and a matured understanding of the game. He has good hands and possesses a very accurate pass. Although he tries to be more involved in his own zone, his strength is definitely the offensive game, where he can be a very dangerous player. One aspect of his game he needs to get better is, to simplify his game. Often he goes into one-against-one situation too many times and is looking too much for risky passes instead using a safe one. But one thing the Predators like about him is his creativity. Fiala is always trying to create scoring chances and is a player you turn to when in need of a goal.
Looking to make team next season
Fiala is looking to impress in the pre-season games and hopes to make the team on the Predators opening night. If you have a look at Nashville's depth charts you will see that this is quite a challenge. Nasvhille has a deep roster but a busy summer ahead with pending Free Agents. Furthermore players like Beck, Bourque, Stalberg, Clune, Arvidsson and others are pushing for a roster spot and are focusing to make the team for the opening night as well. Additionally the Predators have signed forward Steve Moses who spent the last season with Jokerit in the KHL and produced pretty impressing numbers and will create even more competition on the wing. However, expect to see Fiala suiting up in NHL games next season. He is the teams number one pick from last year and one advantage Fiala has over most of the others is his offensive creativity. Not to forget he turns only 19 this summer and having already played in an NHL playoff game at this age is pretty impressive and shows the confidence Nashville has in him as one of the organizations top prospect.
Poile: "[Kevin] Fiala looks like the real deal and might be ready as soon as next season." #Preds

— Thomas Willis (@TomAWillis) April 28, 2015