Kevin Hayes had a rough second year in the NHL. After a terrific rookie campaign with the New York Rangers, where he posted 45 points, the big center fell into the dreaded sophomore slump which saw his production slip down to just 36 points in the same amount of games (79) last season, but more importantly he just looked lost on the ice.
Everyone knew that Hayes would have a lot of work to do coming into his third season, but I don't think anyone was expecting to see such a well-rounded game out of the forward. Hayes has been better than ever on offense and he's showing everyone that he could help the team on defense as well.
Stronger Defense
Hayes has never been defensively irresponsible, but this season he's been unyielding in his end, not just in coverage but the faceoff circle as well. The Boston-born centerman is 50 percent on faceoffs so far this season, which is a significant upgrade from last year when he finished the year at 35.9 percent. The real indicator of improvement is his expanded role in defensive zone draws; in 11 games this year he's already won more defensive draws than he did all of last season. The big difference I see with him in the circle is that he looks like he's getting lower to the ice and is using his body more effectively.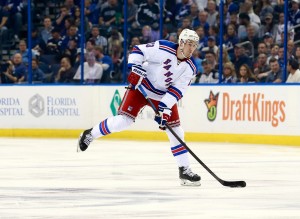 Hayes has also assumed a role on the penalty kill, which is something that the team didn't use him for last season. He's currently playing an average of 1:21 per game on the unit and he has shown the club that he has all the tools to keep opposing power plays honest. He has great reach with his stick to break up passes and pressure the opposition, but he has also become a better and more aggressive skater. Hayes' deployment on the unit could help the Rangers' offense while on the penalty kill, improve; last year the team only had three goals in said situations, all by Derek Stepan. So far this year Hayes looks like the last thing on his mind while killing a penalty is scoring, but it's only a matter of time until he ends up springing someone on a breakaway with the way he can pass the puck.
Back on Track
Last season when Hayes struggled, he was simply not engaged in the play. He wouldn't move his feet enough to get away from defenders and if the puck did find him he almost always tried to make a slick pass rather than shoot. What we see more of this season is the big forward being more aggressive on the rush — to complement that aggression, he's been shooting the puck and getting rewarded.
Rangers' head coach Alain Vigneault spoke about both Hayes and J.T. Miller and their growth in a press conference,
Through perseverance on their part, through coachability on their part, through using the people that are here for them. From the nutritionist to the conditioning coach to the skill coach to the video coach; have progressed and you know started to figure things out, as to what a true professional is.
Vigneault seems happy with the development of Hayes — last season the coach made the center a healthy scratch a few times, but so far this year the coach has given him a bigger role.
My Take
Hayes has gotten stronger and faster and in doing so he has given the Rangers a dangerous third line. I think it hurt Hayes to lose Carl Hagelin last year, as the speed on the wing just seemed to help Hayes play to his strengths. Now the Rangers have Michael Grabner, who's very similar to Hagelin on the wing and his presence seems to have helped the Bostonian get back to basics. It's still early, but I could see Hayes being part of the Rangers core of centers for a long time to come.
It's always good to see players bounce back after bursting in as a rookie and showing so much swagger and skill, fans got their hopes up that Hayes would be even better in his sophomore season. As we know that didn't happen. Now, though, here we are in the third season of his career and we're starting to see the fruits of his development.