For the Los Angeles Kings, game one of the Darryl Sutter era ended on a positive note.  Mind you there are still quite a few kinks to get ironed out, but a 3-2 shootout victory over the Anaheim Ducks is a start.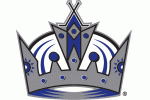 Shoot, shoot, and shoot again, has been the prevailing philosophy of late for L.A.  Not a bad strategy for a squad looking for any kind of consistent offensive output.  In their tango with the Ducks, the Kings fired 35 shots on goal but only broke through for two in regulation.  L.A. also had issues once again with the extra attacker, going 0-for-4 against the Ducks.
One positive that has followed suit in the Kings' victories of late, is the scoring touch of Captain Dustin Brown.  Brown certainly kept his club afloat against Anaheim.
Another positive for the Kings was having Mike Richards in the lineup.  As the Kings trailed 1-0 late in the second, Richards re-directed a Drew Doughty shot from the left point, past Jonas Hiller, for his 12th tally of the season.
Los Angeles would take its first lead, midway through the third.  A beautiful drop pass by Anze Kopitar, to Brown, allowed the Kings Captain to blast the puck past Hiller for a 2-1 advantage.  It was also a rush generated by Doughty, who registered a secondary assist.  An excellent sign indeed for the Kings, as Doughty had been searching to regain his form, following his early season holdout.
However, the Kings lost control late and Lubomir Visnovsky, who earlier assisted on Anaheim's first goal by Niklas Hagman, put one past a screened Jonathan Quick, knotting the affair at two.
In the shootout, just as he was against Columbus and Toronto, Brown was the hero for the Kings and Quick fended off Kyle Palmieri for the 3-2 win.
So Los Angeles has now won consecutive games for the first time since they swept a home-in-home with the Ducks in mid-November.  Plus it's their first home victory since knocking off the Florida Panthers 2-1 on December first.  Although they're still having difficulty gaining traction in the Pacific Division, given the San Jose Sharks have won three in a row and the Phoenix Coyotes have won their last two.  Speaking of which, those teams will serve as the Kings next two upcoming opponents.
In any event, the Sutter era starts off in the right direction in L.A.