At the "Shark Tank," just  as the Jimmy Buffett song goes, there were fins to the left and fins to the right.  Luckily for the Los Angeles Kings, goaltender Jonathan Quick was there at every turn.  Had Quick been just a bit faster than Ryane Clowe, they may be in shootout round 16 and counting in San Jose.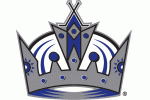 In the first frame, Quick denied the Sharks Joe Pavelski on the right post.  When Pavelski tried his luck at the left side, Quick replied in kind, sprawling and squeezing the puck against the left post.  During the third, Quick was playing hacky sack with the puck, swatting the puck three times in one play.
Also holding true in this one was the old adage that your goalie is your best penalty killer.  On the evening, Quick and the Kings defense locked down the Sharks power-play, holding them at 0-for-5.  L.A. has been especially good on the penalty kill overall, fending off 64 of their last 67 kills.
Equally impressive defensively were the Sharks.  San Jose essentially walled off every potential threat before Los Angeles could get anything set up late.  The Sharks actually held the Kings under 30 shots (29) for the first time since the Kings were mauled 8-2 in Motor City, at the hands of the Detroit Red Wings.
Speaking of shots, both clubs combined for a paltry 12 in the first stanza.
However, in the second each team would pick it up.  The Sharks drew first blood, as Clowe found Logan Couture, who drilled home his 15th from the left circle to give San Jose a leg up at 1-0.
As solid as the Sharks are defensively, they are tied for second worst in the league on the penalty kill and it showed late in the frame.  After Anze Kopitar made a nice pivot behind the net, he found Mike Richards in front, who buried it past Antti Niemi to knot it up at one all.  For Richards, who appears to be heating up, it was his second in as many games and his 13th overall.
Each club really pushed and grind and battled for 65 minutes, yet for the third game in a row, the Kings would go to a shootout.
During the shootout, Clowe gave the Sharks all they needed, beating Quick high to the stick side for the lone and winning goal.  Meanwhile, Niemi was more than equal to the task, stoning every Kings shot and the Fin helped carry the Fins to a 2-1 victory.
Despite dropping the hard fought, intensity laden, intrastate, intra-division affair, the Kings have now five points in their last three and seven in their last five.  Not that they feel particularly great about their position in the standings, but the Kings can take some solace in having stabilized of late.  Following the break, the Kings will continue their quest upward at divisional foe Phoenix on Monday.