Jim Neveau, NHL Senior Columnist
In what can only be described as one of the best games of this still young hockey season, the Washington Capitals defeated the Tampa Bay Lightning 6-5 in a shootout at the Verizon Center. Jason Chimera scored twice for the Caps, and Tomas Vokoun made 23 saves en route to the victory. Bruno Gervais, Dominic Moore, and Teddy Purcell all had a goal and assist for the Bolts, and Dwayne Roloson made 38 saves in a losing effort.
In what was likely a preview of battles to come for the Southeast Division, the Caps and Lightning both revealed several things about themselves that could prove to be critical as they compete for one of the top three spots in the Eastern Conference. With all due respect to the Panthers, Hurricanes, and Jets, these two squads are virtual playoff shoe-ins, and they proved it by competing in a game that had the feel of a playoff tilt.
So what did we learn about each of the teams, and what do those lessons mean for each of these teams moving forward? Here's a breakdown:
Both Teams' Grinders Make Them Dangerous
If this game taught us anything, it's that scoring can come from unlikely places, even if players like Alex Ovechkin and Steven Stamkos are on the ice. In fact, of all the points tallied in this game on both sides, none of them belonged to stalwarts like Stamkos, Vincent LeCavalier, Martin St. Louis, Nicklas Backstrom, Ovechkin, Mike Green, or Alex Semin. When you consider that 10 goals were scored, that statistic is even more mind-boggling.
A couple of players stood out above the others in this one on both sides. For the Capitals, Chimera is an obvious person to start with. Not only did he have two goals, but he also had seven shots on net, three hits, and was one of the driving forces behind the Caps' willingness to drive the net and get traffic in front of Roloson. Joining him in that effort was Marcus Johannson, who scored a goal and added an assist and was probably the Caps' most energetic player all night. Finally, there was the effort of Troy Brouwer, scoring a tremendous tip-in goal and dishing out a team-high seven hits.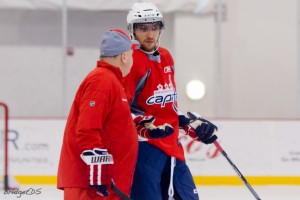 For the Lightning, it was Nate Thompson who really stood out, with a goal and five shots on net in the game. He also came close to ending the game in overtime, getting a short-handed breakaway before being stopped by Vokoun. Brett Clark and Eric Brewer also provided some punch on the blue line, with Clark scoring a goal and an assist in addition to his seven hits. Brewer didn't make it on the scoresheet, but he did block an incredible seven shots and dish out six hits.
On two teams noted for their star-powered offensive skill, it was their ability to play physical and get scoring from unlikely places that defined this game.
Tomas Vokoun Is Capable of Standing On His Head When Needed
Vokoun, one of the Caps' biggest off-season acquisitions, didn't exactly get off to a stellar start in his first game with the team. After sitting out the team's opener, Vokoun allowed two fluky goals in the opening minutes, with both shots coming from behind the icing line. One bounced off of Green, and one snuck in past Vokoun's pad.
In all, Vokoun allowed five goals, but it was the saves he made late in the third period and in overtime that really stood out. In the third, he stoned LeCavalier on a point-blank chance in the crease, flashing out his pad at the last second to keep the game tied. In overtime, he stopped three different shots from Stamkos, all of them absolutely ripped shots off of one-timers that easily could have found the mark. Factor in another doorstep opportunity for LeCavalier, and it becomes clear that Vokoun settled down eventually despite his rough start, and even though he would never say that he played a good game, it was his effort that allowed the Caps to come back and win this one.
Caps' Players Do Indeed Respect Bruce Boudreau
Last season, as the Capitals were struggling their way through a lengthy losing streak, there was plenty of calls going around for the team to fire Bruce Boudreau. One of the many claims that those advocating his dismissal made was that the team had lost respect for him, and were beginning to tune out his message. Although the HBO special 24/7 didn't exactly show that, the rumors persisted, and the calls for his ouster resumed after the team was taken out of the playoffs by the Bolts.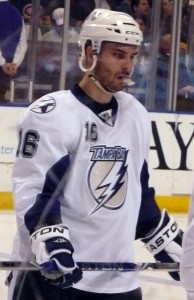 On Monday night, there was an incident in the second period that showed fairly conclusively that the players on the Caps do respond to Boudreau's message. After a terrible defensive effort led to a goal by Moore, Boudreau absolutely lit into some of his star players, notably Ovechkin, Knuble, and Backstrom. He yanked them off the ice immediately and launched into a tirade that had even NBC's Pierre McGuire stunned, and after several minutes off, they returned to the ice.
On their very next shift, their play was markedly different. They were all throwing their bodies around, had a tremendous shift in terms of puck possession, and in general looked like the talk had motivated them. Whether it was them angrily trying to prove Boudreau wrong, or just playing hard because they wanted to impress him, it was pretty clear that Bruce's actions had an effect on them. If he can work that type of magic with his stars, it's easy to imagine that the guys who are lower on the totem pole would follow suit.
Power Play Concerns Abound for Both Clubs
There were 11 power plays in this game (seven for the Caps, four for the Bolts), and there were zero goals scored on those. Both teams had some good puck movement at times, with the Caps having a couple great power plays in the second and the Lightning doing a fantastic job on their man-advantage during the overtime frame.
Even though their puck movement and net presence was good, both teams are going to need to work on finishing the job. Too many shots ended up going wide of the net on both sides, and they'll also have to work on getting cleaner opportunities and get less pass-happy.
Victor Hedman Is Good, But Still Has Plenty to Learn 
Hedman had a tremendous game on Monday for the Lightning, and really lived up to the rave reviews that he has been getting from the team's coaching staff for his work ethic and maturity. He played 27 minutes in the game, including 6:31 short-handed, and he also had four hits and two blocked shots.
Even though he played well on both ends of the ice, he did make a couple of mistakes, notably one involving Ovechkin. In the midst of 4-on-4 action, Hedman pinched in on a play from the blue line to try to put a shot on Vokoun, but when he was unable to get the puck, the Great 8 made his move. He sprinted up the ice vacated by Hedman, and it took a tremendous effort by Clark to prevent Ovechkin from getting a clean breakaway on Roloson.
Obviously the Lighnting love that Hedman is aggressive enough to make offensive plays, but in a situation like that with a sniper of Alex's caliber on the ice, he has to be more defensively responsible.