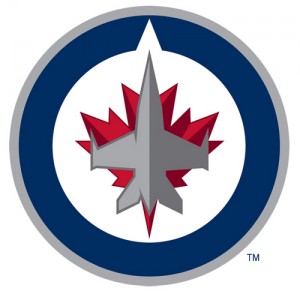 While two games sit on the Winnipeg Jets' season schedule between now and the weekend, fans can't help but look past the two contests and concentrate on Saturday's tilt vs. the Toronto Maple Leafs.
The contest, after all, is the first New Year's Eve game in the new era for the NHL Jets, a tradition that most players are unfamiliar with but hockey diehards in the River City know well.
For years, the Manitoba Moose, the one-time tenants of the MTS Centre, would host rival franchises for what arguably became the most anticipated regular season tilt of their schedule. In their last season, the Moose hosted the much hated Chicago Wolves for the final NYE tilt, which drew 11,000-plus fans to see their home squad. (The Centre would usually not open its upper bowl for Moose games, except for special event nights like this.)
This year's contest promises to hold much the same drama as years' past. Prior to Tuesday night's action, the Jets and Leafs sit just three points apart in the standings.
But the game is almost secondary to the celebration of  the close of 2011, a year which turned the hockey world on its ear. This time last year, there were so many hopes that the former Jets, the Phoenix Coyotes, would be the hometown team once again. Instead, it is the former Atlanta Thrashers who now occupy the MTS Centre (though you'll hear nary a complaint about that factoid).
Last year, Winnipeg was an AHL city with NHL dreams. Today, the MTS Centre hosts sold-out, elite-level hockey games thanks to the persistence, yet calm-and-cool moves by True North Sports and Entertainment, led by Mark Chipman.
Over the next few days, local media will invariably retell the Jets ownership story in year-in-review articles and with good reason – despite numerous other headline stories (both good and bad), nothing has lifted the city like the return of NHL hockey. Holiday time rushes, such as the over-capacity crowd at a local car dealership for an Evander Kane autograph signing, and outdoor celebrations like the May 19 gathering at Portage and Main, don't happen very often here.
So while the Jets and Maple Leafs, two longtime rivals, battle on the ice on December 31, the night will be a true celebration of a community's spirit in 2011 and the hope of more excitement to come in 2012.