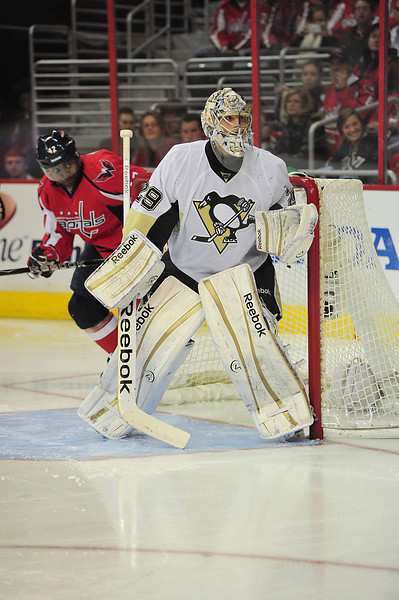 Marc-Andre Fleury MVP
Criticize him all that you want, but Marc-Andre Fleury is the Pittsburgh Penguins' team MVP at the quarter mark of this season. It's been echoed by every Fleury hater that his past success (yearly 35 win seasons) is attributed to playing on one of the most talented teams in the league. Fleury has certainly been the beneficiary of his high scoring teams in past seasons, but this year is a different story.
For the first time in years, the Pens aren't employing a veteran back-up goalie to take some of the workload away from Fleury. The Flower has been between the pipes for 18 of the Pens 22 games this season. This demanding schedule will more than likely lessen if Ray Shero trades for a quality back-up goaltender who can give Fleury some rest. Until then, everything rests on Fleury's shoulders. Dan Bylsma obviously doesn't trust Jeff Zatkoff because Bylsma has given Fleury the starting nod in nearly every game, including back-to-back contests. Fleury has been the backbone of this team when every fan had lost faith in him after last season.
The Flower is on his usual pace to collect at least 35 wins again this season. Despite the fact that Fleury is stacking wins and is tied for first among goalies with 13 victories, his individual stats are the best of his career. He's boasting a .924 save percentage. Fleury has never finished with a save percentage higher than .918, except in 2007-08 when he only participated in 35 games. More impressive is Fleury's goals against average. His GAA is 1.90, also well above any season best. Fleury's best GAA for an entire season is 2.32 and his career GAA is 2.63.
If these numbers still aren't convincing enough, let's take a look at how Fleury has played in games that the Pens have lost this season. Fleury has been in net for six of the Pens' eight losses. In five of Fleury's six losses, he's surrendered three goals or less; two goals or less in three of those games. The only game left out of this mix is the Pens 5-1 loss to the New York Rangers. This debacle was quite possibly the team's worst performance of the season considering their outburst of giveaways.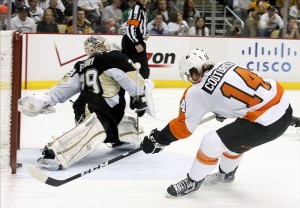 While fans sulked all summer about the Pens depressing playoff exit against the Boston Bruins, Fleury didn't pout. After his end-of-season meeting with Ray Shero, Fleury agreed to see a sports psychologist. What a difference between the ears makes. Take away his wins and marvelous stats, Fleury has a brand new demeanor in the net. He's not flopping and panicking in and around his crease. There's a subtle calmness to Fleury. He looks confident and in control every time he attempts a save.
Fleury Shuts Out Capitals
In a battle for Metropolitan Division supremacy, the Pens put out their best effort of the season against the Washington Capitals. Fleury picked up his second shutout of the season against one of the highest scoring teams in the league. Fleury was completely in charge turning away 18 shots and killing off the Capitals' three first period power play opportunities.
"Their good chances were on the power play. They have a very good power play," said Fleury. "Other than that, I think our guys played great."
As always Fleury credited his team, but he made as big of a regular season statement as one goaltender can make in November. He never looked rattled or in danger of giving up a goal to the Caps. The Flower shunned Alex Ovechkin, the top goal-scorer in the league. Fleury was a vacuum all night and didn't yield one bad rebound.
"A lot of pucks seemed to be hitting him [Fleury] in the chest," said Bylsma. They had three or four good opportunities. Backstrom had one there in the second period that he [Fleury] came up big on. Carlson had one on the power play that hit him [Fleury] square on the Penguin."

Although the Pens played a near perfect game against the Capitals Wednesday night, this has been the exception rather than the norm over the past 10 games. Fleury has been the only consistent component to the Pens during the team's struggles. His play hasn't wavered. The team isn't carrying Fleury this year, he's carrying his team instead. That is why he's the Pens' team MVP to this point in the season.