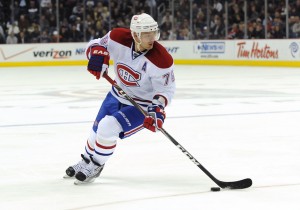 In a tightly packed scrub room deep within the heart of a large Montreal hospital, two orthopaedic surgeons are preparing to perform a routine shoulder operation on a fallen skier. As usual, the conversation has turned to the Montreal Canadiens.
"Did you hear? Andrei Markov is back!" says one of the surgeons, still elbow deep in antibacterial soap.
"Yeah, but he's wearing a different number. And they spelled his name wrong…" replies the other. "Who the hell is K-A-B-E-R-L-E?"
The date is December 9th, and the two good doctors are sharing a laugh at what has become a long-running joke in Montreal's tightly-knit community of orthopaedic experts. It is the same joke Canadiens' GM Pierre Gauthier had been telling anyone who would listen for the past several weeks.
The only difference?
The surgeons understand the punch line.
Luckily, at least one friend of a sportswriter was within earshot of this particular round of pre-op banter and was kind enough to share some insight as to what makes the Markov situation so amusing to those in the know.
"Basically, the type of surgery he had should have required 'X' number of weeks of recovery. When he went past that, things looked bad…. When they went back in to remove bone fragments, it was a clear sign that something had gone terribly wrong. They just don't do that…ever," said the unnamed source.
Announcing that Markov would return within 4-6 weeks and then trading for Tomas Kaberle four days later left many in Montreal's hockey community scratching their heads…and many within the orthopaedic community slapping their knees.
It has now been eight weeks since Gauthier predicted the return of the Habs' top defenceman, and the 33 year-old Russian superstar has skated on a grand total of two occasions; once for 15 minutes this past Tuesday and once more on Wednesday for 20 minutes.
Markov re-injured his knee on November 13, 2010 in a match-up versus the Carolina Hurricanes.
And while Markov's on-ice reappearance at the Canadiens' practice facility in Brossard has created some buzz that he could be eyeing a return just in time for the Habs' semi-annual miracle playoff push, the truth is likely a bit more ominous.
With 32 games remaining on the schedule, the Canadiens will require something in the ballpark of 46 points to reach the post-season, a tall order for any club in today's NHL, let alone a team battling a plethora of injuries and internal conflicts. Contenders have begun to circle overhead like vultures, watching and waiting for their opportunity to swoop in and lay claim to veteran names like Hal Gill and Travis Moen.
Counter-intuitive as it may seem, in a world where Canadiens' management saw the playoffs as a real possibility, Markov would likely be sat out for the remainder of the season and given the extra time to heal.
No player, even Andrei Markov, could reasonably hope to bounce back from such a devastating injury and immediately contribute in a meaningful way to a playoff contending team.
Inserting a fully healthy player into the line-up, even an American Leaguer like Frederic St-Denis, would be a much smarter investment if the goal is to win games in the short-term.
Instead, Canadiens' top brass likely envisions an end-of-season scenario which features a depleted roster and a series of meaningless games…which would be the perfect time to test out a newly reconstructed knee.
Markov could easily step into the role of a seventh defenceman for the last ten games of the season, taking limited ice-time and giving the team a chance to evaluate his potential for next year.
The last thing anyone in Montreal wants is a repeat of this year's "will-he-or-won't-he" melodrama, and seeing what Markov has left in the tank while there is still time on the clock in 2011/12 would go a long way toward quieting what is sure to be a raging off-season debate.
Fans looking for signs of life from the floundering Canadiens may find optimism in seeing Markov skating again, but the notion of his return signalling a playoff push is more than a little misguided.
And that's straight from the surgeon's mouth.
K. Ross Read is the lead hockey analyst for Backsportspage.com and co-host of the "Off the Krossbar" radio show and podcast. He also covers the Montreal Canadiens for TheHockeyWriters.com and is a feature writer with Canadian Hockey Online.
Covering all things hockey with an honest edge and keen wit, he continues to develop a loyal readership on both sides of the Canada/U.S. border. Offering refreshing insight and sharp criticism, K. Ross Read is quickly earning a reputation as one of hockey's straightest shooters.
You can contact K. Ross on Facebook or twitter: @KRossRead