He owns just about every major NHL goaltending record, he's a three-time Stanley Cup Champion and this past June he was on hand at the end of the NHL Draft at the Prudential Center to make the announcement that the New Jersey Devils were drafting his son Anthony Brodeur (also a goalie). So at age 41, what is really left for Martin Brodeur to play for, other than his love of the game? He was once an ironman in the league, regularly playing in an average of 70 games (during an 82-game season), but the past few seasons his body has started to break down.
Here is a list of all of Martin Brodeur's awards.
The other big announcement at the NHL Draft that came in the opening hour was that the Devils had acquired another goalie, 27-year-old Cory Schneider; a likely heir-apparent to his throne in New Jersey's crease. Now Brodeur is looking at the prospect of playing in only 40-50 games and one of the game's ultimate competitors seems at peace with it. A younger Brodeur may have been insulted by the team bringing in another top-tier netminder, but that's not the way he is feeling now; now he is offering to help his partner out however he can as he begins a season in search of his fourth championship.
YOU SCRATCH MY BACK, I'LL SCRATCH YOURS
"I said listen, if you don't want to know or maybe you think you know, you can do whatever you want. But we talked about (Evgeni) Malkin, (James) Neal, (Sidney) Crosby; and I'm definitely going to have the same questions (for him about the West players)," Brodeur said about sharing secrets with Schneider. "He's got the book on some of the top players out there, maybe even some of the sleeper players that we don't know. We're in this together to get this team to the playoffs again."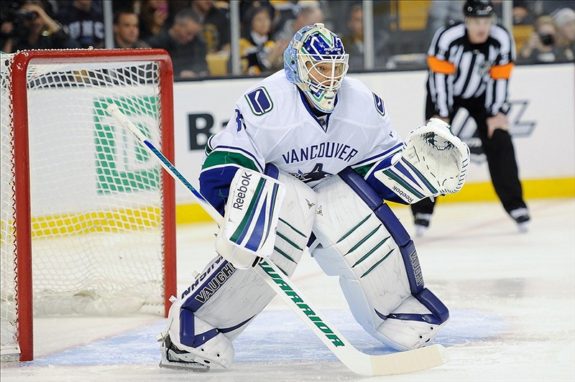 The Devils are about to kick off a trip through Schneider's old stomping grounds — Western Canada — and when Brodeur spoke about it after New Jersey's home opener, he kind of sounded excited about it. If one were to read into his comments, one might think the legendary goalie may be thinking it could be his last trip out there as a player.
"It's fun, you know Western Canada, there are some good hockey teams. Some teams we're not used to seeing. A young team in Edmonton, a new coach in Vancouver, maybe a new style of play in Winnipeg; they don't play on our side (Conference) anymore so we don't really look at them, don't really care about them anymore. But now we'll have to care about them early (laughs)," he replied when asked if he was looking forward to the early season trip. "It'll be interesting, and Calgary, who knows, I don't follow them much. Last year we didn't have to play against any of these teams, so now it's a little bit of an unknown. Its going to be a good team-building thing for us to get on the road, to play teams that we can just do our thing and not worry too much."
THE ONLY JERSEY HE'S EVER WORN IS NEW JERSEY'S
For the first time in twenty seasons, Brodeur did not start the team's first game of the season as coach Peter DeBoer wanted to give him an extra day of practice after being away from the team for a few days due to the passing of his father Denis Brodeur. But after the extra day of rest he was in net the following night for the home opener, which could be his last in a black & red Devils jersey. "I haven't played a game in two weeks, let alone an NHL game that counts, so for me it was good. I enjoyed the way I played," Brodeur would say when he met with the media following a 4-3 loss to the New York Islanders in a shootout. "I'd like to have one goal back, I think I made the right decision on the first goal, its just he (Michael Grabner) got lucky there and the puck snuck under my pad. Apart from that I made the saves that were important in the game and they're all not going to be pretty games. But I felt pretty good, my energy was there, so it was good."
Here is the full highlight package from the Devils home opener:
The Devils fans love Brodeur and they made it known during pre-game introductions, as he received the loudest cheers of any player, and during the game when he made some clutch saves, they serenaded him as they usually do — chanting his name: "Mar-ty" (clap clap) "Mar-ty" (clap clap). These are things he definitely noticed and appreciates as he explained after the game. "It was great; it was like playoff hockey (atmosphere) especially in the third period. It's fun to come back to a building like that (after a long summer)," he said. "For so many years that wasn't the case here. But the last few years the following of our team has gotten better and better each year and hopefully it'll continue. I'm happy to be here, I've played here my whole career; hopefully the fans appreciate the commitment I've made throughout the years, it's kind of nice to get a little recognition."
HELLO MY NAME IS…
This season there are a bunch of new faces on the team, as GM Lou Lamoriello had to retool the lineup as the franchise makes a push to get back to the Stanley Cup Finals in what could be Brodeur's swan song. There is even a new ownership group and the two primaries of that group (Josh Harris & David Blitzer) came out to drop the ceremonial first puck before the game started; one of them was wearing a no. 30 Brodeur jersey. When asked if he noticed this Brodeur replied with a grin, "I kind of noticed that." Before adding with a chuckle, "I'll have to ask for a job." The follow-up question was 'You haven't already (asked for a job)?' and he replied, "I met one of them right after the game. They're just class acts; it's been a great transition from the old ownership to the new one."
In all there are six new players that made the team out of training camp and Brodeur know there will be struggles as everyone adjusts to each other and gets used to each other's tendencies. "It's a slow process; I think everyone wants it to be a quick process, but there are a lot of new players learning a lot of different things about our system and gelling as lines & teammates. Sometimes it takes a little time." He paused and looked around the locker room as a few of the new faces walked by. "Today was not a bad game whatsoever; I thought we accomplished a lot as a team and it would have been a lot more fun to get two points, but it didn't happen and we have to move on to the road now and get some points over there.
Here is the full six-round shootout between New Jersey & the Islanders:
As he also mentioned the upcoming road trip could be just what the team needed to come together and quickly learn about each other a little more. Rather than going home to their families after games, they will be staying in hotels and going out to eat with each other among other things as they venture away from New Jersey for five games in five cities over 11 days.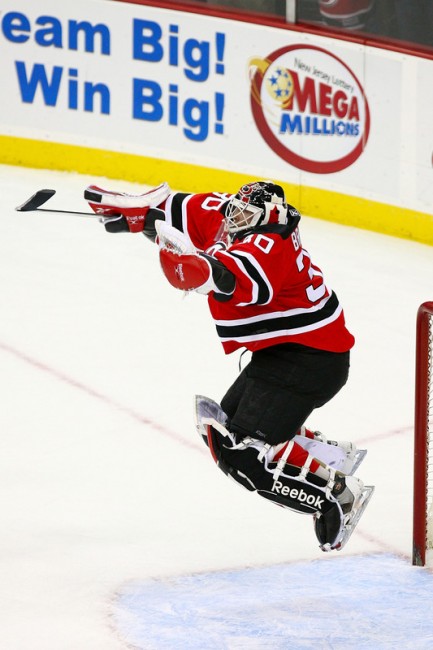 "I think we need to give ourselves a little time here and I think it's a great thing that we are going on the road — get to know each other, get to learn how to play with each other in different experiences. We already started, it's going to be alright."
If it does end up being his final season, you can bet he will have as much fun as he has ever had playing the game he loves so much, and if you look close enough you will probably see him smiling under his mask.
Dan Rice can be reached via Twitter: @DRdiabloTHW or via Email: drdiablo321@yahoo.com