Mathew Dumba THW Close-Up:
*Originally published February 3rd, 2012; updated June 13, 2012
Date of birth: 7/25/1994
Place of birth: Calgary, AB
Ht:  6'0″ Wt: 173
Mathew Dumba: Height- 71.5 inches Wing Span- 75 inches and Weight is 184 lb #NHLCombine

— Mark Edwards (@MarkEdwardsHP) June 12, 2012
Shoots: Right
Position: Defense
NHL Draft Eligibility: 2012
THW Ranking (May): 2nd 
Other Rankings:
Final NHL Central Scouting (North American Skater) Rank: 11th
Craig's List (TSN's Craig Button): 2nd
ISS: 6th
NHLNumbers: 5th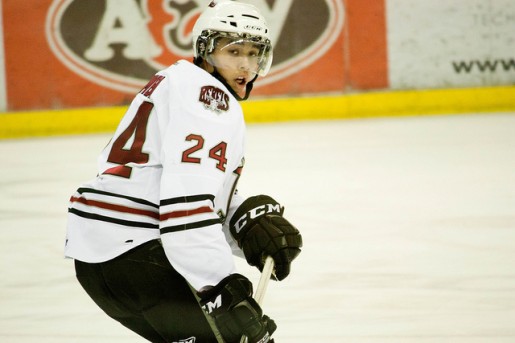 The X-Factor. The It Factor. The Oomph Factor.
Select few players have that certain special quality that is difficult to define.
Select fewer players effortlessly exude the passion for the game on and off the ice that take those who follow the game to a whole new stratosphere in terms of enjoying the game.  Mathew Dumba is one of those hockey players – one of those players who is a rare breed when it comes to talent, production, and passion. But it cannot be defined simply as passion. Dumba's love for the game and the pleasure he takes from playing the game is evident when you're at the rink where he's playing and whenever you see and hear him talking hockey.
It's simply not something easily captured by words.
If there was a University of Hockey, then Mathew Dumba would soon be embarking on a PhD in hockey physics. The kid uses angles, momentum, positioning, powerful skating and timing to unleash highlight reel, but legal hits. He also possesses unbelievable spatial awareness and his anticipation is off the charts.
Of course, Dumba is generating all this excitement at the junior level. It seems inevitable though that he'll be doing the same in the big league in the not so distant future.
Many  "experts" consider him the highest risk/reward prospect eligible in this year's draft class (Russian prospect notwithstanding). If a team is going to swing for the fences in this draft, selecting Matt Dumba might just be the equivalent of hitting it out of the park (or rink, as it where) in Albert Pujols style.
Dumba is an explosive dynamic defenseman with game-breaking ability. NHL team brass will like the fact that he single-handedly has the ability to put fans in the rink with his electrifying style of play and infectious personality. He always comes to play and possesses an elite level of competitiveness.
Each draft year I find myself becoming enamoured with a prospect or two. Ryan Ellis, Ryan Murphy, Jeff Skinner and Emerson Etem (who coincidentally Dumba has cited as probably the most difficult forward to play against in the Dub) are just a few of the prospects I've liked often much more than the majority in their respective draft year.  A couple of years ago I wrote a "5 Reasons Why I Love Hockey" piece and mentioned Dumba as a potential "Next One" when he was a 15 year old. These days many more share my enthusiasm for this extraordinary prospect.
Where will he end up in June: While I have him ranked 2nd overall in my current Top 120 rankings (May, 2012), I had him landing in Minnesota at 7th overall in my Memorial Cup Edition Mock Draft. He'll likely land anywhere from 4th to 14th overall; I think he will be a steal if he falls out of the top 10.
***
Click Here for "Notes Up Front" and the "Legend" for various topics covered below in the "Live Updated" THW's NHL 2012 Entry Draft Guide – The Next Ones home page.
***
Scout's Honour:
"I think his athleticism is right at the top. He's very athletic, he's a very good skater with a lot of explosiveness, and he's a powerful kid out there. A similar comparison to Matt would be (former Red Deer Rebel) Dion Phaneuf in that they both play with energy, they are both powerful skaters, they are very physical players and they both have the ability to make the big open-ice hits. The physical element of (Dumba's) game is unique because the ability to deliver those hits, time them right, and know when to do it and when not to is an art form that not many guys have."
– Red Deer Rebels' general manager and head coach Jesse Wallin (via WHL.ca)
***
"Dumba possesses great skating ability, the technique needs a little adjustment, but the overall package is very solid. He gets a quick jump, and is able to generate a good top speed, particularly when skating down the wings. He really looks like a forward when driving down the wing with the puck on his stick, and has a quick and accurate release on his wrist shot. Dumba also has a solid point shot, which he is able to release fairly quickly. He moves the puck with respectable ability, and appears to choose the right times to take his shot. One of the biggest standout features about Mathew Dumba's play is his physicality. He is a very punishing defenceman, who despite being listed at only 165lbs. Has thrown some huge hits on some bigger opponents. He is equally effective throwing hits in open ice and along the boards. However he will occasionally leave his feet, and regularly put himself out of defensive positioning in order to connect with some of these hits."
***
"Plays a very intense style, but does a great job of mixing a perfect blend of intensity and smarts into his game… Defensively very strong on skates and likes to physically intimidate in the corners and punish guys around the crease – looks to catch forwards with their head down. Lightning fast crossovers and pivots make him hard to beat 1-on-1 – great gap control. Plays an electric game and smarts may be undervalued due to his style."
– Red Line Report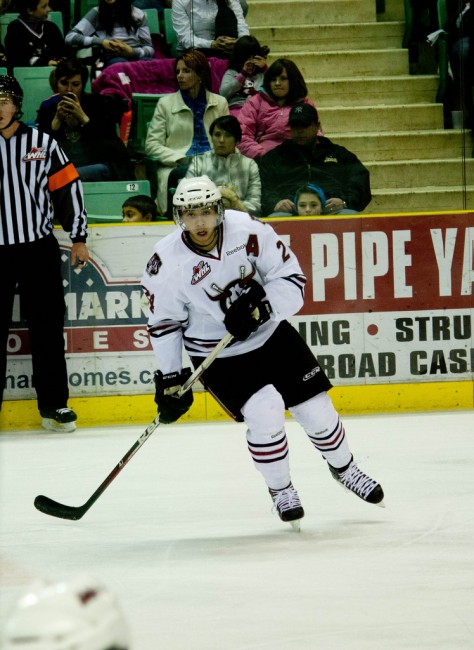 Statistics:
Bio/Interview(s)/Link(s):
"You've got to really bare down and focus on the task at hand and really I'd like to say that a big part of it is my training. My trainer's great in the summer Tommy Powers out at that school in Calgary here he would do so much for me and we would train so hard in the summer and it's all for this so I can go out there and play these big minutes, to be a guy that's logging a lot of ice time and contributing to the team. I think I can bring that passion and that work ethic. I'm always working hard and I want to make sure that I can bring that battle and compete. I practise and always make sure that I'm working on the little things and focussing on the details. I think that that will really help me at the next level and bring to that team whatever they want from me. I think that I'm a versatile player and I can bring anything they want from me."

 
International Tournaments:
"Dumba was named captain of Team Canada at the 2012 Under-18 World Championships. He led the tournament in scoring with 12 points (5-7–12) in seven games and was named the Best Defenseman of the competition en route to capturing a bronze medal. He was also one of five draft-eligible players, and the youngest, invited to Canada's 2012 World Junior Championship camp." (NHL.com)
Matt captained Team Canada's Ivan Hlinka gold medal winning squad last summer. He had 3 points in 5 games and was plus 7. More importantly, he displayed his shutdown defensive skills in shutting down Russia's Mikhail Grigorenko and Sweden's Filip Forsberg.
Dumba was brilliant at the 2011 World Under-17 Hockey Challenge leading all scorers with 12 points in 6 games on Team Pacific's bronze medal winning squad.
ETA = 1-2 years
Risk-Reward Analysis:
Risk = 0.5/5   Reward = 5/5
NHL Potential:
Franchise blueliner
Strengths:
*See "THW Close-Up" section above.
Passion
Physicality
Powerful skater
Puckhandling
Puck Poise
Playmaking ability
Powerful shot
Leadership
Competitiveness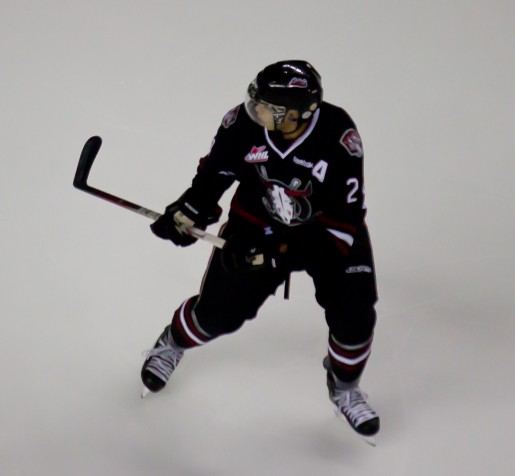 Flaws/Aspects He Needs To Work On:
Continue to train to increase strength and add mass to frame to handle the rigors of the NHL.
Continue to develop his defensive zone acumen.
Fantasy Hockey Potential:
Offensive = 9/10   Defensive = 8.5/10
NHL Player(s) Comparison:
– P.K. Subban, Dion Phaneuf and Mike Green have all been understandably thrown around, but Drew Doughty is another to consider and one Dumba himself aspires to.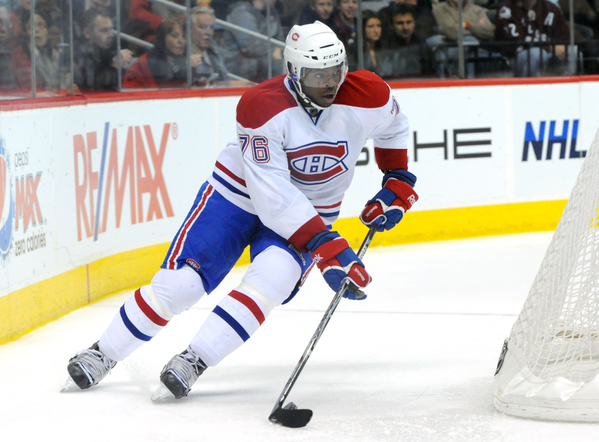 – Hall of Fame comparison: Chris Chelios
Video(s):
Off The Iron (Interesting Notes):
Dumba on Jaden Schwartz after Matt found out he was cut from Team Canada's 2012 WJC squad in December (not surprisingly Schwartz was later named captain): "Schwartzy this morning, he woke up and I was really upset and he was pretty upset too and he said to me, 'They cut Seguin one year and they cut Nuge the other and [they became the] first and second overall [draft picks].' He said, 'Use that as motivation,' and it's certainly uphill from here." (TSN.ca)
 "At the Scouting Combine Dumba finished among the top-10 in three events, including sixth place in the standing long jump and eighth in push-ups." (NHL.com)
Worth Retweeting:
DRAFT PROFILE: Why D-man Mathew Dumba is "one of the more dynamic players in the draft at any position": http://t.co/BU05peKs

— Carolina Hurricanes (@Canes) June 8, 2012
Mathew (Matt) Dumba working on Masters in Hockey Physics: The Next Ones: #NHLDraft Profile http://t.co/y1ApcrGz #NHLdraft #WHL @RebelsHockey

— chris ralph (@ChrisRa1ph) June 12, 2012
***
*Originally published February 3rd, 2012; updated June 13, 2012
***
THW's The Next Ones prospect profile template design architect: Chris Ralph
***