As reported by Swiss media, both Ambri-Piotta lockout players Matt Duchene and Cory Schneider will play their last games for the Swiss-Italian club on Sunday, January 6th and are expected to be back in North America by Monday.
As per the Ambri-Piotta website:
(D) Die Entscheidung der Spieler stützt sich auf die Überzeugung, dass die in diesen Tagen laufenden Verhandlungen zwischen den Parteien, zum Ende des Lockout und dem darauf folgenden Beginn der NHL-Meisterschaft im Laufe des Monats Januar führen werden.

(E) The decision for the players hinges on the belief that in the next few days the two (NHL and NHLPA) parties will reach an agreement and the NHL season will begin within the month of January.
The club also mentions:
(D) Für den Fall, dass die Parteien sich nicht einigen sollten, werden die Spieler wenige Tage später nach Ambrì zurück kehren und bis Ende Saison bleiben.

(E) In the case that the two sides cannot reach (a CBA) agreement, these two players will return a few days later to Ambri and stay for the remainder of the (NLA) season.
Ambri have already lost one NHL lockout player in Max Pacioretty, with the Montreal Canadiens forward suffering an elbow injury and being forced to return to North America on October 16th.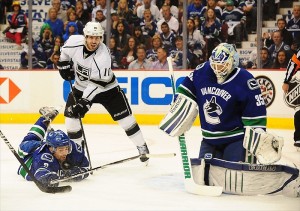 Schneider has managed to start a total of 8 games so far for Ambri, playing 484 minutes in net and registering a GAA of 3.22 while Matt Duchene has featured in 4 games, scoring 2 goals and 3 assists through 18 shots.
Duchene and Schneider join other lockout players Patrice Bergeron, HC Lugano and Tyler Seguin, EHC Biel who both left their Swiss clubs in the past two weeks.
Despite an exodus of lockout players returning to North America, the pressure is now on the NHL and the NHLPA to reach an agreement, ensuring these players stay in North America and do not return to Switzerland for the remainder of the NLA season.
A video of both Duchene and Schneider in action for Ambri in a great 5:4 win over EHC Biel