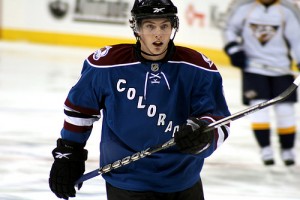 When Colorado Avalanche captain Gabe Landeskog missed his first game of the season on January 28th, coach Joe Sacco could have named a third alternate captain in place of the injured captain.  It is standard for a team to have one captain and two alternates, but they may have a third alternate if the captain is injured or there is no current captain as was the case with the Avs at the beginning of the 2011-2012 season before Milan Hejduk was given the honor of the "C."  Instead, per his usual M.O., Sacco simply stuck with the two mainstay alternate captains, forwards Milan Hejduk and Paul Stastny.
Avs Ailing
Now, with Milan Hejduk suffering a torso injury last night in a thrilling 1-0 overtime win against the St. Louis Blues, it seems Sacco will need to promote at least one more alternate if Hejy is forced to miss any time.  In all likelihood, it would have been defenseman Erik Johnson, who has worn a rotating "A" in the past with the Avs, but like captain Landeskog, he too is out with a head injury.  The other former rotating alternate was Jay McClement, who moved on to Toronto last summer.
Matt Duchene Rises
Enter Matt Duchene.  The fourth-year center has by far been the Avs best player all season.  He has accumulated 17 points in 15 games and is a respectable plus-6 on the year.  In addition to his offensive renaissance, Duchene has become a reliable two-way center, playing very effectively in his own end as well as frequently being used on the penalty kill, even in 5-3 situations.  While Ryan O'Reilly, formerly thought to be the best two-way center in Colorado, remains a holdout, Duchene signed a team-friendly bridge contract and is playing like he wants to earn a big, long-term deal next time and if he keeps it up, it's all but money in the bank.  Now that is character!
Matt Duchene deserves to have the alternate captain's "A" on his sweater.  He is the team's most dynamic forward and he is showing his leadership and character every game so far this season.  While this will likely be a temporary honor at this point with Landeskog's return on the horizon and hopefully Hejduk's injury isn't too serious, but Duchene should see a permanent "A" on his sweater in the very near future.
The More, The Merrier
I preferred the days of the rotating alternates.  Foote, Forsberg, Drury, and Blake would alternate home and away.  The current team could easily rotate between Stastny, Hejduk, Johnson, and Duchene.  However, that is unlikely with Sacco still at the helm.  Johnson would be good to add to the mix as well since the Avs have not had a full-time captain or alternate on defense since the retirement of Adam Foote.
O'Reilly was reportedly hurt when Landeskog was named captain over him.  I'm not saying the Avs should promote Duchene just to spite O'Reilly even further.  Duchene has certainly earned it.  Sticking it to O'Reilly just a bit more would simply be a bonus at this point.
Joey is a Colorado native and has been an avid fan of the Colorado Avalanche since their move here in 1995 when they brought the state of Colorado its very first major sports championship in their inaugural season. He's played hockey for the past decade, both roller and ice. He began playing as the goalie for the Colorado State University Roller Hockey team. Currently, he plays on a couple ice hockey rec league teams in the Denver area, both as a goalie and as a position player.