As Kelly Nash enters her second season with the Metropolitan Riveters, just like last season she's a bit of a wild card for them. She obviously has the talent to produce points and make her teammates better, and she's a proven winner – a two time NCAA champion with the University of Wisconsin and an Isobel Cup champion with the Rivs. Just like many of her teammates – and rivals within the NWHL –  she has a day job. But hers is a little different than most.
When she's not practicing or playing with the Riveters the 29-year-old Nash is an assistant coach for the women's hockey team at Princeton University. "Coaching has its ups and downs, just like playing does," she told The Hockey Writers, "so some days are harder than others." Due to her coaching commitment, she only played in eight of the Rivs 16 regular season games, but she was able to play in both playoff games and helped the franchise win it's first Isobel Cup.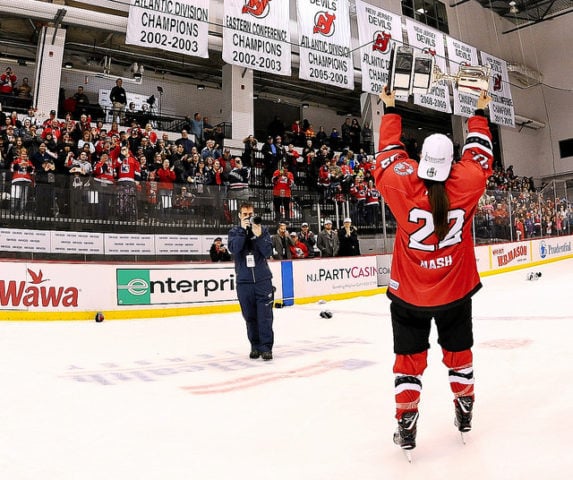 Following the Riveters' Champions Cup 4-2 loss against the SDHL champions (Luleå Hockey) at Hobey Baker Rink on the campus of Princeton, THW caught up with Nash to not only find out what the experience was like playing in a rink that she spends a lot of time coaching in, but also why she decided to come back for a second NWHL season, what it's like to see players that she coached advance from college hockey to the professional game, and some other topics as well.
The Hockey Writers: What were your impressions of today's game in a building that you know, but an opponent you don't know too well?
Kelly Nash: It was a pretty good game. I think the first period we started out rough – we scrimmaged on Thursday and basically, we have been practicing for only a week with players coming and going. I'd say for the most part it was a pretty good game with obviously a lot of things to work on for us. It was a great atmosphere here in Baker. Obviously being a coach here that's something that we are trying to bring to the Princeton women's hockey culture as well, it was a great environment to play in.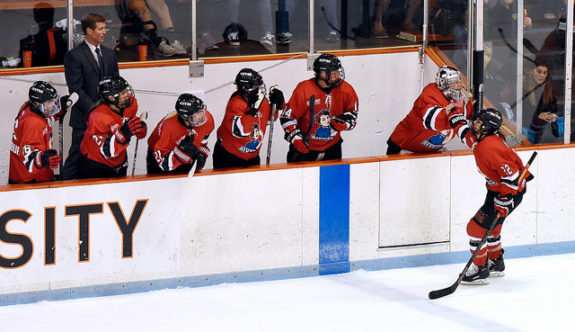 THW: This is probably a good teaching tool for your team with so many players missing and players that were playing, playing in all types of situations, right?
KN: It definitely was a great experience – some of us played last season, we have a bunch of new kids here that I thought did a great job and really stepped up to the plate for us whether it was playing on the power play or PK. 
THW: You got to score a goal today in this rink, what was that feeling like?
KN: (laughs) It was pretty cool; I was actually yelling at Lex (Alexa Gruschow) to shoot it beforehand and then she escaped around (a defender) and delayed before she put it on the net and I was able to tip it. It was really cool. Again, it was a great environment to experience that in. I don't know if I'll ever get to play here again so it was pretty cool.
After two periods, the @Riveters and @LuleaHockey are tied at 1! Rivs forward and @PWIH assistant coach Kelly Nash (@knashty2) with the tying goal in the #ChampionsCup presented by @ecnveda pic.twitter.com/2xKUn7Qd8C

— NWHL (@NWHL) September 29, 2018
THW: You mentioned you had a scrimmage earlier in the week against Luleå, what did you think of them today with a trophy on the line? The game seemed very intense!
KN: Oh definitely! I think it was a great experience for us to get our season going. They battled hard and are definitely a skilled team. I know from an NCAA perspective we are trying to get out there to recruit a little bit more because they do have a lot of talent over in Europe. 
THW: You mentioned the NCAA, where you won a few championships at the University of Wisconsin. How did those compare to winning a championship as professional like you did last March with the Riveters?
KN: What an awesome experience, and there were four other Wisconsin alums on the Riveters as well. Two of them I think I won a National Championship with, so it was a great opportunity for us to celebrate and enjoy that feeling again together.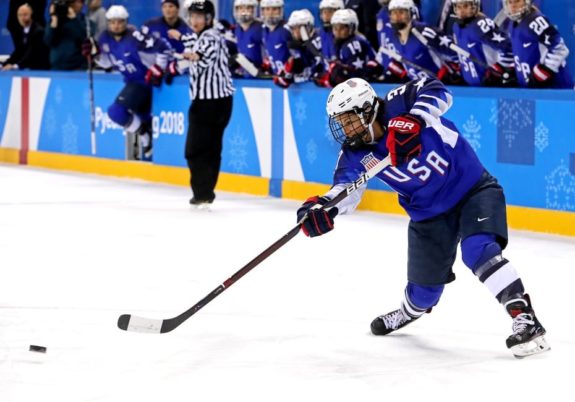 THW: Before you started coaching here in Princeton you coached at the University of Vermont where you got to coach a few future NWHL players right?
KN: Yup I definitely did. I coached Rachael Ade (Connecticut Whale), Amanda Pelkey and Madi Litchfield (Boston Pride). Pelkey was on the USWNT last season so this season will be my first experience getting on the ice against her. Maybe our lines won't be matched up, we'll see. I don't know if I want to be on the ice against that kid (smiles). 
THW: How does that make you feel as a coach, to see players that you helped develop progress and make it to the next level? That has to be a neat feeling.
KN: It definitely feels good. We have a lot of time together on the ice, practice, and games. It's good to see the big picture – Pelkey won a gold medal with Team USA and seeing some of the younger ones, whether it's in the NWHL or the CWHL, seeing them have success still. I think the biggest thing is the eagerness that everyone still wants to play hockey after their collegiate career. From a coaching perspective that is great to see that they share the same passion for hockey.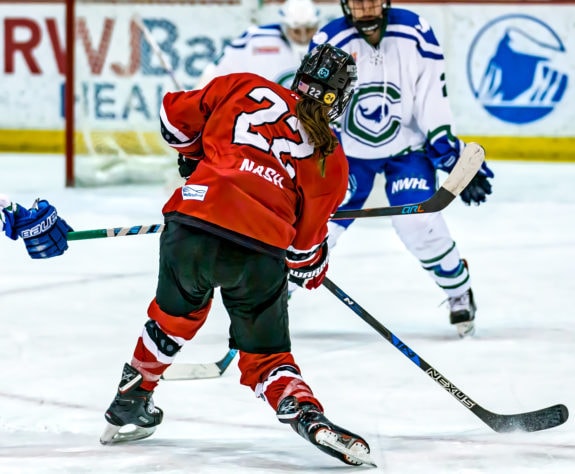 THW: At 29-years-old you're considered one of the older players in the league, and you have a taxing job as an assistant coach, so what made you decide that you wanted to come back for a second season with the Riveters?
KN: Honestly I just had such a great time being involved with the team, whether it's at the rink or away from it. Some of the girls like Kiira Dosdall I played alongside in Vienna five or six years ago, the Wisconsin girls, and things like that. I was back and forth in the middle of last season (whether I would play again) but once we won the Cup it kind of got a little addicting to come back and play one more season (laughs).
THW: Last season you started great with five points in a short span and then went pointless until the first playoff game. How were you able to not get down on yourself?
KN: It's kind of hard to not let it get into your head, thinking about how you set the tone at the beginning of the season like that. But the teammates I have are awesome and don't really focus on those things. Our coach last year, Chad Wiseman, had a lot of confidence in me as a player – whether I was putting points up or not and that helped me to just keep moving forward.
.@knashty2's first career goal! #CTWvsMET pic.twitter.com/DfnuB5nNSy

— Metropolitan Riveters (@Riveters) December 3, 2017
THW: Speaking of coaches, what is your take on the Riveters new coaching staff?
KN: I think they're a great addition so far and like I mentioned to you before we've only had about a week together, but a great first impression and they both have quite a bit of experience and they've run some great practices so far and I'm looking forward to the rest of the season with these two coaches.