We've done countless interviews over the years in a variety of places – locker rooms, next to the rink, under the stands, on the ice – but when we spoke on the bench with Kelsey Koelzer (a defender for the Metropolitan Riveters) literally five minutes before the start of her team's practice that was certainly a first. The 22-year-old is currently in her first full NWHL season with the Riveters after finishing her stellar collegiate career at nearby Princeton University.
The Rivs took Koelzer with the first overall pick in the 2016 NWHL Draft in hopes that she would eventually solidify their already sturdy blue line. So far, so good for Koelzer and company as she's contributed six points (2g-4a) in six games and fit in almost seamlessly with the Riveters as they sit at 7-0-0 at the league's holiday break.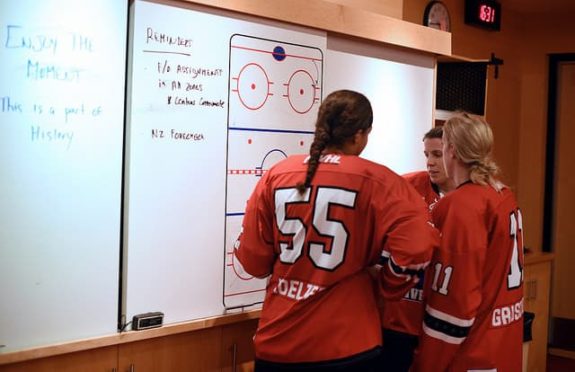 "It has been great getting to play alongside Kelsey for the first part of our season. I feel like we've really started to gel as defensive partners, and we work well together to move the puck up the ice," said fellow Riveters defender Michelle Picard. "She is a force in the offensive zone, and when she has the puck on her stick, I know she will make something happen. Back in college, we played against one another, and now I'm certainly glad we're on the same team!"
We managed to avoid getting clipped by any errant sticks from Koelzer's teammates as they warmed up on the ice prior to practice and was able to ask her about being drafted by the Rivs and adjusting from college to professional hockey among other topics.
The Hockey Writers: Obviously you had a very successful college career. When it started the goal was probably to play in the Olympics for Team USA, but did that change when the NWHL started up two and a half years ago?
Kelsey Koelzer: It definitely was; especially knowing that there was a team close to where I live. I definitely saw that in my future and I'm glad that the league developed, has continued to develop and that I'm able to play.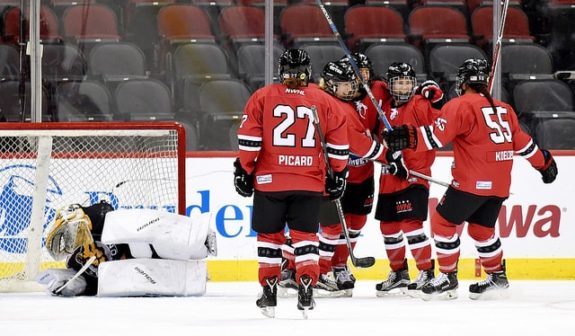 THW: The team is closer to you then it was in the first season when the Riveters played in Brooklyn, New York before moving to Newark, New Jersey. That makes a difference too, right?
KK: I probably wouldn't have played if they were still in Brooklyn, yeah, but things worked out.
THW: What was your major at Princeton?
KK: Psychology. I do have an interest in sports psychology, but in a different sense than: come sit on my couch. More like working with teams. Right now I'm just getting into the corporate world and getting my career started.
THW: When the Riveters drafted you did you know that they liked you? Had they spoken to your college coaches to see if it was something you'd be into?
KK: Yeah Chad (Wiseman) reached out just to make sure that this was something that I was interested in. He knew that I was from the area, so there were definitely ties there. If I was going to get drafted by anyone I definitely wanted to get drafted by the Riveters – with it being close and having connections to the area and being able to give back.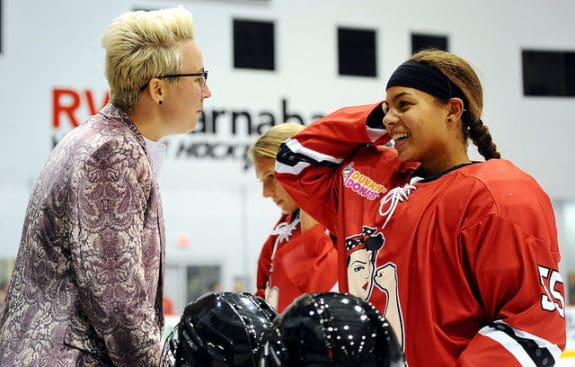 THW: So did it end up being a shock that they took you first overall? Because that's a pretty cool feat.
KK: It definitely was. It actually happened on my birthday (June 16), which was pretty cool. Not something I expected, but something I was certainly proud of.
THW: You signed at the end of last season and sat out the final regular season game before playing in the playoff game against Buffalo. Were you disappointed to not get one game under your belt before the playoffs?
KK: I definitely think that would have helped me personally to get used to the flow of the game and the systems that the Riveters play. Jumping right into a playoff game is definitely not ideal, but it was still fun. I think having a little bit of extra time with the team would've helped out a lot.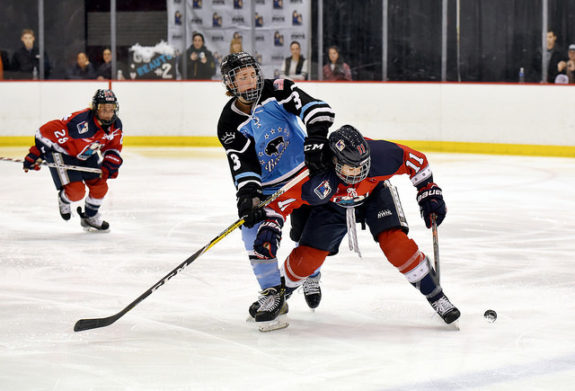 THW: Safe to assume that the experience helped you as you prepared to head into this season?
KK: Absolutely, it definitely helped me have a slight expectation of what was coming and how I need to adjust my game to the speed and the skill of the NWHL game.
THW: This season the Rivs are undefeated, you're winning all different kinds of ways, what's been the vibe around the team through these first two months?
KK: When you go to a new team you have to adjust to what everyone is accustomed to doing and the style of play the coaches want from you. I'm still adjusting to that change from how I played in college, but I'm excited. This team is only going to get better, we've definitely had a great start and that's not from lack of hard work, but as we continue to work and get even more used to each other we're just going to get better.
Kelsey Koelzer/@khockeyk11's first and second career @NWHL goals from the @Riveters big 6-2 win last Saturday. The first goal was scored on the PP, the second was scored during 3-on-3 action. pic.twitter.com/IhYLkbPi77

— Mike Murphy (@DigDeepBSB) November 9, 2017
THW: As a defender do like scoring goals or blocking shots better?
KK: I think I like them in different ways. I obviously like scoring more (smiles), but blocking shots I definitely have an appreciation for. It's something that I took a ton of pride in at college, so that's something I'd like to do more of in the new year. Scoring is something that you see that immediate impact on the game, (smiles) I like it a lot.