Finally a graduate of the AHL, Mike Hoffman is making a name for himself with the big club.
The 25-year-old rookie (yes, rookie) has caught fire this year with the Ottawa Senators. Currently the team's leading scorer with 19 goals, Hoffman has now permanently inserted himself in the lineup and is showing great promise in his contract year.
In a season that has been unwatchable at times, Hoffman has been a glimmer of hope for a Senators organization that puts so much emphasis on developing their young players.
Underused, Still Produces
Hoffman's case is a peculiar one.
For someone who's playing his first full season in the NHL, his production is impressive. But it's also improving.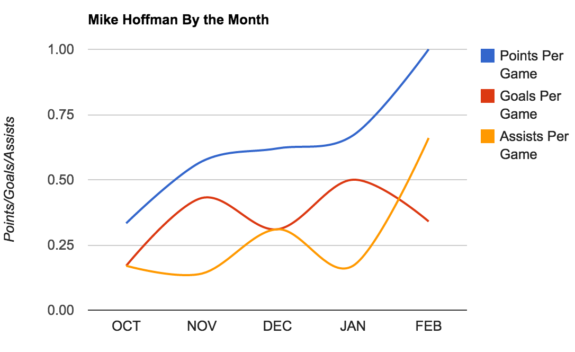 Hoffman's numbers are pretty impactful on their own, but they're downright outstanding when you realize how much the Senators actually utilize him.
On average, there are eight forwards on the team that receive more ice time than Hoffman. Not only that, the same eight forwards also get more power play time than him. With a measly average of 1:29 on the power play, the Senators seem to actually refuse to put their leading goal scorer on the man advantage.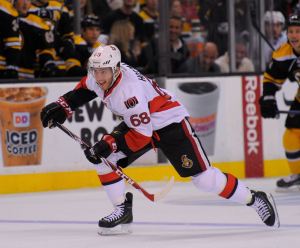 In fact, now 54 games into the season, Hoffman just tallied his first power play point Saturday afternoon against the Edmonton Oilers.
Sad, really.
It's hard to find out why exactly the Kitchener native is unappreciated in what might be his prime.
With a 1.58 goals per 60 minutes played, Hoffman is in elite company. If you look down the list from him, you might possibly see some rather well-known players. Steven Stamkos, Patrick Kane and Evgeni Malkin meet the eye at first glance.
The 19 goals he has under his belt are all natural. Yes, without a single power play or shorthanded goal, Hoffman is 7th in the league for even strength goals.
Tied with him is Alexander Ovechkin.
If that doesn't quite drop your jaw, then maybe this will: Hoffman leads the league in goals for players without any special teams goals, but is also currently 19th all-time for a single season total of that kind. The record is held by John Wensink who scored 28 goals in the 1978-79 season with the Boston Bruins.
For a second, just imagine what kind of production he could have if he was deployed properly. Approaching the fourth quarter of the season, Hoffman has an average of 14:09 of TOI per game. That's third-line minutes at best.
How many team's do you think play their top goal scorer on the third line?
The answer, like you probably guessed, is none.
Senators Don't Know What They Have
Two years ago, the Senators actually put Hoffman on waivers. He passed through 29 teams and the next day was sent down to Binghamton in the AHL.
This past fall, there were plenty enough rumours going around saying that Hoffman was going to be waived yet again. Surprisingly, he was kept on the Senators roster.
Then, Hoffman found himself in the press box on three separate occasions at the start of the season. How many teams do you think have made their leading goal scorer a healthy scratch three times?
On top of that, Hoffman continues to be juggled throughout the lineup. On any given night he can either be playing with Chris Neil on the fourth line, or with Bobby Ryan on the first line. It's almost comical how he's dragged around.
Hoffman is in a contract year and it's safe to say the Senators should try and extend him. They don't have to hand out a long term contract, and they don't even have to fork out the big bucks. A three-year deal worth around $3 million is more than fair. You know you have a proven goal scorer, but being a bit cautious with a young player isn't the worst thing in the world.
Now that Bobby Ryan is looking more playmaker than sniper these days, it would be wise to lock up the Senators' new-found scoring machine.