A few weeks ago, the Oilers made a trade in which they dealt AHL quality centerman Mark Arcobello to the Nashville Predators for the experienced, yet underwhelming Derek Roy. Arcobello had better stats, and it felt like a horizontal move that didn't really make them better. I didn't mind the move, because despite his shortcomings, Roy has a lot more experience than most of the guys in the Oilers dressing room, and he's a legitimate NHL player. Since coming to the Oilers, Roy has three goals and eight points, and the team has won four of their past eight games. (For the Oilers, that's actually a good stretch).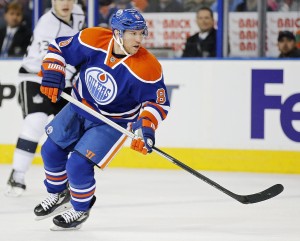 Do the Oilers Need More Veteran Help?
For those people who want to see progress in terms of positioning in the standings, they want Edmonton to bring in whatever help they can get. They'd love for Craig MacTavish to start acquiring some proven winners to help out the young guys. Derek Roy is a center, something they desperately need, especially since they sent Leon Draisaitl back to junior. I wonder if there are any other veteran centers available who could help the team now.
Mike Richards is a two-time Stanley Cup champion. He won a gold medal at the Olympics. He's a decorated player. He's a gritty forward who is never afraid to go into the corners and mix it up. He's the kind of guy who leads by example. He kills penalties, he's got offensive skill and he's willing to fight for the puck in the dirty areas. He's also a centerman, and he just so happens to be on waivers. The Oilers should totally go for him right?
Mike Richards is Far too Expensive
No. Not right. Mike Richards has won a lot of things, but don't think for a second that he was a centerpiece in those team victories. This is not to take away from what Richards has done. He's proven to be a solid player, and he was even a captain while in Philadelphia. But is Richards really worth it? His offensive output has been dipping, although they could have something to do with the fact he's playing on the forth line.
Richards is one of those guys who signed an outrageously big contract, and now simply can't live up to it. He's got five years remaining on his current deal, at $5.75 million. He's still youngish, at 29 years old, but based on the past few years, it really seems like his best is behind him. Richards foot speed is suspect, and he was challenged by the Kings last summer to improve his off-season conditioning. Now is there a chance that Richards can flourish in a new environment, with better line-mates and more ice-time? Of course there's a chance.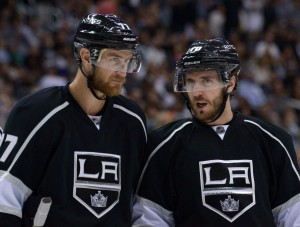 Derek Roy was brought into Edmonton because he's proven he can play at this level on a consistent basis, and someone needs to actually step onto the ice and play the games. He was a low-risk investment because he's a free agent after this season, and if they really love him, there's a chance he could stay around on a cheap one or two year deal. But Mike Richards has an albatross of a contract. Acquiring him means you better believe he can turn things around, because you'll be stuck with him.
The Oilers have cap space, but they need to spend it on guys who are going to be part of their future. They need to think about what it will take to get a legitimate number one goaltender. They need to consider the cost of upgrading their defence. Richards might end up being a better version of Derek Roy, but that cap hit and term may end up dooming him to the AHL. Another team could take a chance on him. But hopefully it won't be the Oilers. They'll likely come to regret it.