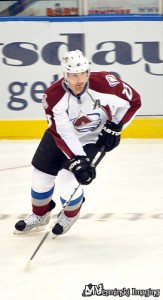 Divisional Woes
The Avalanche simply cannot beat teams within its division. The current record for the Avs against the Northwest is 2-12. For a team that is fighting for its playoff life, this just isn't good enough. Right before the All Star break, the team lost an important game to the Minnesota Wild. Last night, it happened again. Although the players put a lot of shots on net and play well defensively, they are not scoring goals. Many of the recent losses have been one-goal games, games that could—and even should—have been won if the top players played like top players. Guys like Paul Stastny, Milan Hejduk and (when he returns) Matt Duchene need to carry this team as Gabriel Landeskog, Ryan O'Reilly and Peter Mueller cannot do it on their own.
On the Outside Looking In
There's a logjam in the West for that 8th spot in the standings. On any given night, a team could have it or be four spots away from it. The Avalanche seem to be on the outside of it a lot. A four-game losing streak and a 3-6-1 record in the last ten games certainly isn't helping. Luckily for Colorado, the other teams fighting for that lucrative final playoff spot aren't doing all that well lately, either. The Avs sit at 10th right now with 54 points.
Mueller. Mueller. Mueller.
I recently questioned whether or not Peter Mueller should consider retirement because of the extensive struggles he's had with concussions. It's a good thing the thought never actually crossed his mind because he's been tearing it up since he returned to the line up last month. He is regularly one of the best players on the ice for the Avalanche, putting shots on net, scoring goals, and yes, even hitting. That first goal seemed to open the flood gates for him, and he says he finally feels like the player he was before that first concussion.
Injury Update
Matt Duchene was expected to be back right after the All Star break. Unfortunately, he has not even begun skating yet. He's working out with physical trainers, doing rehab on his knee, but it doesn't look like he'll be in the line up for at least another two weeks.
Upcoming Games
The Avs face another NW Division team on Saturday, February 4, as the Vancouver Canucks come to town for an afternoon tilt. The Chicago Blackhawks visit Denver on Tuesday, February 7, and the Carolina Hurricanes finish out Colorado's four game homestand on Friday, February 10.
Cheryl Bradley is an Assistant Editor and Staff Writer for SBNation's Mile High Hockey, covering the Colorado Avalanche. Cheryl also is on the Board of Directors for the Avalanche Guild, an organization that partners with the Avalanche to support local youth and adult hockey in Colorado.