It's no secret the Maple Leafs may have spent their money frivolously on free agents and signing extensions. They still have a lot of work to do, and have prioritized their signings in the usual, unrestricted free agent, free agency, restricted free agent order. What they haven't done well is manage their cap space efficiently enough to provide space for the guys at the end of that list to get a fair deal.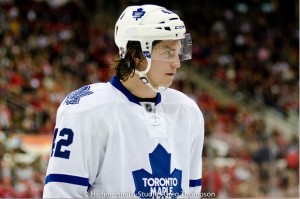 Let's start with pending free agent centre Tyler Bozak. He was days away from becoming a free agent when the Maple Leafs insisted they were on the right track and their number one centre (that's right, number one) would be signed soon. The numbers on that deal? Five years, $21 million with $2 million in signing bonuses attached to each of the five seasons.
David Clarkson was the rumoured free agent going to Toronto since the beginning of the season. He grew up in Toronto, and closing in on the later years of his career it is a popular choice for players to choose home over similar deals elsewhere. Nobody was surprised the Leafs threw pretty much the rest of their money at Clarkson, but fans hoped it wasn't true. At 29 years old, the Leafs signed Clarkson to a seven year, $36.75 million contract. His annual cap hit is $5.25 million. Not the wisest way to spend your cap money.
The Leafs still had a lot of groundwork to cover including defenseman Carl Gunnarsson who signed a three year, $9.45 million contract, not to mention Cody Franson and Nazem Kadri.
The Leafs had other priorities, though. Signing Mark Fraser to a contract and avoiding arbitration was on the agenda before Kadri or Franson. Fraser signed a one-year, $1.275 million contract. In 45 games for the Leafs he recorded 0 goals and 8 assists with 85 penalty minutes and an average of 17 minutes a night. While Franson appeared in 45 games recording 4 goals and 25 assists for 29 points. He played an average of 19 minutes a night, with three power play goals and eight penalty minutes. Franson does have a harder contract to fit into the cap, but he was the obvious choice to sign over Fraser.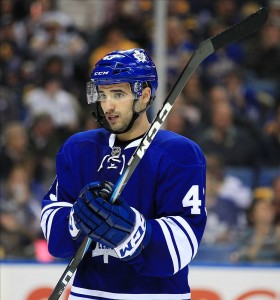 This brings us to Nazem Kadri. The first round, 7th overall pick in the 2009 NHL entry draft has been put through the wringer in Toronto. Trying to crack the lineup out of camp and stay there has been a chore for Kadri, being passed on time and time again. It's been said before that your draft picks have to prove themselves every day to stay on your team, but your free agent and college signings have to play their way off your team. This is especially true for Kadri.
Kadri's entry level three-year, $5.25 million contract expired after the 2012-13 season leaving him in limbo as a restricted free agent of the Maple Leafs. His annual cap hit during his contract was $1.72 million, which isn't much considering he played a lot of time in the AHL system making $67,000 instead of $900,000.
It would be unfair to say that Kadri has not been a productive member of the Maple Leafs which is why he has not been signed yet. He has paid his dues -which is not to say that is the reason he deserves a contract either- and he deserves to be given regular playing time on the top two lines to prove he can stick in this league and play at the caliber for which he was drafted.
Reports indicated the Leafs are only willing to offer Kadri a bridge deal, while Kadri and his camp seek a longer term deal worth $5 million a season. The Leafs have almost $6 million left in cap space, which could rise when players are sent to the minors. This still does not leave enough room to sign Kadri to the deal he's looking for while also leaving room for Franson.
If Kadri does indeed end up signing a bridge deal, he will have to continue proving himself. Last season Kadri managed 44 points in 48 games. He was a +15 with five power play goals and played an average of 16 minutes a night. If he keeps this pace up, the Leafs may save themselves some much needed cap space in the future, and if they bridge, they could be looking at a huge contract negotiation down the road that will rightfully so cost them.