The free agent signing of Artemi Panarin by the Chicago Blackhawks has been one of the top news of the KHL this summer. In this translated interview, originally appearing on the popular Russian website sports.ru, the left wing talked about money, discussed Russian players in the NHL, and tried to explain what happened during the national anthem issue at the IIHF WC.
* For the original sports.ru interview by Roman Mun, click here.
– Plotnikov's agent said that 17 NHL teams were interested in his, what about you? Would you have bought-out your contract too if you were in his shoes?
– I am not going to tell how many teams were talking with me. Buying out the contract? Well, it depends on the situation. If I understood that I really need to go, then yes, of course I would buy out my contract. I want to grow up and progress both as a player and as a person. I wanted a challenge for myself and I want to test my level in the best league in the world.
– Probably you would earn more money if you stayed in Russia. Money isn't a factor for you?
– Well, [in the KHL] I didn't have such a big contract and [in Chicago] I will make pretty much the same. If we compare what kind of money I could make after this season, then yes, I would probably lose some money. But this isn't the biggest factor. If you have a chance to make good money, why should you refuse? But I think that money aren't so important that you have to change all your goals for it.
– Russian hockey doesn't get any compensation for your move to the NHL. Is it correct?
– I don't have any particular opinion here. If I were a superstar, then maybe the team could get some money from the NHL. I haven't shown anything in the NHL, I played only at home. I think that no one would spend money on me.
– Don't you think you're a superstar in the KHL?
– No.
– Not long ago, Vyacheslav Fetisov said that it would be necessary to ban young Russian players from departing to the NHL. Would this help Russian hockey?
– This would, of course, help Russian hockey, if we consider the league and its development. I don't know about the National Team. The problem is how to keep people in Russia if they don't want to play there. But if the best players would play in Russia and not moving overseas, then of course the league would be better.
– Do you think that too many Russian players cross the Atlantic?
– Well, there are enough of them. It wasn't like that earlier.
– Is it bad?
– If in the next one or two years no new young players will reveal themselves, then it won't be that good.
– Who is your favorite NHL player?
– Now it's Pavel Datsyuk. When I was a kid I wasn't following much, I simply played. I remember that my team mates laughed at me when they were talking about some well-known player. It was a bit embarrassing for me, I was a hockey player, but I didn't know anyone.
– What is more important: Chicago and the Stanley Cup or the National Team and the World Championship at home soil?
– I can't reply to this question. If I say "Chicago", then I will shock the whole Russia. If I say "World Championship", in America they will… These questions are always tricky.
– Aren't you nervous about the possibility not to adapt to a new country and a new league?
– No, I am not. There is the language barrier, but I started studying English. I don't think that it's everything that different [in the USA]. My new team mates will help me in adaptation. When I talked with Barry Smith, he told me in Chicago it's like a big family. They also told me that there is a good team environment and a good system.
– Do you have thoughts like "if things don't go well in the NHL, I can always get back home?"
– In my contract there is a point according to which I can get back home if I get demoted. We'll see what happens. I'll be able to check if there are good prospects or not.
– In the KHL your team was down 0-3 in the Conference Finals, then won the series 4-3. What did your coaches say in the locker room.
– They had no panic in spite of the 0-3 in the series. We kept playing our way, just correcting a few things. They just told that if we won't fight we won't win the series.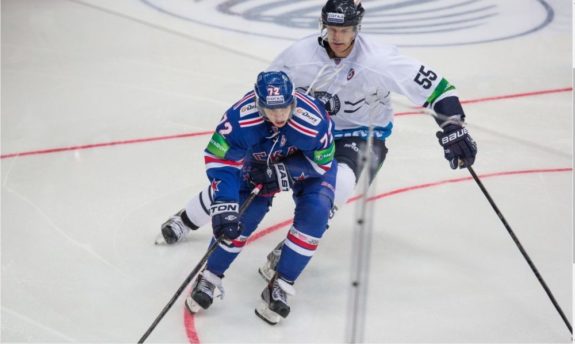 – I think that the reply is pretty much the same every time.
– I don't know what to say, frankly speaking. We didn't understand how could we be down 0-3. The score didn't reflect the play on ice. Then we won two games and we felt that CSKA was very nervous. They were psychologically tired. I haven't told anyone, but I was sure that we would win.
– Did you learn anything from Ilya Kovalchuk?
– Everything. Just look at him: he's always running, he's never tired. As he was 20 years old.
– New SKA head coach is former NHL player Andrei Nazarov, who coached you in Vityaz Chekhov. How is it to work under him?
– He inspires confidence in the players. When he tells you that you're a good player, you're really motivated to practice and work hard. Once they were interviewing him and we were sitting down in the locker room. At one point the journalist asked about me: is he a good prospect? And he replied: "Yes, he's a very good prospect, but I think that it's clear that he'll spend the next 10-15 years in the KHL." I just started playing and it was such a trash talk on me. But he was wrong. It will be fun for the SKA players, sometimes at Vityaz I couldn't even understand what he meant during the meetings as everyone was always trying to hold on and not to laugh.
– What do you remember about Vityaz's enforcers?
– Chris Simon was a good fellow. An adequate man, in spite of his acts on ice. He could both play and fight. Verot and Yablonski were good guys either.
– Isn't a bit strange that they always say that enforcers are very nice guys?
– It's simply their style. Play hard and fight. Evgeny Artyukhin also is like that, he's a good guy and plays great.
– Let's move to the National Team. What happened with the Canadian anthem?
– I don't really know what the problem was. We didn't talk about it with anyone. I got back, and half of the team was gone already. Ovechkin asked what was going on. I don't know who opened the door, but we weren't going to stay there and went away. No one even said a word. We didn't want to show a lack of respect, it was spontaneous. We couldn't imagine that there would be such a fuss. We were wondering if we were needed there. The guys from the other team were celebrating, and we had other thoughts in our minds.
– Was it disappointing that no fan awaited for you at the airport?
– Yes, a bit. We didn't think a lot about it, but when we compared how they met us in St. Petersburg [after KHL title] and in Moscow [after the IIHF WC Finals], well… But I know that people love hockey in our country, therefore it's nothing terrible.