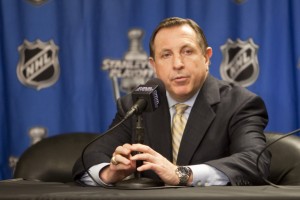 Jacques Martin has been relieved of his duties as head coach of the Montreal Canadiens. A statement on the team website says the decision was made early this morning. There had been reports that Martin had been on the chopping block for quite some time, and now it has become official. Montreal has performed well below expectations this season. As a result, Canadiens General Manager Pierre Gauthier likely felt that he needed to shake things up. Randy Cunneyworth has been named interim head coach for the remainder of the season.
Montreal got off to a very poor start this season, however, they have picked up the pace lately. Still, this is probably the best way to spark some players, and this will show them that no one is safe right now. The 57-year-old Martin had been the Canadiens head coach since the 2008-09 season. In that time, he had 96-75-25 record with Montreal. Over the years, Jacques Martin has coached 1294 NHL games with St. Louis, Ottawa, Florida and Montreal, and he also won the Jack Adams award for coach of the year in 1999.
Randy Cunneyworth had been an assistant coach with the Canadiens this season, after previously serving as head coach of Montreal's AHL affiliate team, the Hamilton Bulldogs. In his one season as head coach of the Bulldogs, Cunneyworth amassed a 44-27-2-7 record, and led the team to the AHL North Division title.
Martin's best year in Montreal was the 2009-2010 season, when he coached the team to a conference final appearance against the rival Boston Bruins. They got as far as overtime of the seventh game against the eventual Stanley Cup Champions. Players were informed of the decision by general manager Pierre Gauthier upon arriving at today's morning skate at the Bell Centre. A team release has indicated that assistant GM Larry Carriere will become an assistant coach.
The Canadiens (13-12-7) are currently last in the Northeast Division. Something needed to be done, as a team with so much offensive potential is really struggling to win games. With a top all-star goalie in Carey Price between the pipes, the Canadiens should be able to win many more games than they currently are.
Rumors have also been circulating that Gauthier could be the next one shown the door if the team doesn't start winning consistently, soon. So it comes as no surprise that Gauthier has decided to make a big move like firing Martin. Cunneyworth will clearly be given every opportunity to show that he can lead the Canadiens to victory, though it is expected that after this season, the Habs will likely look at a veteran option to stand behind the bench. Names such as Randy Carlyle, Marc Crawford, Patrick Roy, and even ex-Montreal coach Michel Therien, are already being brought up as potential candidates for next season.
Look for the players to spark up their play immediately, as there aren't too many people who want to leave a great hockey organization like the Montreal Canadiens.