It's that time of the year for Montreal Canadiens general manager Marc Bergevin. He's making his list and checking it twice… in the hopes of bringing in a huge haul ahead of the Feb. 26 trade deadline.
That means determining who should be available and who should be considered untouchable, even if the only Habs untouchable at this points looks like the Stanley Cup. They won't even come close.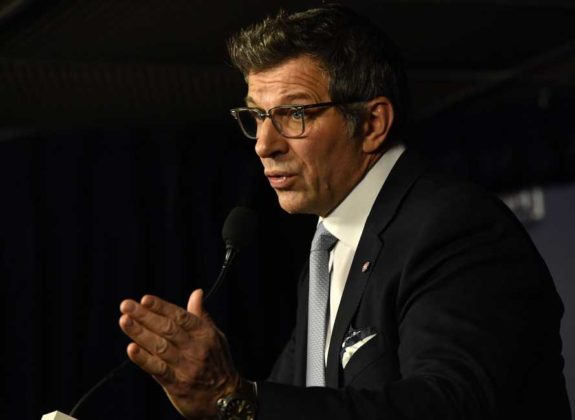 According to CBC's Elliotte Friedman, Bergevin is the most active GM heading into the deadline. His work is cut out for him as he tries to turn a bunch of underperforming players into futures, which, if he's lucky, will one day turn into NHLers prone to much the same underperformance. If he gets NHLers at all, it would be considered a win.
It's a head-scratcher, but this is the world in which we live, one where apparently the player who's underperformed the most isn't even available. Yes, goalie Carey Price, who might have just signed an untradeable extension anyway, is reportedly unavailable along with 19-year-old defenseman Victor Mete.
As the latter represents the future of the Habs' blue line, you at least can't fault Bergevin there. You probably can, if he ends up trading any of the following players, who should be considered just as valuable to the team's future too, though:
5) Max Pacioretty
Canadiens captain Max Pacioretty takes the No. 5 spot on this list, because this selection is likely to turn some heads. Most assume Pacioretty has to go, because he would fetch the largest return, and they'd likely be right.
Pacioretty is a perennial 30-goal scorer, who's under 30 with one year left under contract at an incredibly affordable cap hit of $4.5 million. Players like that don't grow on trees. So, clearly, he has to go… or "leaf" if you're into Back to the Future.
While he's having a bad season, it looks like Pacioretty's turning back the clock, himself. He has six goals and eight points in his last seven games, which means he's at least getting hot at the right time (for the purposes of a hypothetical trade, anyway; the time to save the season would have been months ago).
It seems counter-intuitive to trade a player of Pacioretty's caliber when all signs point to this just being an off year on a bad team for one of the top scorers in the game since 2011-12. The only half-decent reason to would be the assumption you can get more for him now, while he has one year left under contract, instead of at next year's trade deadline… once he's had a chance to rebound statistically and increase his value even more.
You may believe Pacioretty is worth as much as his career stats say he is or, in sharp contrast, that he's incredibly overrated. If it's the former, why get rid of him at all? If it's that latter, it's not like he'll get you all that much, right? Why not wait?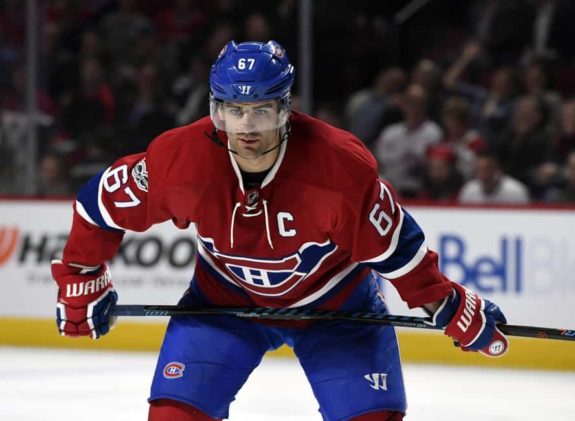 4) Alex Galchenyuk
Aside from Pacioretty, Alex Galchenyuk is probably the likeliest Canadien to be traded. Part of that probably stems from his inherent value as a 24-year-old top-3 pick who has previously scored 30 goals. Like Pacioretty, in spite of early-season struggles, he's turned it around and finds himself among the team's leading scorers.
The main difference between him and Pacioretty is the five-year age gap. At 24, Galchenyuk is the type of player you build a team around. You would think the team would attempt to do just that, but, after years of switching him back and forth between positions and jerking him around for all intents and purposes, they may consider him a lost cause.
That's again in spite of his status as one of the team's leading scorers right now. Do they think anyone they'll get in exchange would do better on a team constructed the haphazard way this edition of the Habs has been?
Galchenyuk is just hitting his prime and, if the team is finally realizing players don't like being treated the way he's been, you have two more years after this one to make it up to him before his contract expires and he maybe bolts for greener pastures. Cutting bait right now indicates Galchenyuk isn't the lost cause, but the Habs as an organization are, if they're not willing to put in the work to mend fences.
He may have been drafted as a center, but, if he's finding success on the wing, there's no justification behind moving him, unless the Habs think he'll help bring in that ever-elusive No. 1 pivot they've been seeking for decades.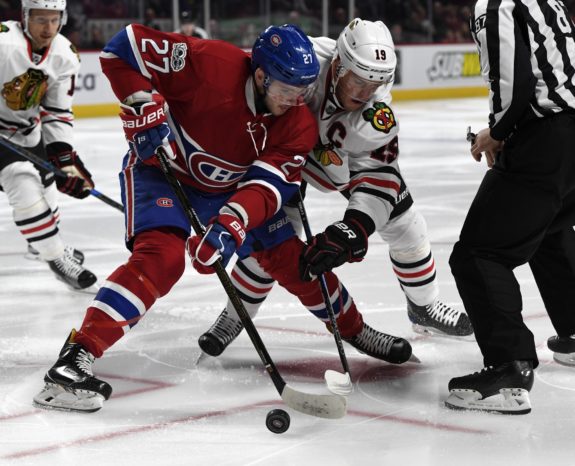 3) Jonathan Drouin
From one failed experiment at center to another, Jonathan Drouin remains a forward with immense potential. He's also a former top-three pick, who's one year younger than Galchenyuk, plus a local boy from nearby Ste-Agathe, who speaks fluent French.
If you needed more of a reason not to deal him, consider what you gave up to get him: a blue-chip defensive prospect who's lighting it up with the Tampa Bay Lightning and has an outside chance at winning the Calder Memorial Trophy as the league's best rookie.
Just as the Mikhail Sergachev factor shouldn't prevent Habs management from dealing Drouin on its own, his performance issues this season shouldn't be the only reason behind a theoretical trade. With a 53-point season to his credit, Drouin has only begun to scratch the surface of his potential. Dealing him would be foolhardy.
Granted, acquiring him in the first place for what the Habs gave up in exchange was arguably just as dumb. Now that they have him, giving up on the kid would be unwise to say the least. Thankfully, Bergevin may not be so dumb to admit his mistake of acquiring him by trading him away so soon. He's got a greater sense of self-preservation than that, you would think.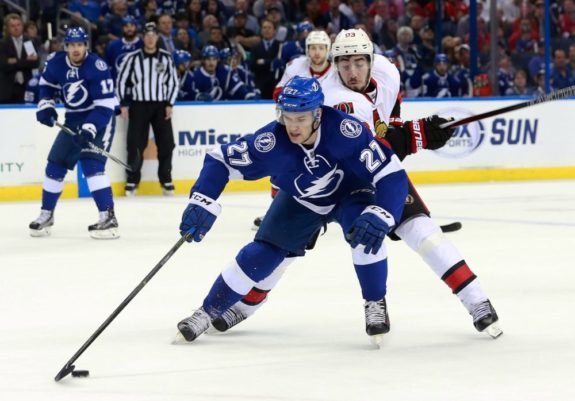 2) Phillip Danault
You can admittedly classify this one under "unlikely," even if only due to current circumstances, with Phillip Danault having just tragically taken a Zdeno Chara shot to the head. Diagnosed with concussion-like symptoms, Danault won't be traded, but, prior to his unfortunate injury, he should have been thought of as unavailable.
Galchenyuk and Drouin have both failed at center due to defensive deficiencies. Danault is one center whose play away from the puck has been well-received. He was also in the midst of putting together a second consecutive 40-plus-point season when he got injured.
Those may not necessarily be top-two center numbers, but they do indicate Danault has the capability to be an elite third-line one at the very least. Just because he's not what they need most, it doesn't mean the Habs don't need him, especially with Tomas Plekanec likely on his way out, with his contract set to expire.
Danault's will run out this summer too, but he'll only be a restricted free agent. Sure, he's in line for a significant raise from the $875,000 he's making right now, but the only reason to trade a defensively responsible center with offensive upside who's only 25 is a lack of cap space or gross mismanagement. Due to the latter though, the Habs have plenty of the former.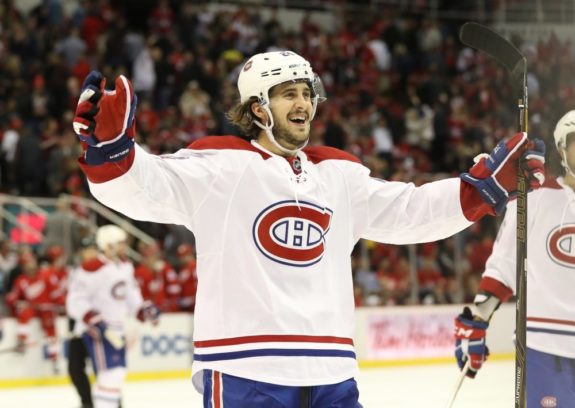 1) Brendan Gallagher
It would be one thing if Brendan Gallagher's scoring prowess were a fluke. In that case, it might be wise to trade a player when his value is at its undeniable highest.
However, Gallagher's 16 goals so far, which put him on pace for just under 30, serve as only confirmation he's recovered from his hand fractures that felled him twice before. While he suffered through a 10-goal campaign in 2016-17, he scored 19 in just 53 games (29) the previous season. The year before that, he had 24 markers.
So, it's clear that Gallagher is no flash in the pan from a goal-scoring perspective. If you add in all the other intangibles he brings to the table, i.e., grit, leadership, that annoying smile that gets under the skin of opponents, you would think trading him would be at the bottom of Bergevin's list of priorities.
You can make a good case that Gallagher's style will lead to injuries and he's at risk of a drastic decrease in production sooner rather than later relative to most other forwards. However, in one of Bergevin's better moves as Habs GM, he locked Gallagher up until before he turns 29.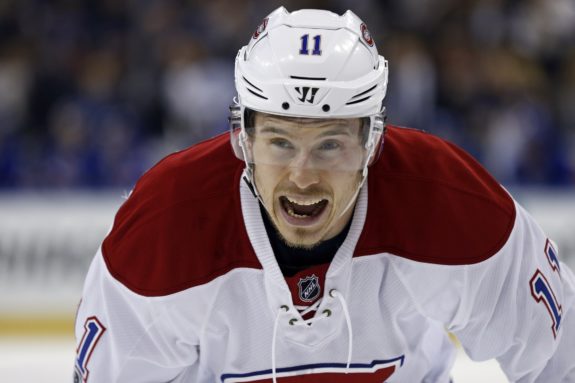 So, the Habs are presumably getting the best years of Gallagher's career at a cost-effective rate and don't need to worry about him declining. That's more than can be said about Price.