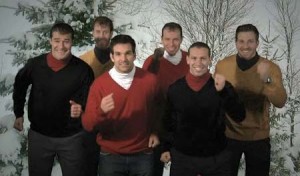 Ah December! Rookies from Southern California dream of the white Christmases they've never seen before while displaced Canadians in the sunbelt call family members just to ask what the temperature is back home. The pro shops are festooned with tinsel in team colours and ornaments bearing the mugs of mascots and players who put pucks in the net and posteriors in seats. It's a time of good will for all humanity. Depending on the various calendars, 'tis (can be) the season for Yule, Solstice, Hannukah, Kwanzaa, Festivus, Mithras, Christmas, Diwali and Eid. It is that most wonderful time of the year when hockey clubs send out their video Christmas cards. Regardless of the vagaries of team loyalty and geographic orientation that might rule the rest of the year, hockey fans will tell you that the most anticipated NHL video greeting card is the one put together by Sharks Sports and Entertainment. Starting with a simple vignette featuring Joe Thornton and his pal, "Slappy" in 2009, it has become a holiday tradition:
2009:

According to Doug Bentz, Director of Marketing for Sharks Sports and Entertainment, the decision to let Slappy bring some holiday magic to the Sharks' locker room was part of a larger plan.
"We produced the first round of commercials with the idea that it would help to market the team. The "Lousy" series was a way to create interest in the games."
One of the spots that went viral in 2009 was Joe Thornton's first appearance with Slappy:
Working with Kilburg and Associates ad agency, the Sharks organisation created sixteen "Lousy" advertisements featuring Thornton, Ryan Clowe as a waiter who misunderstands the kind of check his customer is requesting, head coach Todd McLellan as a marriage counselor, Joe Pavelski as a CSI agent who tampers with the evidence and seven other wrongly employed players.
"Hockey players are among the most elite athletes in the world. We wanted people to get to know the team a little better. What happened was it got to be a thing of its own where we ended up focusing our marketing on the individual players."
A Little Bit of Marketing Magic, A Measure of Improvisational Talent…
"The marketing department is responsible for coming up with the concepts," Bentz said. "The ads are unscripted. We found out when we started using key players from 2009 on that these guys are hilarious in their own right. We give them the concept and let them run with it. The director we work with has a knack for creating an atmosphere that is fun and affords everyone the freedom to get creative."
2010:

Obviously some players are a good fit from the start. Joe Thornton's ease in front of the camera and sharp sense of comedic timing caught the attention of the team's marketing department as well as other agencies and directors seeking to sell hockey to the US public. Have there been any other pleasant surprises for Bentz and crew when they make the commercials?
"It's a chance to let their personalities come through. We have discovered that Joe Pavelski is a good actor and Danny Boyle has a nice singing voice. For some players, that first time in front of the camera isn't easy. Then they get used to it and pretty soon they're naturals. Logan Couture and Joe Pavelski were both very nervous, a little quiet at first, until they realised they were good at this."
In The NHL, It Doesn't Feel Like The Holidays Until The SJS Video Card Comes Out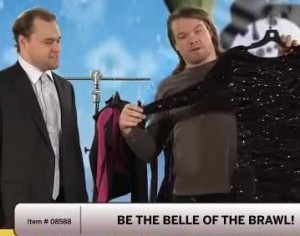 Doug Bentz admits that their surprise viral hit has definitely paid off for the Sharks. As the year winds down, he hears from media outlets and fans who want to know what's in store. "As I said, Marketing knows the concept, but until we put the guys on the set with some props, we don't know exactly what will happen. They get the guidelines from us and take it from there. This year, we did a home shopping channel theme. All we did was set them up and they supplied the script."
This year's video, which clocks in at just shy of nine minutes has been online since December thirteenth and has already been viewed nearly thirty-five thousand times on YouTube alone. This figure does not include the number of people who have seen it via remote downloads or broadcast outlets. These are the kinds of figures that entertainment managers dream of getting.
2011:

"We're very pleased with the response this campaign gets and the guys have fun with it."
Of course this leads to one final question: Have we seen the last of Slappy?
There is a pause and a quiet chuckle from Bentz.
"Joe seems to like working with him. As long as Joe wants to work with Slappy, Slappy is going to be around."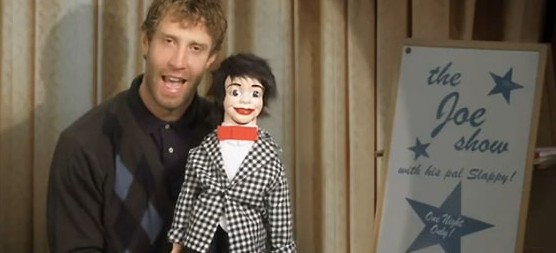 I would like to wish everyone a very happy, joyful and peaceful holiday season. Peace, Paix, Shalom, Salaam, Mir, Achukma, Paz, Haiwa, Irini, Kapayapaan, Sohl Dari, Pace, Satta, Li Ke'i, Rauha, Saanthi and Pax to all!