The 14-15 season will be the third year in Edmonton for Nail Yakupov, who will have to show that he was really worth the first overall pick in the 2012 NHL Entry Draft. In this translated interview, originally appearing on the Business Gazeta website, Yakupov talked about the way he spent the summer, shed some light on his personal life and mentioned Bogdan Yakimov, Leon Draisaitl, and Nikita Nikitin.
[Related: Oilers Need Yak to Be Back in Edmonton]
– Nail, how did you spend the summer?
– After the season I got back home as soon as I could because I really wanted to see my family and friends. I missed them a lot. Nizhnekamsk is a small city and there aren't many options for entertainment, but still I spent some good time with my friends. During the season there is a lot of hockey going on and I wanted to forget about it for a couple of weeks. I tried to spend as much time as possible with my uncle at his dacha, where we can sail on a boat and eat the excellent homemade food cooked by my auntie. And if my mama also gets there it's a true "stomach party". (Laughs.)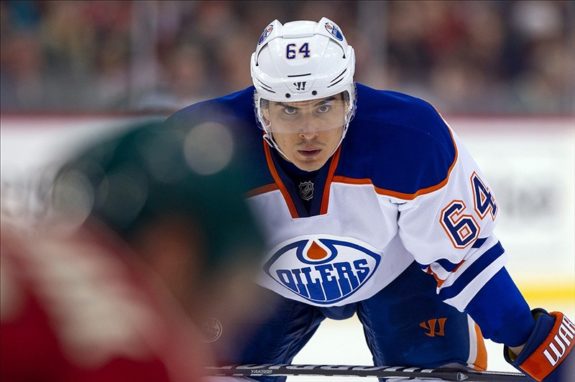 – I know that this year you visited Turkey again. Why did you decide to relax there?
– I like it a lot in Turkey. I think I've been there like 15 times. First of all it's a short flight. After all the long flights during the season it's good to have a short one. And second, I know the country very well, I know the places to go. Third, I like the weather there. I don't like "active vacations". I prefer going to the seaside or the pool, know people, get tanned, and on evening spend some time on a night club.
– With whom did you spend the vacations?
– At first I flight there with two close friends: Bogdan Yakimov and Roman. We spent ten great days together. Then we flight there with my parents and my sister, it was a big company. It was during the FIFA World Cup, we watched a lot of football and cheered for Team Russia.
– All professional hockey players practice even during the vacations. Did you practice too?
– Our conditioning coach Chad Drummond gave each player a tailor-made practice program. He gave me a very intense one, and I worked very hard. I practiced with two friends of mine and I have to thank them: I couldn't get bored during the practices. At first it was dry-practice, then we went on ice too, where we worked with my father.
– After two seasons in Edmonton, did you change your approach towards practicing?
– More than anything I changed approach regarding my diet. I started paying a lot of attention to my diet. If you want your body to support you for many years, you need to fuel it the right way. But I also started considering even more seriously the importance of a good rest. We practice a lot, therefore we shouldn't forget about resting enough to allow our body to recover. In Russia you have 3-4 practices a day, in North America no more than two. If you lose freshness, you get tired and it's easier to pick up injuries.
– In Russia players run a lot during the pre-season. What about your practices in North America?
– Of course I ran, but not too much. I spent more time on the exercise bike. I mainly worked out in the gym, I lifted a lot of weights. Running is useful of course, but, in my opinion, not in the quantities they run in Russia. I'm sure that half of NHL players wouldn't pass the Cooper test!
– Will you keep living in the same flat as before?
– No, I found a new one. And it won't be a flat, but a house. It's a bit of a strange situation. The house is owned by [Boston Bruins defenseman] Johnny Boychuk. I got to know him not long ago, during the Perry Pern tournament. I played with him and after one of the games we chatted a bit in the locker room, when I told him that I couldn't find a place in Edmonton. So he told me that he has a nice house in the downtown, but couldn't find someone to rent it to. After the tournament I went there, I liked it and we shook hands.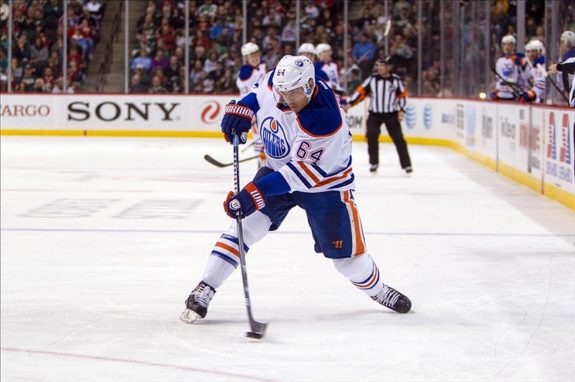 – Did you start driving a car?
– Yes! It was about time to be the only NHL player brought to the practice by his parents! Right after a practice or a game I had to call my parents and ask them to get me home. And the whole locker room would take fun of me. Now I am a confident driver, last year I got my license in Russia and now I also have a Canadian one.
– What cars do you like?
– For now I drive the Ford pickup the team gave me. I like that car. I like huge cars, "tanks". I don't have a car in Nizhnekamsk, I spend a lot of time in North America, therefore getting a car there makes little sense. The city is little, you can get everywhere by foot.
– Do you spend much time with your iPhone on hands?
– Unfortunately, yes. I always want to have a look at something or rate a picture on Instagram. Now I don't have a wife or a girlfriend, therefore I spend a lot of boring time alone. I read the news on the internet, I try to follow Neftekhimik Nizhnekamsk and I chat with my friends.
– Where are girls more beautiful, in Russia or in North America?
– Of course Russian girls are the best! And this is true even when comparing them not only with North American ones, but also with girls in other countries!
– Since July, another Nizhnekamsk native is preparing to the new season in Edmonton: Bogdan Yakimov. Did you spend some time with him?
– We see each other every day, we practice together. If he has any problem, I'm always helping him. By the way, the team took the right decision limiting the time he can spend with me: this way he won't speak Russian all the time and will be forced to speak English, and this will help him a lot at this point of his career. Not long ago we went to a Katy Perry concert.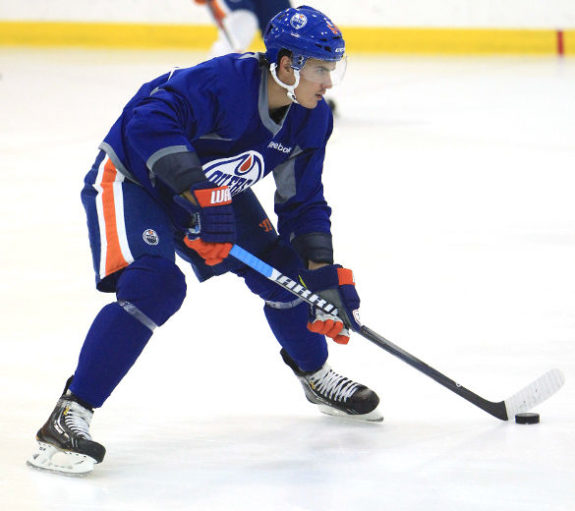 – Did you teammates find him a nickname?
– Yes, they call him "Big Bo", or simply "Bo". It's funny.
– How is he doing? Is it hard to him now?
– Yes, it is. I remember that it was very hard for me too at first. I was playing with another Russian-speaking player, Alex Galchenyuk. Now I can understand Alex, because I was always asking him to translate me something. I remember that one awesome day, after my umpteenth request of a translation, he said me: "Nail, stop asking me. In the locker room there is a dictionary, take it and learn English." (Laughs.) Bogdan now lives with a Canadian family and it's a very useful experience for him. Each day he has to talk English, and he's really improving. And he's always trying to talk with everyone, even with his limited English. Thanks him, I learned some new words myself.
– Is Nikita Nikitin already with you in Edmonton?
– Yes, he arrived here with his family a couple of weeks ago. He already found a place, he's practicing, all is good. Me and Bogdan already accepted him in our "Russian brigade".
– Did you visit the new Edmonton Arena, still under construction?
– Yes, I drive by it pretty much every day, it's really in the heart of the city. I can say that there is really a reason why a lot of people say that it's going to be one of the best arenas in the world. Even in today's state it's evident that it is a great project.
– Did you manage to see Leon Draisaitl? Do you think he can be compared to any NHL player?
– Yes, Leon and I practice together since August. He's a good guy, very professional. He remembers me of Pavel Datsyuk! Skating, hockey IQ, even the way he wears his jersey remember me about Datsyuk! The only difference is that Leon is much bigger. I can tell you a funny thing about him: he eats very fast, and it always seems that he doesn't eat for a long time.
– Did you meet any one from the staff? What role will you have this season?
– Yes, last week I talked with our GM Craig MacTavish. We talked pretty much about everything, but we barely talked about hockey. I need to earn a spot in the top-six during the training camp and become one of the leaders of the team. I have to help the team to finally get to the playoffs. You can't even imagine what will happen in Edmonton if we'll manage to get to the post-season. It would be really great for our fans. They are the best in the league, therefore we have to get there for them.