The Nashville Predators boast one of the best defensive groups in the National Hockey League, but the last week has proven the group's versatility.
That trait has been there all season, but the Predators recent four-game winning streak has really shown how the group can adapt.
A Pair of Aces
It's no secret that Shea Weber and Roman Josi are one of the top defense pairs in the league, as both deserve some consideration for the Norris Trophy. I thought Weber was the frontrunner for the award since the injury to Calgary Flames defenseman Mark Girodano.
RELATED: Shea Weber, the New Norris Trophy Frontrunner
Weber is the face of the franchise and its unquestioned leader. He's been close to winning the Norris before, but has missed out. Much of the Predators surprising season can be attributed to Weber and the rest of the defense.
His goal production may be down from last year's 23, but his plus-minus is much improved from -2 in 2013-14 to +15. His assists are about the same with 30 this season as opposed to 33 last season.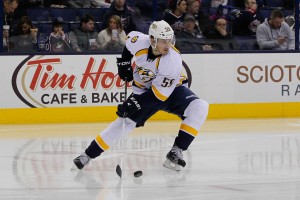 Weber may be the defenseman people think of, but Josi is making a name for himself. Josi actually has more points than Weber, and is surpassing expectations that he may be injury-prone. ESPN's Trophy Tracker actually has Josi ahead of Weber in the race for the Norris Trophy. (Weber is now fifth on the list.)
RELATED: Roman Josi, Norris Trophy Darkhorse
Ekholm's Effort
Injuries and roster changes are inevitable in every season, but the Predators adjusted over the course of the winning streak, before Calgary ended it Sunday. The group was one of the bright spots during the Preds' recent losing streak, with contributions from everyone. Mattias Ekholm has chipped in with goals in two of the last four games, including the goal from his knees against Montreal on March 23.
https://www.youtube.com/watch?v=d2_dFz3HF-A
Eklhom also had a solid January with four goals when Ryan Ellis was injured. Ekholm gained valuable experience on the second power play unit with Seth Jones.
The Kingdom of Jones
Seth Jones was expected to be selected in the top three of the 2013 NHL Draft, but he unexpectedly dropped to fourth and Nashville snapped him up. The tags of "franchise player" and "elite potential" were tossed around for the big former Portland Winterhawk blueliner.
Jones' selection gave the team plenty of depth, which allows him more time for development. Jones doesn't have to be thrust into the spotlight like other top picks such as Nathan MacKinnon in 2013 or Aaron Ekblad in 2014.
Jones has stepped up when there have been injuries to Ellis, Weber and Ekholm. He's also had success with multiple partners like Josi, Ellis and has helped Cody Franson readjust. He may not have the gaudy statistics of a top defenseman, but there's no doubt Seth Jones has helped out.
Franson, Ellis Providing Returns
A couple of returns have also sparked the Preds in the last week or more. The reacquisition of Cody Franson had some initial bumps, as he was benched in the third period of Thursday's 3-2 win over the Tampa Bay Lightning.
His ice time is down over five minutes from when he was in one of the top defense groups with the Toronto Maple Leafs. However, Franson still has his supporters and Nashville and got some work on the power play in Saturday's game. (More on the reason why later.)
He does have experience with the team and has been a part of playoff chases in Nashville, and has value as a locker room presence.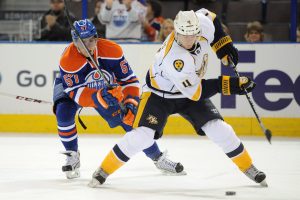 The other vital return has been that of Ryan Ellis from injury that held him out of 21 games in January. Ellis did try to give it a go for a couple of games, but was a healthy (or not-so-healthy) scratch for three games before returning March 5.
That extra rest has helped Ellis, who has two goals and four assists in the month of March. Ellis also has done well with different partners like Jones and Ekholm.
Rolling with the Changes
Saturday's game versus the Washington Capitals was huge not for many reasons. Nashville was not only trying to clinch a playoff spot and stay on top in the Central Division, but they were also trying to sweep the season-series against former coach Barry Trotz.
It was also a chance for former Washington forward Mike Ribeiro and former Caps draftee Filip Forsberg to get some measure of revenge, but that story was overtaken by the news that Shea Weber would miss the game with a lower-body injury.
Shea Weber is day-to-day with a lower-body injury. He'll be reevaluated before Sunday's game against Calgary. http://t.co/DjnGI9TeIx

— Adam Vingan (@AdamVingan) March 28, 2015
The loss of the team's best player is normally cause for concern, but the Preds didn't seem to skip a beat in the 4-3 win over the Capitals. Ekholm pitched in with a goal, and the D held together to give Nashville a win and a playoff spot.
RELATED: Predators Prevail Against Adversity, Clinch Playoff Spot
Going Forward
Weber did miss Sunday's 5-2 loss versus Calgary, but both goals were scored by defensemen (Josi and jones). The team does need its captain, but the Predators aren't dead in the water without their captain.
Subscribe to our Predators stories to get email updates every time a new story is published.
Dan Mount is a Nashville Predators staff writer for The Hockey Writers. You can follow him on Twitter, @DanMountSports.