"Goaltending is the great equalizer."
"Show me a good goalie and I'll show you a good coach."
The platitudes are endless, all extolling the importance of goaltending to the success of a National Hockey League team. But good goaltending is hard to come by and even harder to sustain. So what makes the Nashville Predators so darned good at it?
Efficiency Embodied
Between their inaugural season in 1998-99 and the end of 2015-16, the Preds used the second-least amount of goalies in NHL games, at 17. Only the New Jersey Devils and San Jose Sharks used fewer (both with 16). In contrast, the Tampa Bay Lightning used 36 goaltenders over that span, while the New York Islanders played 32.
Things look even better for the Preds when one limits one's search to include only goaltenders with a minimum of 10 NHL games played. This limiter is necessary to ensure analysis of only those netminders that teams gave a legitimate opportunity to, rather than, for example, goaltenders called up for a game or two on an emergency basis or those who made a single appearance in a mop-up role.
Since the Predators came into the league, they have used the fewest number of such netminders, with eight.
Yes, you read that right. Eight. That's even less than the Atlanta Thrashers (Winnipeg Jets inclusive) who entered the NHL in 1999-00, and less than both the Minnesota Wild and Columbus Blue Jackets, who didn't begin play until 2000-01. The NHL average over this time-span is 16 of these goalies used.
Eight goaltenders in 17 seasons of play. Not too shabby.
The only team even close is the Devils (nine), who had some guy named Martin Brodeur for a while, before some other kid, Cory Schneider, who isn't half-bad either. On the other end of the spectrum, 25 goalies got at least a 10-game audition with the Lightning, with 23 getting the same shot for the Islanders.
Name-Dropping
The Predators played the majority of their first four seasons with a goaltending battery of Tomas Vokoun and Mike Dunham – both selected during the 1998 expansion draft, with the older and more experienced Dunham garnering the majority of the starts. The Predators handed Vokoun the reins on a full-time basis when they traded Dunham to the New York Rangers during the 2002-03 campaign. Youngster Chris Mason became Vokoun's full-time batterymate the following year.
2003-04 through 2006-07 saw the Vokoun-Mason tandem remain together. After Vokoun was traded to the Florida Panthers at the 2007 NHL draft, Mason shared duties with free-agent acquisition Dan Ellis. Following the 2007-08 campaign, with Pekka Rinne ready to step into an NHL starting role, Mason was shipped to the St. Louis Blues. Rinne has held on to the Predators' top job ever since, with solid pros Ellis, Mason (back for a second tour of duty) Anders Lindback, Carter Hutton and Marek Mazanec backing him up.
That's a lot of names (feeling old, are we?) but, chances are, if you follow hockey at all, you know most, if not all, of them as bona fide NHL goaltenders. This constant stability between the pipes is hard to come by, but stability is no guarantee of quality (*cough* Dallas Stars *cough cough*). So what do the numbers say?
Crunching the Numbers
Between 1998-99 and 2015-16, the Predators have squeezed the fifth-most combined starts out of their goaltenders with 10 or more games played. Given that these starts were provided using the fewest number of goalies, it is clear that the Predators have always had stability and certainty in net. Take 2013-14, for example: Hutton was thrust into action by a Rinne injury and ended up winning 20 times in 34 starts. Rinne was unquestionably the starter, but the Preds had developed a goaltender that could seamlessly take over when needed, as they had done previously with Vokoun when Mike Dunham held the starting job.
Also during this period, the Predators boast the fourth-best team save percentage, at .913. They also have the seventh-most shutouts over that span, with 99. Furthermore – and you'll be the life of the party when you bust out this one – those Predators goalies accumulated the sixth-most penalty minutes amongst team goaltending batteries. You're welcome.
Now This Is Just Getting Silly
But all good things must come to an end, right? Well, not so fast. Think about who has the NHL lead in save percentage (minimum 10 games played). Devan Dubnyk, you say? Try Juuse Saros (.941).
Pekka Rinne is 34 and has two years left on his deal after this season. Saros – like Rinne, a Predators draft choice – is 21 years of age and seems poised to take over the starter's role within the next couple of years. Assuming he doesn't regress and or run into injury troubles, the Preds should be set up in goal for yet another decade.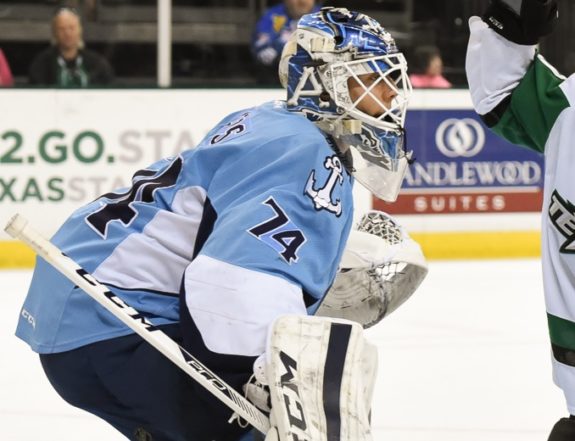 Organizational Excellence
Mike Dunham and Tomas Vokoun were selected during expansion. Chris Mason was acquired via trade. Dan Ellis and Carter Hutton were signed as free agents. Rinne, Lindback, Mazanec and Saros were all Predators draft choices. Whether it be scouting other teams' netminders or drafting their own, the Nashville Predators, straight up, have consistently been the best in the business at efficiently assessing and developing goaltending talent.
Since their inception, the Predators have had one general manager – David Poile. They have had only two head coaches – Barry Trotz and Peter Laviolette. Mitch Korn was the goalie coach for 11 straight seasons. The Predators' organizational stability – especially stability that's proven so effective – is unparalleled in the NHL. And why shouldn't this stability continue, if their perennial success locking down the game's most important position is anything to go by.