What do Tyler Seguin, Ryan Nugent-Hopkins and Nathan MacKinnon have in common? They were all star players who Hockey Canada deemed to be too young and not emotionally and physically ready for the World Junior Hockey Championships.
In case you aren't familiar with the name Nathan MacKinnon; you will be. The rookie winger for the Halifax Moosehead in the QMJHL is widely considered to be the best 16-year-old hockey player in North America and a likely first-overall draft pick when he is eligible in two years. Hailing from the same hometown as one Sidney Crosby, MacKinnon has already been pegged as the next great Canadian star, but that title alone wasn't enough to earn him a spot on Team Canada's selection camp roster for the upcoming World U-20 Championships.
Despite posting 19 goals and 49 points in 29 games, MacKinnon was left off the list of hopefuls who will be competing for a spot on Canada's entry at the tournament. Although it didn't come as much of a surprise given the fact that 17-year-olds are rarely picked for the team let alone a 16-year-old, the snub of an elite player like MacKinnon is certain to raise some eyebrows; especially once his performance from this past Saturday night starts to gain some more recognition.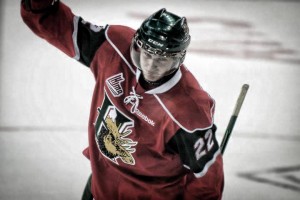 In a game between Halifax and the Quebec Remparts, MacKinnon had an awe-inspiring five-goal game in the Moosehead's 6-4 win. That's right. Five goals.
That brings me back to the comparison with Seguin and Nugent-Hopkins.
In 2009, the 17-year-old Seguin was invited to Canada's selection camp, but despite leading the OHL in scoring at the time, he ended up being left off the team. In 2010, the 17-year-old Nugent-Hopkins came into the camp as the projected first-overall pick in the upcoming NHL Draft and despite clearly being one of the most talented players in junior hockey, he too was left off the squad. The main reason as to why they weren't picked to represent their country when they had seemingly done everything in their power to do so? The fact that they were only 17 competing against 19-year-olds whom the Team Canada brass figured to be much more mature and much more ready for such a grand stage.
Canada went on to win silver, or more appropriately perhaps, lose gold in those respective tournaments and while the additions of Seguin or Nugent-Hopkins may or may not have changed the outcome; in retrospect they should have been on the team.
MacKinnon's situation is a little different since he is only 16 but his play as a rookie in the CHL has shown that he at the very least deserved a chance to see what he could do. Maybe he makes the team, maybe he doesn't; either way you are setting yourself up for success. If he makes it then he obviously earned it through his play. If he doesn't then he would have been that much hungrier for next year.
It was a win-win situation for Hockey Canada but once again they decided that a player's age, or lack thereof, trumps the player's skill and talent.