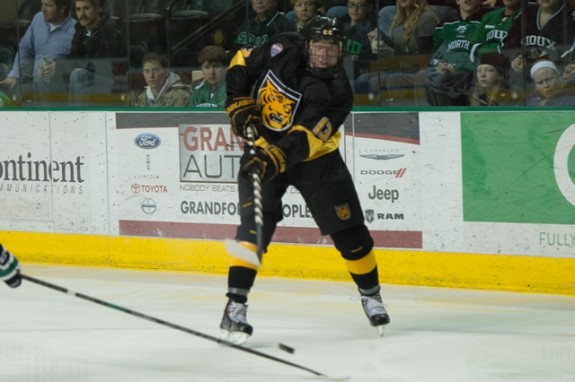 First off, I am not anti-Canadian Hockey League, by any stretch of the imagination. I think it's a great league that has an exciting on-ice product. Obviously, it's a very good path for player development. It's a great option, if you're a top prospect that doesn't plan on playing college hockey for four years. Also, the numbers speak for themselves; the CHL is the top development league for developing players going to the NHL.
Minnesota Wild tried to convince prospect to leave college team for WHL
Recently, we learned that the Minnesota Wild tried to convince one of their top prospects Gustav Olofsson to leave his college team, midseason, and go play for the Portland Winterhawks in the Western Hockey league. The freshman defenseman is currently playing for the Colorado College Tigers, and if he had left his college team, that would have been the second player, in less than a week, to bolt from an NCHC team for the WHL.
Joe Paisley, the Gazette—  Gustav Olofsson was encouraged to leave CC and head to Portland of the Western Hockey League by the Minnesota Wild, which drafted him 46th overall in 2013, after a strong performance for Sweden. His NHL stock rose after he finished with five points (four assists) in seven games and played well defensively.

"Olofsson really impressed me when they lined up to play the Russians," said college TV analyst Dave Starman, who called the games for the NHL Network. "His pairing against (Russian leading scorer Mikhail) Grigorenko spoke volumes about what he was worth to Sweden."

But the rookie decided he wanted to stay at CC citing good coaching and the team.

"That (WHL) will always be there because they have my (major junior) rights," Olofsson said. "This is where I want to be and that is why I am here."

The Tigers are glad he chose to stay.

"Having Jaccob (Slavin) back is a big help and seeing Gustav decide to come back was a boost for team morale," CC assistant Joe Bonnett said.
When a player bolts from his college team midseason, it also leaves that team shorthanded. In most cases, that college team can't just go out and replace that player midseason, it's not possible. It's not like junior hockey, or the NHL, where you can replace a player if they leave. When a player bolts on a college team, they're stuck until the semester, and or the season is over.  Thankfully for the Tigers, Olofsson decided to return to the Tigers and not bolt for Portland of the Western Hockey League.
As a college hockey fan, I am concerned that the Minnesota Wild would try to convince one of their top prospects to just up and leave their college team during the middle of a season. I find that troublesome. At least let the player finish the season before you try to convince him to move on.
Players  bolting for the CHL, leave college teams empty handed
Here's the crux of the problem. Many division I hockey teams recruit high end players, many of these players have lucrative futures in the NHL. Sometimes the NHL teams that drafted theses players, will try and convince them to play Major Junior hockey, instead of honoring their college commitment.
Not only does a college hockey team have to worry about an NHL pressuring one of their players to leave for the CHL, some NCAA coaches' have to worry the CHL teams going after their players that are already on their roster.
UND head coach Dave Hakstol was asked if it was a concern that CHL teams might be recruiting players on NCAA rosters, even after they have been playing for a college team.
"They do, plain and simple," Hakstol said. "That's part of their job and part of their world."
It's frustrating for college hockey fans, because in many cases, the college teams were counting on these players to contribute to their hockey team. Once they leave for the Major Junior ranks, that player is no longer eligible to play in the college anymore because the NCAA considers them professionals.  That team is left high and dry, to wonder what could have been.