When the Boston Bruins made a trade to acquire Rick Nash, they knew the New York Rangers wouldn't let him go cheaply. As such, the Bruins were forced to part with a first-round pick in 2018, Ryan Spooner (in the middle of a breakout season), a seventh-round pick in 2018 and one of their top prospects in defender Ryan Lindgren.
The Rangers also took on the contract of Matt Beleskey in this deal, but his inclusion in the deal likely cost the Bruins more than it would have without him.
While there were some major pieces moved as a part of that transaction, the inclusion of Lindgren wasn't talked about as much as it could have been.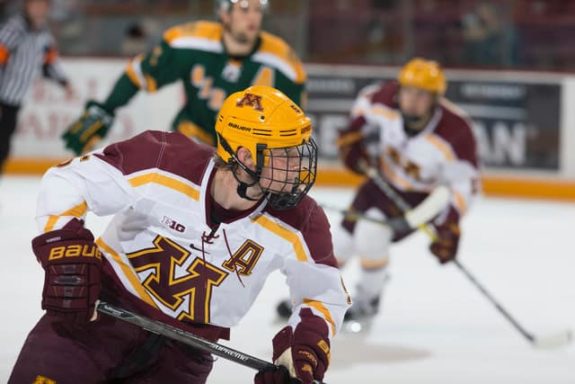 A physical stay-at-home blueliner who gained notoriety for his defensive play and bruising style as opposed to an offensive skillset, Lindgren looked like a future-Bruin from the very start.
With the amount of left-shot defenders on the Bruins roster and in the system, however, Lindgren's inclusion in the team's future plans ultimately fell through as the Bruins deemed him expendable with Nash available for the present.
Lindgren's Physicality Sets Him Apart
With reports that he may be looking to make the jump to the NHL sooner than later in the days prior to this signing, Lindgren ultimately made the jump from the University of Minnesota after spending the last two seasons with the school.
OFFICIAL: #NYR have agreed to terms with defenseman Ryan Lindgren on an entry-level contract.

Lindgren, 20, served as one of the University of Minnesota's alternate captains this season while playing in 35 games with the Gophers. pic.twitter.com/8EOZ55UFOw

— New York Rangers (@NYRangers) March 22, 2018
As mentioned, Lindgren's bread and butter come with his physicality and defensive prowess. As such, his three goals and 16 points in 67 games over the last two seasons shouldn't be considered a major red flag.
While Lindgren's skillset and high hockey-IQ can translate to a top-four role at the NHL level, there have been some question marks in regards to his ability to play a role above that of a bottom-pairing role. It's a fair question given the direction that the NHL is trending with mobile, point-producing defenders usually carrying the brunt of the load in a top-four capacity.
Still, there's something to be said about a player like Lindgren who can carve a role for himself as a defensive-minded player despite dismal offensive totals during the draft process.
Scouts of both the Bruins and the Rangers clearly saw something worthwhile in Lindgren's game and when watching him it isn't hard to manage a guess as to what stood out.
Scouts Like What They've Seen From Lindgren
Lindgren's ability to play a solid brand of defense is reminiscent of the NHL of old. While he isn't overly large at 6 feet and 198 pounds, he uses his size effectively when lining up his opposition and finishing each and every one of his checks.
Something that can be glaring among young players is timid play. It's easy to get in your own head, and it's plagued countless players throughout history. With that said, Lindgren's ability to keep his foot on the pedal is crucial to his ability to impact a game.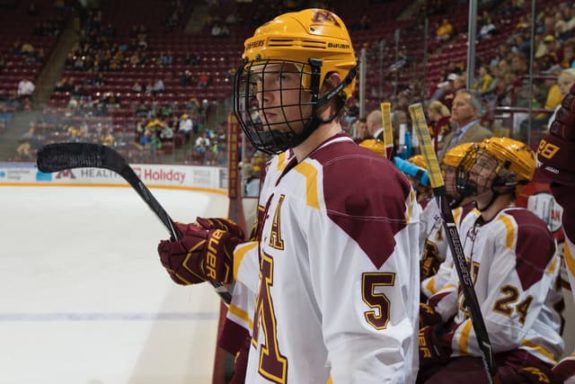 When it comes down to it, Lindgren is the type of player that opposing teams hate playing against. Being strong and physical is one thing. Being able to get under the other team's skin with continuity is something else entirely. Lindgren has made his style of hockey more of an art form than not as he's managed to refrain from overly-dirty play despite his constant dominance in the hit-column.
Another point to note is that despite the label of shutdown-defenseman, Lindgren's skating is way above average. His smooth strides, ability to keep pace with forwards should make his transition to the NHL smoother than some might think.
Leadership an Important Trait to Consider
Part of the reason the Rangers likely took a look at Lindgren as an inclusion in the Nash deal was also likely motivated by his leadership. An alternate captain at Minnesota under Don Lucia (who recently stepped down from his role with the team), Lindgren has proven to be as important off the ice as he is on it.
The fact that the Rangers' best young defender in Brady Skjei also came from the University of Minnesota and played in a shutdown role there is no coincidence either.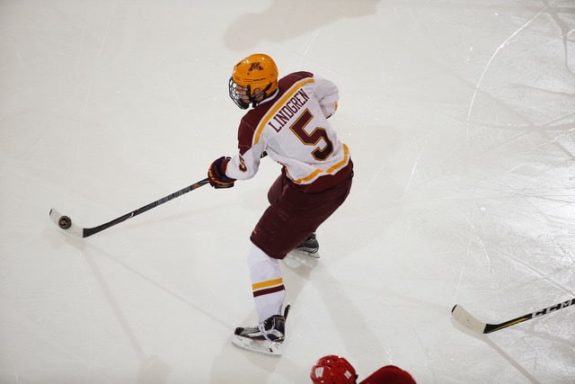 While Lindgren and Skjei aren't the same players, the fact that the latter was able to find his offensive step with the Rangers should instill confidence in the former's ability to expand on his offensive potential as well.
The Rangers are a team in transition and they've gathered quite a few young blueliners who aren't afraid to use their size to their advantage. Lindgren could prove to be the best addition to the group when all is said and done, though, if he can add even a touch of offense to his game.
Things to Work on at the NHL Level
While Lindgren has the makings of a top-four defender at the NHL level with the potential for offense to follow in a new system with the Rangers, he'll need to work on understanding that side of the game.
For defenders who are used to jumping into the rush, the decision-making on when to join the rush and when to drop back into coverage comes with time. Lindgren has never been asked to join the rush with any form of consistency and that's something he'll have to learn quickly in at the professional level.
Though his fundamental defensive instincts are solid, the decision-making can be blurred when there's an added layer to consider such as playing a more offensive role. Again, nobody is expecting Lindgren to become any sort of offensive powerhouse. His ability to learn and expand his horizons could be imperative to his success at the next level, however, as shutdown defenders don't fill the same role they once did at the NHL level.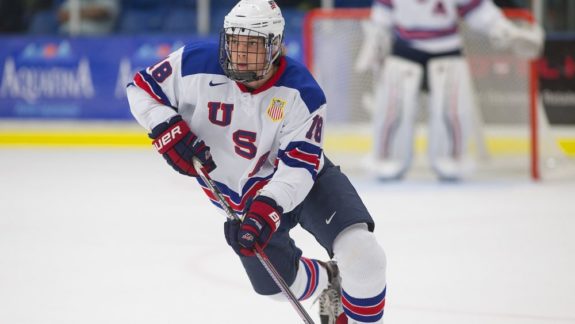 Playing a responsible two-way game isn't easy. Fortunately for Lindgren and the Rangers, though, the 20-year-old has proven to exhibit a strong understanding of the position in his two seasons at Minnesota and his exposure with the United States at the World Junior Championships.
Whether he cracks the lineup in the NHL right away or finds himself spending the remainder of this season and even the 2018-19 season with the Rangers' AHL affiliate in Hartford, THW's Phil Kocher believes that Lindgren could benefit from the steep competition.
At the very least, Lindgren could prove to be a very solid second-pairing option in the coming years which is fortunate for the Rangers as they won't need him to be anything better with Skjei already involved.
Bruins Needed to Make the Trade
While Lindgren's ceiling could be that of a top-four defender at the NHL level, this deal was one that the Bruins simply had to make. Though he's missed time recently due to injury, the addition of Nash has been huge for the Bruins who have found a balance between their top two lines rather than forcing the top line to do too much, too often.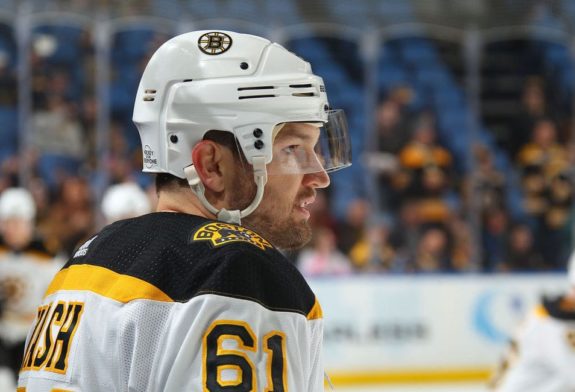 Nash's three goals and six points in 11 games in Boston may not look as impressive as Spooner's two goals and 13 points in 11 games in New York, there's more to the story than the scoresheet.
Nash's ability to play a physical game while also playing a responsible 200-foot game in Boston has led to the re-emergence of David Krejci as a lethal scoring threat.
Though Nash has started a staggering 67.9% of his zone starts in the offensive zone with only 32.1% coming in the defensive zone, the Bruins ability to use Patrice Bergeron, Brad Marchand and David Pastrnak more effectively was evident prior to Bergeron's injury.
Bruins Had Too Many Defense Prospects
On top of Nash's contributions to the Bruins, the team also had to make a decision quickly on which defenders would be part of their plans and who would have to go. With Zdeno Chara, Torey Krug, Matt Grzelcyk, Jeremy Lauzon, Jakub Zboril and Urho Vaakanainen all figuring to play a role in the coming years, both Lindgren and Rob O'Gara – another Rangers' deadline addition, were expendable.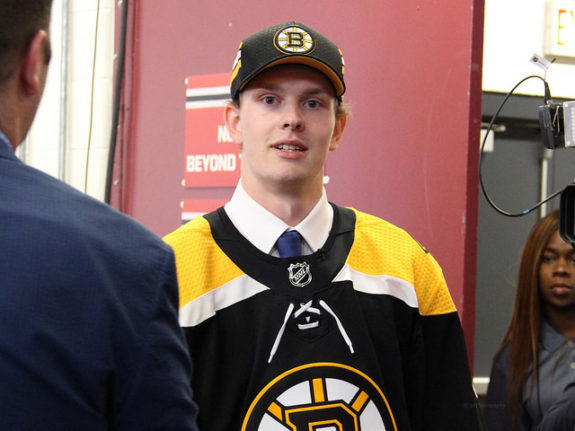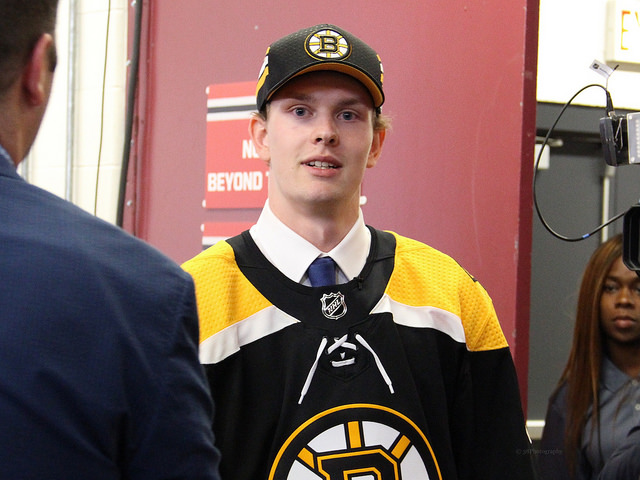 The loss of O'Gara was a little easier to accept as he is already 24 years old. Losing a 20-year-old like Lindgren wasn't quite as easy, but with so many prospects at the same position fighting for an opportunity, something had to give.
Don Sweeney has earned the trust of the fanbase with his decision making following a rough first few months on the job. As such, his decision to move Lindgren over one of the other defenders in the system shouldn't be questioned even if Lindgren reaches his ceiling.