Ask most New York Rangers fans what the first thing is that comes to mind when they hear the name Marc Staal, and the answer will almost always be, "His contract."
It's understandable: Staal's six-year, $34.2 million deal that carries an annual $5.7 million cap hit for two more seasons after this one is exorbitant (to put it mildly) for a stay-at-home defenseman who's never recorded 30 points in a season, isn't an exceptional skater and will celebrate his 32 birthday in January. Handed out by former team president and general manager Glen Sather in January 2015, the contract raised some eyebrows at the time and continues to do so.
Where, though, would this surprising 2018-19 Rangers team be without the veteran alternate captain?
Staal was never going to be able to live up to the riches of his deal, a fact that he surely understood when he signed it. Bemoaning his bloated cap hit has become something of a sport in blogs and on social media, and rumors of Staal being a candidate for an offseason buyout are as routine as the changing of the seasons.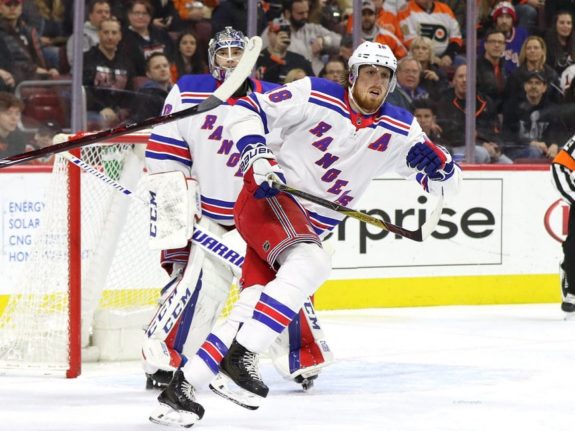 Unfortunately, all of that obscures the fact that Staal, who has bravely overcome serious injuries in his career, has been a steadying force over the past two seasons for a Rangers team that has undergone roster-wide changes, but especially on the blue line.
Staal's Steady Play, Leadership Critical
Paired with wunderkind second-year player Neal Pionk, Staal has been the constant on a defense corps that has begun its first full season without former captain Ryan McDonagh. With Brady Skjei mostly struggling in the early going and Brendan Smith regressing after a resurgence to start the season, it's difficult to fathom what state the left side of the defense would be in without Staal.
With he and Pionk largely handling top-pair matchup duties, Staal has performed admirably, posting a plus-4 rating and a High Danger Chances For Percentage of 53.61, with the Blueshirts generating 12 more such chances than opponents when Staal's on the ice (courtesy naturalstattrick.com). Staal was plus-4 during a three-game winning streak before the Rangers dropped back-to-back games to the Philadelphia Flyers and Washington Capitals on Friday and Saturday.
He was minus-1 in each contest, only the second time this season he posted a negative rating in two straight games.
"We gotta keep our heads up and know what makes us successful and go from there," Staal said.
They did Monday, bouncing back with a 4-2 home victory over the Ottawa Senators. Staal snapped a 94-game goal drought to open the scoring midway through the first period by ripping a Mika Zibanejad feed past Craig Anderson, and finished the game plus-1.
Perhaps just as important as Staal's play has been his leadership for a young team. Having Staal's steady presence on his left has allowed Pionk to make a quantum leap in his second season; his confidence is evident and he's wowed with his dynamic skating, offensive ability and strong defensive positioning. A fixture at the point on the top power-play unit, the undrafted free agent out of Minnesota has four goals and 11 assists, with 11 points coming on the man advantage.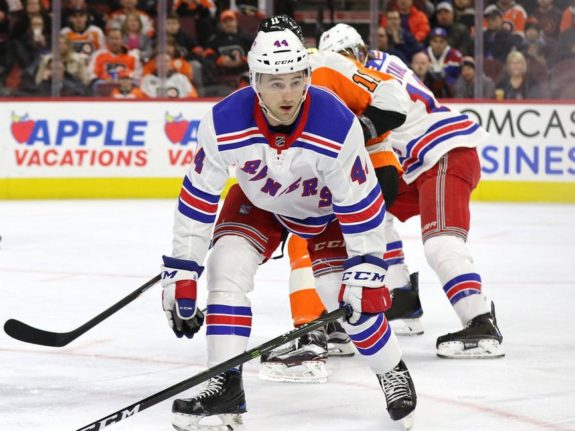 "He is a calming influence on our team, in the locker room and on the ice," coach David Quinn said of Staal after Monday's win. "He works hard and wants to get better. He has defended well, I think he has eaten a lot of minutes and has played against the other team's top players."
As the Rangers have operated without a captain this season, Staal has played a key role in helping to fill that void for a club that at 13-10-2 has surpassed everyone's expectations. The Blueshirts were on a 9-1-1 surge before coming back to Earth over the weekend.
"In order for us to be successful, we need everyone skating and everyone working and not just some of the time, but all of the time," Staal said after the 5-3 home loss to the Capitals, which came a day after a 4-0 defeat to the Flyers. "That's how we've generated offense. That's how we've been tough to play against."
Of the eight regular Rangers defensemen, Staal is the only one that Quinn has yet to bench. His strong season, however, shouldn't come as a big surprise given how Staal played in 2017-18. On a Rangers club that was challenged defensively and suffered from poor performances and plenty of change on its blue line, the 12-year veteran was among the few bright spots, posting a plus-11 rating.
Young Rangers Relying on Staal's Veteran Presence
His career nearly derailed by concussion problems and a scary eye injury that cost him much of the 2011-12 and 2012-13 seasons, Staal has played at least 72 games in each of the five seasons since and is back to being the physically dominant defender that earned him riches on Broadway. His admirable comeback from those issues doesn't seem to attract as much attention as it should – perhaps because he is defined by his big contract.
With two more seasons remaining on his deal after this one, Staal, a holdover from the club's most recent run of Stanley Cup contention, can't be considered the Rangers' past. He's also unlikely to be a part of their long-term future. As crucial as his strong play has been this season, a cynic might say that Staal's effectiveness has saved the front office from what would be an extremely painful buyout after this season, which would spread his remaining financial commitment over four additional seasons.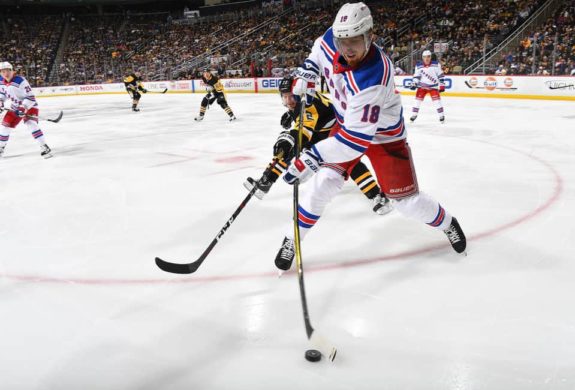 A more upbeat – and realistic – viewpoint on Staal is that his timing is perfect for these Rangers. In the midst of a youth movement, with third-year man Skjei still trying to establish himself, Pionk in the process of developing into a fixture and a host of young left-side defense prospects learning their craft in the minors or in college, the Blueshirts need Staal now more than ever.
His contributions often overlooked during the team's Cup contention years, Staal is now serving as a bridge to the next generation of Rangers defensemen. Though he'll probably continue to be taken for granted as he anchors an uncertain defense and provides leadership amid the rebuild, it won't make his contributions to the Blueshirts' present – and future – any less real.