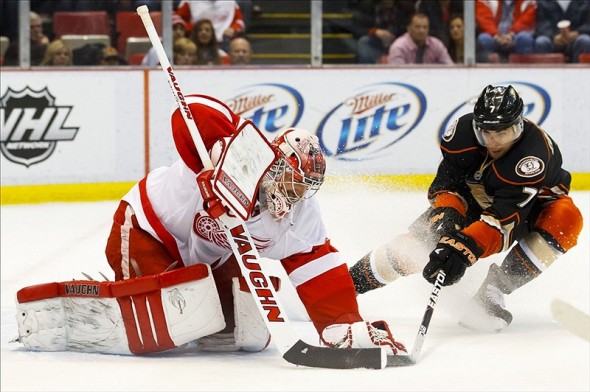 The NHL lockout is in full swing and rumours of an amnesty clause are beginning to swirl.
With that, we continue our two-part miniseries briefly profiling each team across the NHL by providing a short explanation of a player they would strongly considering buying out if given the chance. Yesterday we looked at the Eastern Conference, where a few surprises were found.
Note: The years remaining on each player's current NHL contract includes the 2012-2013 season but all choices are made on the assumption that the entire season will be lost.
Anaheim Ducks – Andrew Cogliano – $2.39 million cap hit, two years remaining
Cogliano was supposed to be the NHL's next young gun scoring machine, but 61 points over the last two seasons (82 games each) just isn't worth a $2.39 million cap hit.
Calgary Flames – Matt Stajan – $3.5 million, two years remaining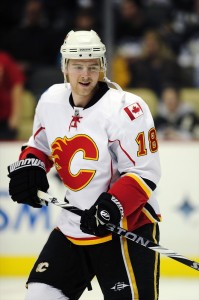 Stajan has struggled mightily since joining the Flames, a team that paid him $4.5 million to score 18 points in 61 games last season. Choose him over Jay Bouwmeester, who with two years remaining on his contract, could become half-decent trade bait.
Chicago Blackhawks – Michael Frolik – $2.333 million, two years remaining
Perhaps a prospect but Frolik has yet to materialize. After notching 15 points a finishing with a minus-10 rating in 63 games last season, $2.333 million is too much to be spending.
Colorado Avalanche – Jan Hejda – $3.25 million, three years remaining
Hejda provides the odd goal from the blue line and contributes in a veteran leadership role as well, but his minus-37 rating over the last three seasons combined with the size of his contract are enough to cut him loose.
Columbus Blue Jackets – Derick Brassard – $3.2 million, two years remaining
Brassard hasn't been all that disappointing since signing a four-year deal in 2010, but he hasn't been spectacular either. With a cap hit comparable to the likes of Clarke MacArthur, Dustin Brown and Sam Gagner and a plus/minus consistently in double-digit negative territory, it's time to say goodbye to Brassard.
Dallas Stars – Vernon Fiddler – $1.8 million, two years remaining
Fiddler is in a similar situation as Brassard. In Fiddler's case, though, it's both penalty minutes and plus/minus that have some concerned.
Detroit Red Wings – None
There is a reason Ken Holland is widely considered to be the best GM in the National Hockey League. He makes the right trades, drafts well and doesn't overpay in free agency.
Edmonton Oilers – Shawn Horcoff – $5.5 million, three years remaining
Horcoff signed this lucrative six-year contract after his fourth consecutive 50-plus point season. Since then, Horcoff has notched 36, 27 and 34 points over the last three seasons respectively.
Los Angeles Kings – None
The fact that there is simply no one on the Kings' roster that the team should even considering buying out given the chance to do so without any penalty whatsoever just goes to show the turn around in Los Angeles is complete. That is, of course, if the Stanley Cup championship didn't already prove that.
Minnesota Wild – None
Seriously, the Wild? Seriously. The team may have chosen the wrong time to buy out Cam Barker's contract when they elected to let him go back in June of 2011. Now all the team can hope for is a roll back in salaries (see: Zach Parise, Ryan Suter).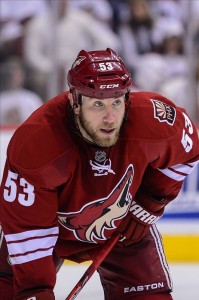 Nashville Predators – None
It would make complete sense for the Predators to buy out Paul Gaustad's contract if they hadn't of signed it so recently. After the Preds overpaid to acquire his services earlier this year, they overpaid to keep them not too long after.
Phoenix Coyotes – Derek Morris – $2.75 million, two years remaining
Morris just isn't playing at the level he once did. Even with his contract year on the horizon, it would be difficult to get much, if anything, in return for the 34-year-old especially considering he holds a no-trade clause.
San Jose Sharks – Dan Boyle – $6.6 million, two years remaining
Boyle has had a solid NHL career and he hasn't slowed down during his time in San Jose, but the reality is that at 36 years of age, Boyle is nearing the end of his career and trading him will be very difficult. Adding to that difficulty is the fact that Boyle can submit a list of up to eight teams to the Sharks that he will not accept a trade to.
St. Louis Blues – None
How do you cut a player from an up-and-coming team that is coming off a well-deserved second place finish in the Western Conference? Maybe if there was a struggling veteran or two, but this team is full of youth.
Vancouver Canucks – Keith Ballard – $4.2 million, three years remaining
Losing a defencemen who struggled so much that he even found himself spending time in the press box won't hurt a Canucks team that regularly fights for top spot in the Western Conference.
All contract information courtesy of Cap Geek.
Twitter: @LukasHardonk | Email: lukas.hardonk@gmail.com | Lukas' archive
For every Leafs article on THW, follow @THW_MapleLeafs on Twitter.
Check out Maple Leafs Central, a THW Network site.
Lukas, a student at the University of Ottawa, covers the Toronto Maple Leafs on a part-time basis for The Hockey Writers. Contact Lukas at lukas.hardonk@gmail.com or follow him on Twitter, @LukasHardonk.