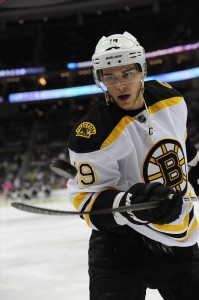 Last week, Nicholas Cotsonika posted a column on Yahoo! Sports about the disappearance of the 100-point player. The century mark is what all great players shoot for, but as he noted of the 24 times a player has reached 100 points since the lockout, only 10 have come in the past four seasons.
But just because players are no longer reaching the milestone doesn't mean there is anything to worry about. In fact six teams have a better offense than last season's leader, the Vancouver Canucks who averaged 3.15 goals per game.
The Boston Bruins, a team more known for its defensive prowess than its offense, are leading the league in scoring with 3.52 goals per game and they don't have a single player averaging a point per game; sophomore sensation Tyler Seguin is leading the charge with 31 points in 32 games. The reason they are doing so well is coach Claude Julien can roll all four lines and they can all create chances. Chris Kelly and Benoit Pouliot are on the third line and they are on pace for 30 and 19 goals respectively. Even their fourth line is capable of a strong forecheck and creating chances, even if they don't score.
So far this season, there are 19 players averaging a point per game or higher (minimum 30 points), a higher number than last season that saw only 12 players reach a point per game (minimum 70 points). It's not enough for a player to put up points, they have to be able to play a great all-around game as well, a focus that certainly limits the number of scoring chances. That's what makes Pavel Datsyuk so dangerous. Sure, he could easily put up 120 points if he wanted, but he also knows he has to pay attention to the defensive zone as well if the Red Wings are going to win.
Simply put, an offense is harder to stop when each line is capable of producing on any given night. A team that relies on one player to provide the bulk of the offense isn't going to go anywhere if that player can be stopped or is injured. The Washington Capitals are struggling mightily with Alex Ovechkin slumping; aside from their seven-game winning streak to begin the season, they are 10-15-2 on the year and currently sit in 11th place in the Eastern Conference. However, the Pittsburgh Penguins, who have been without Sidney Crosby for all of eight games this season, have hardly missed a beat without their captain.
Even though the Caps have plenty of players capable of scoring, Nicklas Backstrom, Alex Semin, Mike Green and Mike Knuble, but all of those players tend to lean on Ovechkin. Because teams have figured out how to stop him, the Caps development has stalled and they are no longer a major threat. Pittsburgh has proved they can play just fine without Crosby because their depth at scoring. Evgeni Malkin, Jordan Staal, Chris Kunitz and James Neal all give defenders fits even without their captain, making the Penguins a much bigger threat.
So while there may be no one player on your team putting up superstar numbers, don't fret. Instead, hope for a balanced lineup. Each Stanley Cup winner has featured several scoring lines, not just one to carry the offense. Top defenders can only play so many minutes, so the best way to beat them is to have lines capable of scoring while their attention is elsewhere.
A native of Monroe Township, NJ, Tim received his Bachelor's Degree in Contemporary Journalism from Endicott College in Beverly, MA. A Flyers fan growing up, he has gone to numerous events including each installment of the Winter Classic, the Stanley Cup final and the 2010 Olympics.
In addition to The Hockey Writers, Tim also writes for The Good Point and interned with The Hockey News from Jan. to May 2011, contributing to their book Hockey's Most Amazing Records. Outside of hockey, Tim enjoys reading and watching movies and extreme sports such as snowboarding and skydiving.