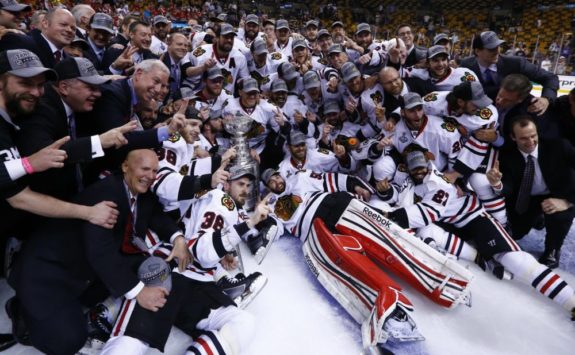 Welcome to the start of the 2013-14 NHL season, hockey fans!  As is common in the world of hockey blogdom, there will be countless preseason rankings of all 30 NHL teams.  Not to be outdone, here are mine:

1. Chicago Blackhawks
In a shortened 48-game season, the Blackhawks came out firing.  Etching their name in the history books, they started the year 21-0-3 and are looking to repeat as Stanley Cup champions.  They will be without one of their key pieces, Dave Bolland, who signed with the Toronto Maple Leafs in the offseason.  However, they do have a nice compilation of talented youngsters who will finally be getting a chance to play full-time (ie. Jeremy Morin and Jimmy Hayes).  You can't argue that they are still the best team in the NHL, even with Bolland's absence.
  2. Boston Bruins
The trade that sent Tyler Seguin and Rich Peverley to Dallas for Loui Eriksson could be potentially the most effective deal made this summer by any team.  Loui Eriksson will likely be put on the same line as Milan Lucic and David Krejci – who happens to be coming off a tremendous postseason campaign.  Their core of players that has given them so much success over the past five seasons is set in stone and their team is a force to be reckoned with.  Newcomer Torey Krug surprised many with his playoff success and will be looking to help on defense a great deal more.
3. St. Louis Blues
Now that the contract dispute between the Blues and Alex Pietrangelo is settled, the team can look to top last season's production with a solid chance at competing for the Stanely Cup.  They have a very balanced roster and arguably a top five defense in the league.  They also shipped out David Perron to Edmonton for Magnus Paajarvi.  Both players were struggling in their respective franchises so a change of scenery for the young Swede could be just what the doctor ordered.  Also look for Jaroslav Halak to have a big season between the pipes with the defense in front of him.
4. Anaheim Ducks
The trade rumors have ended and Bobby Ryan's days are finally over in Anaheim.  The Ducks have a very versatile team that chips in every which way.  Stellar goaltending played to their advantage last season with Hiller and Fasth manning the fort.  Jakob Silfverberg will be a cog in Anaheim's offensive plans.  The likes of Kyle Palmieri, Emerson Etem, Sami Vatanen, and Hampus Lindholm will be showcased quite a bit in this upcoming season.  The Ducks may have a better shot at fighting for the Stanley Cup even sans Bobby Ryan.
5. Los Angeles Kings
The team that won the Stanley Cup in 2010 has changed very little from the LA Kings team that stands today.  Los Angeles has its roster set for at least a few more years.  Jonathan Quick is…..well…..Jonathan Quick.  Slava Voynov has been nothing short of spectacular on the blue line, and with an already formidable group of defenseman coupled with a core of offensive standouts, Los Angeles is yet again a top NHL squad.
6. Vancouver Canucks
The goalie debacle is over.  Roberto Luongo is the starting goalie of the Vancouver Canucks – which isn't all that bad.  I feel Luongo has been through a lot, but is much more comfortable with his position now than he ever has been before.  I'd expect him to have a big year behind an all-around solid team.  As if the team they ice doesn't look good enough, their future looks even brighter.  Having selected Bo Horvat and Hunter Shinkaruk in the first round, Vancouver has a great deal of teenagers itching for a spot on the big club.  Minus not having a Stanley Cup, it's pretty good to be a Canucks fan right about now.
7. Pittsburgh Penguins
Fans are still envious of the Penguins for having Sidney Crosby AND Evgeni Malkin.  James Neal, Chris Kunitz, and Kris Letang aren't too shabby either.  Those five always make them contenders year after year.  We know Marc-Andre Fleury has seen better days in Pittsburgh, but he will be helped by steady defense who was one of the best all of last season.  Fleury is a great regular season goalie…it's just a matter of seeing how he fares when the playoffs roll around again.
8. San Jose Sharks
San Jose hasn't missed the playoffs in 10 seasons.  Antti Niemi put up the best numbers of his NHL career in 2013-14, so with a defense that hasn't changed, fully expect Niemi to be on top of his game.  The chemistry between Marleau and Thornton has worked for years and now Brent Burns has joined the fold switching from defense to right wing last season.  Also look for Tomas Hertl to make a fine showing in his rookie debut.
9. Ottawa Senators
This year's Ottawa Senators are going to be SCARY.  Karlsson, Spezza, Ryan, and Michalek will make up the majority of a potent offense.  Their defense is big and bruising.  Anderson was a stud in net last year and singlehandedly helped the team advance as far as it did in the regular season and playoffs.  Young players like Jean-Gabriel Pageau, Cory Conacher, and Patrick Wiercioch will have a larger role with the team this season, so look for Ottawa to be in the playoff mix again.

10. Detroit Red Wings
Perennial contenders, Detroit has made the playoffs in 22 straight seasons.  With the addition of Daniel Alfredsson from Ottawa, it's almost a surefire prediction that they will make it 23.  With their key players set in stone, an always difficult defensive squad to play against, and a strong net presence, Detroit will make it hard for teams vying for a playoff spot.  Plus, they can always count on their top prospects to step in when needed.  I'm always envious of Detroit.  Damn you Ken Holland!

11. Montreal Canadiens
It was sad to see Daniel Briere leave the Flyers, but he's moved on to more familiar territory with his hometown Canadiens.  It doesn't bode well for the team that Briere is a small player (a problem Montreal has faced for a few seasons).  Be that as it may, the team is speedy, offensive, and gritty and should do well in a full 82-game season.  Rookie phenom Alex Galchenyuk burst onto the scene last year and will do his best not to get into the infamous 'sophomore slump'.  P.K. Subban is coming off a Norris Trophy season and Carey Price will look to build off his successful campaign in 2013-14.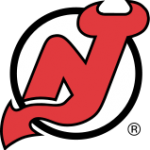 12. New Jersey Devils
The Devils are my surprise team this season.  The loss of Ilya Kovalchuk will not have as great an affect on the team as many would think.  After watching their two preseason games against the Flyers, New Jersey seems to be clicking on all cylinders already.  If their pride and joy, Martin Brodeur, falters in net, Cory Schneider will be ready to take his place and perform like an all-star behind such a defensive system.  Signing Jaromir Jagr, Michael Ryder, and Damien Brunner will also help ease the loss of Kovalchuk.
13. Washington Capitals
We know full well that Washington is one of the most deadly teams in the league.  Ovechkin and company were top 5 in scoring last season.  The biggest impact player won't be Ovechkin, Backstrom, Carlson, or Mike Green.  I feel the offseason signing of Mikhail Grabovski will have the biggest impact and really help the Caps on both sides of the puck.  After getting out of his unfortunate scenario in Toronto, Grabovski can help push Washington to new heights with his fantastic defensive play.  Hopefully it rubs off on the rest of the team.
14. Toronto Maple Leafs
Toronto suffered a heartbreak in last year's playoffs to their arch rival Boston Bruins.  It was only after Brian Burke left that the Maple Leafs built a "Brian Burke"-type team.  Having signed two big free agents – David Clarkson and Dave Bolland – Toronto added a ton of tenacity to an a squad that wasn't overly physical.  Nazem Kadri and Cody Franson have dealt with their contract situations so look for the Leafs to start hot out of the gate in 2013-14.
15. Columbus Blue Jackets
Jarmo Kekalainen has the uncanny ability to make change in the worst of places.  For the better part of their entire existence, Columbus has been a hockey wasteland.  But with Jarmo at the helm, the Blue Jackets are on the rise.  Sergei Bobrovsky is coming off a stellar Vezina season and the team just clicks.  Nathan Horton was debating places to go this offseason, but settled on Columbus after seeing how much the team has changed over the course of a season.  Ryan Murray has done a lot to secure a spot on the team coming out of camp and things look very bright for the Blue Jackets.  I peg them to make the playoffs this season.
16. New York Islanders
The Islanders shocked some people last year.  A team that has been the bottom of the barrel for a good portion of the last decade has finally gotten an identity.  They will benefit from the services of Evgeni Nabokov who (at 38-years old) is still a very good goalkeeper.  John Tavares is finally getting the recognition he deserves as one of the top players in the league.  I fully believe the Islanders will be the best team out of New York.
17. Phoenix Coyotes
The Coyotes are going to be sticking around in Arizona for a bit longer.  Their team isn't a laughing stock despite their attendance.  They had a nice addition with signing Mike Ribeiro to a 4-year deal.  Oliver Ekman-Larsson has made himself known as one of the premier young defensemen in the league.  Dave Tippett seems to be doing a fine job in implementing grade-A defensive tactics.  A tough customer against any team, the Yotes will try to get into the playoff picture.
18. Minnesota Wild
It's going to be a big test for newcomer Nino Niederreiter to put the past behind him and focus on proving why he was a top 5 pick a few years ago.  Minnesota has a nice mix of talent and with the key free agent signings of last summer, they should be in the hunt for a playoff spot – even though it may be a wild card slot.  The young guns like Mikael Granlund, Charlie Coyle, and Mathew Dumba will be getting a shot to stay with the big club all season, so fans should look for those players to make an impact early.
19. New York Rangers
Alain Vigneault has a difficult task ahead of him for this upcoming season.  While the Rangers seem to have a solid all-around team on paper, I just have a gut feeling they'll be on the outside looking in for this season.  With a new coach comes new tactics and a new system.  Players need to buy into it from the get go.  Preseason isn't the be all end all of the NHL, but going 1-5 really doesn't give Rangers fans much to cling on to.
20. Edmonton Oilers
No.  The Edmonton Oilers won't make the playoffs, but their fans have something to look forward to.  They will be one of the most fun to watch with a first line of Taylor Hall, Ryan Nugent-Hopkins and Jordan Eberle.  David Perron has lit up the scoreboard during the preseason and looks to be everything they thought Magnus Paarjarvi was not.  I think their biggest flaw is goaltending.  Devan Dubnyk is a good goalie, not a great goalie and that will be the unfortunate demise of Edmonton.  Although, they are on the right.
21. Philadelphia Flyers
It's the team I focus on most.  It's the team I've followed for my entire life.  The Philadelphia Flyers will not be very good at all this season.  Fans begged and pleaded for Holmgren to go out and get a legitimate #1 defenseman.  So they got Mark Streit – who is not a #1 defenseman.  The Vincent Lecavalier signing was nice, but certainly not what this team truly needed.  While Emery has done pretty well in preseason, there is still too many question marks in goal between him and Steve Mason.  And while I said preseason isn't the be all end all, the Flyers have just looked flat out awful in the games I've watched.
22. Winnipeg Jets
Winnipeg just missed the cut of last year's postseason.  I've never been sold on Ondrej Pavelec, so he'd have to be spectacular for Winnipeg to move up a few spots on this Power Rankings.  I do like their first line a lot, but they lack a lot of depth on the remaining three lines and on defense.  Plus, they're in the Western Conference now, which certainly doesn't put them at an advantage.  Should be interesting to see how Jacob Trouba stacks up against NHL talent, though.
23. Dallas Stars
Valeri Nichushkin will be a steal of a pick.  He's already showcasing his skill and will be doing that for the better part of this season.  Chances are he doesn't go back to Russia.  Tyler Seguin gets a fresh start in the "Big D" and Jamie Benn looks to be living up to his all-star status.  Dallas has had their fair share of issues on defense, which will likely continue this season.
24. Carolina Hurricanes
After a poor showing in 2012-13, the Hurricanes will do their best to have a bounce back season, but to no avail.  I find their defense to be underrated, but that can only lead you so far.  The Staal lines should do well.  Their starter and backup goalie positions are solidified, but the main thing the team lacks is depth – much like the Winnipeg Jets.  It might be a long season for Carolina.
25. Tampa Bay Lightning
The Lightning will do better than last season, but only marginally.  Even with superstar Steven Stamkos and goal scoring winger/ageless wonder Martin St. Louis, Tampa won't be doing all that well.  There are some big holes on defense paired with a roster that doesn't have the greatest talent, don't expect the Lightning to wow the NHL this year.  Ben Bishop will finally get his shot to win a starting role, but it might be a few years before Tampa gets good again.
26. Nashville Predators
In the post-lockout NHL, teams win based on scoring (for the most part).  Scoring goals is something that's hindered the Predators for a long time, but they've managed to win.  Then again, they also had Ryan Suter and Shea Weber.  This might be the year that goal scoring catches up to them.  While still a very defensive-oriented team, Nashville doesn't have the firepower many NHL teams have in order to win games on goals alone.  On defense, they still seem to be the cream of the crop, having picked Seth Jones 4th overall this summer.
27. Colorado Avalanche
They've brought back Joe Sakic and Patrick Roy only this time it is in coaching/management positions.  Nathan MacKinnon will be a great player and their top two lines feature some young dynamic forwards, but the Colorado Avalanche still need a lot of work on fixing the team into playoff contention.  It may take a few seasons, but Sakic and Roy are just the men for the job.
28. Buffalo Sabres
Jason Pominville was traded at the deadline.  Tyler Myers had an abysmal season.  Things don't look bright for the contract negotiations between Buffalo and potential free agents Thomas Vanek and Ryan Miller.  Buffalo won't be a pretty sight until prospects like Grigorenko, Ristolainen, Zadorov, Girgensons, and Pysyk develop fully.  This season should be a good opportunity to see the potential of their top prospects.
29. Florida Panthers
Dale Tallon is in the process of rebuilding his Panthers team.  It took a while before his alma mater Chicago Blackhawks had any success and now they have two Stanley Cups to their name since 2010.  Tallon knows his team has almost no shot at sneaking up on anyone, but he also knows his team will be far better down the road.  This is a litmus test for a good portion of their farm system to step in and see how they fare in the NHL.
30. Calgary Flames
EGADS!  The Flames are in a world of hurt.  They've lost their long-time captain, Jerome Iginla.  They will be without the services of longtime netminder, Mikka Kiprusoff.   They have no standout superstar.  They have no identity.  Things are looking grim for the Flames and their fans.  Brian Burke was probably the biggest signing Calgary had the entire offseason, so it should be nice to see what Burkie does for this struggling franchise.  As for the season, buckle up because it's about to be a bumpy ride.