Welcome to the hub of The Hockey Writers prospect content. Prospects are one of the most important parts of an NHL franchise and over the last few years, there's been a rise in the focus that hockey fans put on keeping track of them. We've got you covered! Whether they are already drafted or are looking to be drafted in the coming seasons, THW's writers work tirelessly to make sure that we have everything you need.
Here's a glimpse into some of our prospect coverage.
Ranked: The NHL's Top-100 Prospects
Prospects graduate, they get traded, they perform better or worse than expected, and sometimes they simply don't make the cut. In recent years, it seems like the talent pool is getting deeper and better as the years go on. With a wealth of skilled prospects in the league, we take a look at the top-100 in the league.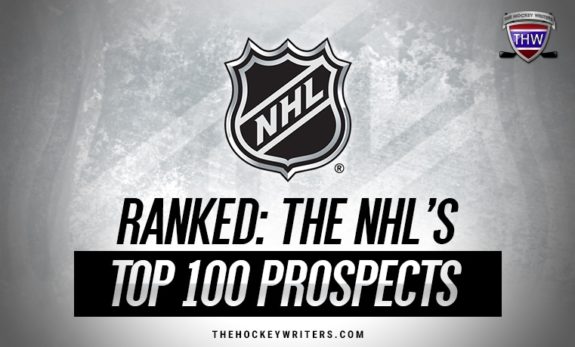 100: Kailer Yamamoto, Edmonton Oilers
Kailer Yamamoto kicks off the list, just cracking the top-100 prospects in the NHL. Leading up to being drafted 22nd overall in 2017, the right winger was looking like a future top-line forward. He's seen his ceiling drop since that point but looked promising in the WHL and internationally. He still has top-six potential, so don't write him off just yet.
For prospects 99-1, read the article here.
Ranking The Top Goaltending Prospects in the League
Goaltenders have been, and will likely always be, the toughest position to evaluate in hockey. How many high draft picks haven't panned out? How many late-round selections did? Usually, the highest-drafted goaltender doesn't always end up being the best one down the road. Each team has their own opinion on what makes a goaltender great around the draft and how they'll develop down the road.
10. Filip Gustavsson – Ottawa Senators
Filip Gustavsson's first full season in the AHL didn't go smoothly. However, that wasn't due to his skill set – he's a phenomenal goalie. Part of the Derick Brassard blockbuster, Gustavsson plays a compact style and moves efficiently in the crease. He's played well internationally and will look more at home next season in the crease.
For goaltenders 9-1, read the article here.
Ranking Every NHL Team's Farm System
A team's farm system is a very fluid thing. Prospects graduate to become full-time NHL players, general managers make trades involving some of these young players, and sometimes players just don't work out. Knowing exactly what you have, where they are in their development and what they need to accomplish next is a major responsibility of every front office.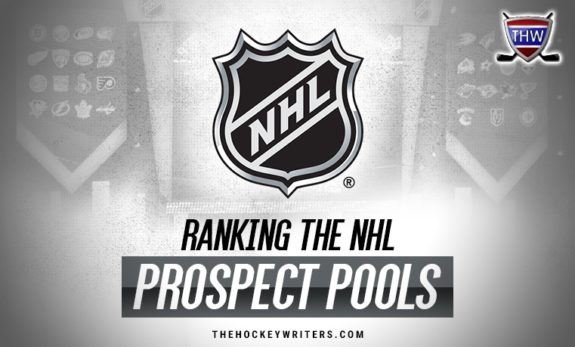 31) Pittsburgh Penguins
Top Five Prospects: Calen Addison, Nathan Legare, Filip Hallander, Pierre-Oliver Joseph, Samuel Poulin
The Pittsburgh Penguins have been a threat in the league ever since Sidney Crosby and Evgeni Malkin came into the league. Due to them being perennial contenders, the organization has been in "win-now" mode for that time. The result? An extremely thin prospect pool. In order to build the team around the core, picks and prospects have been sent away for immediate help.
For more on the Penguins system and teams 30-1, read the article here.
Every NHL Team's Top Prospect
On most teams, they have a clear-cut, number one prospect in the organization. Others have two or more that could easily take the title, but for the most part, there's an obvious choice. In this list, we'll take a look at just who those to prospects are.
Anaheim Ducks: Trevor Zegras
The Anaheim Ducks held the ninth overall selection in the 2019 NHL Draft and landed their top prospect in Trevor Zegras. He looks to be an elite, impact player in the league. A great, creative playmaker that should be the club's next number one centre. He likely won't be in the NHL this season, but he could see a few games and be ready to make the jump in 2020-21 if he decides to leave Boston University.
For every other NHL team, read the article here.
NHL Entry Draft Rankings
Ahead of the NHL Entry Draft, scouts, writers, hockey commentators, and fans try to rank the prospects that are eligible. There are more and more every year, but The Hockey Writers have been known to have great rankings come out year after year. We start our rankings early and keep updating right up until the first pick is taken. Here are our rankings for the 2020 NHL Entry Draft. (For more 2020 Draft content, click here).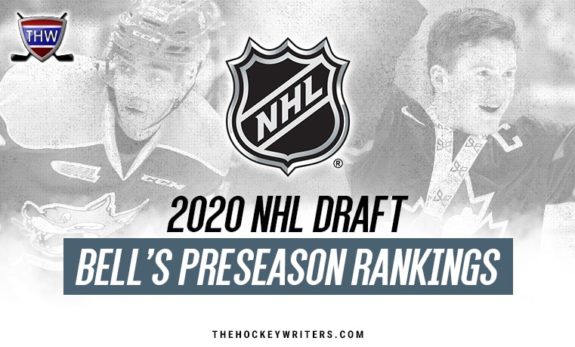 ---
Of course, we'll have much more content throughout the season and continuing into the offseason, including our FREE Annual NHL Draft Guide. For a complete list of all of our most recent prospect pieces, you can check that out here.