A few days ago, I wrote a piece predicting the five most overrated teams going into the 2014-15 NHL season, as measured by current Las Vegas odds to win the Stanley Cup. It was subjective to be sure, and definitely rattled a few of the readers' cages. Having said that, it made interesting fodder for discussion during the dog days of summer.
Potential surprise teams for 2014-15
And now, the other side of the coin. If there are overrated teams, aren't there clubs that are bound to surprise us this year? You bet your sweet bippy there are. But which ones?
Of course, nobody knows for sure. Having said that, opinions are like bippies: we all have one. Last year, I wrote about the very same subject, picking teams I thought had the potential to surprise both positively (Columbus, for example) and negatively (San Jose).
I'm in a good mood, so I'm ditching the 'negative surprise' angle. The following is my list of the five teams most likely to rise up and surprise us all before it's all said and done.
Washington Capitals
The Capitals missed the playoffs this past season, costing head coach Adam Oates and GM George McPhee their jobs. Ownership brought in longtime Predators head coach Barry Trotz, toting his resume of regular season success from Nashville. In a sea change (of sorts), Trotz will undoubtedly tweak the team's offense-first approach to a decidedly more defensive-oriented one.
The uncertainty in all of this is how the impending changes affect #8. That being said, if Kings' coach Darryl Sutter is able to get the most out of his star player Anze Kopitar in his defense-first system, Trotz should be able to do the same with Ovechkin. Helping the cause will be the newly-minted defensemen Matt Niskanen and Brooks Orpik.
Look for the Caps to pull a mini-surprise by bouncing back and making the playoffs this season.
Arizona Coyotes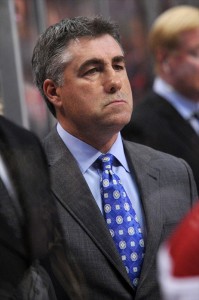 I admit it — I'm a Tippett belieber. He was a great assistant coach when with the Kings, and has turned frozen water into frozen wine in the deserts of Arizona. That is, until 2012-13, when his team crashed and burned. Things were better last year (89 points), but still not good enough to get invited to the dance.
That may well change this year. For one, the Coyotes now have playmaking centerman Sam Gagner and faceoff specialist Joe Vitale in the fold, along with tough guy B.J. Crombeen. Secondly, when you've got a stud like Keith Yandle anchoring the defense and solid goaltending in Mike Smith and Devan Dubnyk, you're going to be in just about every game. Lastly, that Tippett guy really is good. Did I mention that already?
Arizona won't win the Cup, but they could surprise everyone by edging past San Jose in the Pacific division this season.
Nashville Predators
The Preds missed the playoffs for the second straight year, although they earned 88 points in a futile effort last season. Missing the playoffs cost Barry Trotz his job, but don't expect new head coach Peter Laviolette (co-architect of the Hurricanes' 2005-06 Cup) to allow the franchise languish for long. Pekka Rinne should be healthy this year, and Nashville added serious potential firepower in James Neal, Olli Jokinen, Mike Ribeiro and Derek Roy.
If Laviolette's more up-temp offense takes hold, Nashville won't have to rely upon winning as many 3-2 games as they have in the past. Can the culture change, coaching change and personnel additions add up to a surprise playoff run? The pundits may say no, but I say yes.
https://www.youtube.com/watch?v=mDhTUB94kLU
Toronto Maple Leafs
It'd be easy to point to the fact that the Leafs have only made the playoffs once the 2004-05 lockout and write them off yet again this year. Frankly, if the franchise hadn't undergone a major shakeup this past offseason, I would. But there's a new sheriff in town now, and his name is Brendan Shanahan.
Shanahan was hired as team president and immediately put his stamp on the organization, starting with firing all of head coach Randy Carlyle's assistants. GM Greg Nonis may have retained his job, but Shanahan will have the final say on most everything, yet another example of his effort to change the culture of losing. The Leafs brought in nine new players, including Daniel Winnick, Matt Frattin, Stephane Robidas, and David Booth, and locked up goaltender James Reimer and puck-moving defensemen Jake Gardner for two and five years, respectively.
When a team misses the playoffs as many times as Toronto has, all signs point to management. Shanahan has never run a franchise before, but so far, so good. Look for the Leafs surprise everyone by rising up this year to capture a low seed in the Eastern Conference playoffs.
https://www.youtube.com/watch?v=6MTgMAuqTaU
Florida Panthers
Say what? The Panthers missed the playoffs last year. Missed them by a thousand miles, actually. Don't young teams typically build slowly out of the wreckage of a 66 point season and take years to make the playoffs?
Yes, unless you go the Florida route and acquire a proven, veteran goaltender (Roberto Luongo, back for his second tour of duty) and sign guys like Dave Bolland, Jussi Jokinen, Shawn Thornton, Derek MacKenzie and Willie Mitchell. Suddenly, you've now got a pretty fair mix of youth and veterans, which should accelerate the rebuilding process substantially.
The Panthers now have solid goaltending, a decent defense and although the offense is suspect, could surprise everyone by winning enough 3-2 games to contend for the playoffs this year.
https://www.youtube.com/watch?v=bQa6GDfSgzY
Do you agree or disagree? Feel free to post your comments, or send a message to @McLaughlinWalt with your thoughts.