Nick Schmaltz

THW's NHL Draft War Room Rankings (E-Mac): #26 (Feb 2014)
THW's NHL Draft Rankings – The Next Ones Edition (aka Chris's List): #23 (March 2014)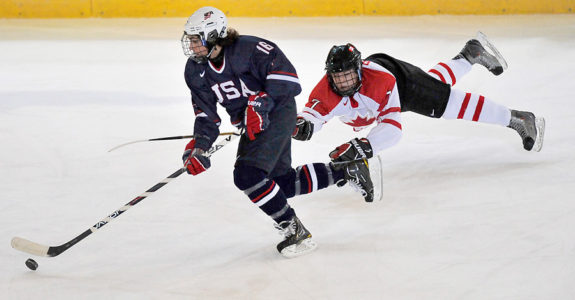 Hashtag: #MrPlaymaker
Team: 9, Green Bay, USHL
Position: Centre
Shoots: Right
Height: 6'0
Weight: 172 lb.
Born: Verona, WI, 23-Feb-96
Twitter: @thisisnick_09
Stats
Other Rankings
23 – Craig Button, Jan-14
24 – NHL Combined – Mid-term, Jan-14
25 – HockeyProspect.com, Feb-14
25 – Bob MacKenzie, Jan-14
25 – Future Considerations, Feb-14
Worth Retweeting
Can't believe it!! Brother goes 25th overall to st Louis! Couldn't be happier for him right now so exciting #Blues #NHL

— nick schmaltz (@thisisnick_09) June 23, 2012
http://t.co/TMB326PEad
#22 Nick Schmaltz @thisisnick_09
Natural goal-scorer who is equally adept at passing & creating chances all over ice.

— ISS Hockey (@ISShockey) January 7, 2014
2014 #NHLDraft eligible and UND commit Nick Schmaltz finished with 12 points in four games to lead Team USA at the World Junior A Challenge.

— Chris Peters (@chrismpeters) November 10, 2013
Just talked to a scout who told me Green Bay's Nick Schmaltz "might be the most skilled player in this draft." NoDak commit.

— Ryan Kennedy (@THNRyanKennedy) November 7, 2013
Profiles
Profile 1: Mike G. Morreale at NHL.com
Profile 2: Andrew Pekarek at Green BayPressGazette.com
Another gem frm @gbpressgazette. Find out how @GamblersHockey F @thisisnick_09 is adjusting 2 playing in a 'fishbowl' http://t.co/UY13JFcmyH

— USHL (@USHL) January 10, 2014
Quotable
Craig Button, TSN Director of Scouting, at TSN.ca, "Nick has elite skill. His skating is excellent and it appears as if he's gliding past opponents. Exceptional agility and he's capable of beating opponents quickly in tight areas. Excellent puck skills and he can make plays that create outstanding offensive opportunities. Good shot and combined with his playmaking, keeps defenders off balance. Very smart and poised and can hold puck to allow plays to develop. Top line type."
From the THW War Room
Eldon MacDonald, THW: A few words on Nick Schmaltz:

Mr. Playmaker – What separates Nick from his peers is his special hands and vision which allows him to make plays at high speed or in tight. He has the ability to set up his linemates when no options are apparent.
Big game hunter – Nick seems to perform his best in big games or in international situations where the spotlight is on him.
Genes – His brother, Jordan Schmaltz, was drafted 25th by St.Louis in 2012 – who will get bragging rights in the Schmaltz family?
Draft placement – Mid twenties on most lists. May need to turn it on to go higher as his play at the club level, while good, has not quite matched his exceptional play in international situations.
Video
Video 1: Interview about World Junior Challenge Gold from GamblersHockey
https://twitter.com/Canuckscout/status/365523273926197248
About NHL Draft War Room Series
This series is compiled by Eldon MacDonald and edited by @ChrisRalphTHW)