After scoring more than Alexander Ovechkin, Jeff Carter, and Ryan Getzlaf at the 2004 World Junior Championship, the career of Nigel Dawes didn't have the kind of success that was expected. Instead, he turned into one of the KHL's top players. In this translated interview, originally appearing on the Russian website r-sport.ru, the Canadian winger talked about his new season in the KHL, his future, and his choice to represent Kazakhstan in international hockey.
* You can enjoy the original Russian language article by Semyon Galkevich here *
A Strong Start of new KHL Season
Semyon Galkevich: Barys had a strong start of the season, and you did too. What is the secret?
Nigel Dawes: Nothing special, I'd say. Maybe we'll still find a way to have more surprises. The season is young and we have a completely new team. We have new young players, a new coaching staff, a new board, we're just getting used to each other, but we're also getting good results anyways. What can I say, we're very happy with what's going on. We understand that it's just the start of the season, the hardest games are yet to come, that our opponents will also get used to the way we play, and they will also start seeing us as the leaders of the Eastern Conference.
SG: Does being the top scorer of the league have any meaning to you?
ND: Only at the end of the season, now it does not. The hardest part of our job is being constant, and we need to work hard to achieve more consistency.
New Responsibilities as Team's Captain
SG: You're now the captain of your team in the KHL, Barys Astana. Is it a big deal to you?
ND: I wasn't a captain for more than ten years, the latest time was still in the junior leagues. Frankly speaking, I don't think that much has changed, I was one of the leaders anyways. As I told you earlier, we have a lot of young players in the team, and I try to check that everyone is playing for the team, that everyone follows the game plan. So far everything is going well, we need to just go on this way.
Barys defeats Dinamo in Riga!

Linden Vey: 1 G, 3A
Nigel Dawes: 2 G
Matthew Frattin: 3 A#DRGvsBAR – 0:6 pic.twitter.com/cE1vvuogRI

— KHL (@khl_eng) September 8, 2017
SG: Looking from the stands it looks like you enjoy playing with your new linemates Linden Vey and Matt Frattin.
ND: The thing that I enjoy the most is winning games. If you and your linemates score, and manage to help your team, then it's a good bonus and it gets you in a better mood.
SG: And your unit feature the top two scoring defensemen in the KHL.
ND: This of course helps us a lot. Darren Dietz started very well his path in the KHL, and you already know Kevin Dallman without that I need to tell you anything. We didn't play many games, but I think that we are all very happy with our start of the season. We need to keep on working, otherwise we'll stop having fun and the results will stop coming. We need to be true leaders for our team and help our younger players.
SG: What can you tell about Vey and Frattin to those who are not familiar with them?
ND: Linden Vey is a true playmaker and the very best for him is to give an assist. Considering that I'd never refuse scoring a goal, we were created one for each other. Of course, I'm joking, but we have good chemistry. Frattin is the power of our line, he can take on himself a couple of opponents and give us space, but he can also create chances as he knows how to pass and shoot.
The Dawes – Boyd – Bochenski Line
SG: Can you compare playing with them and playing with Dustin Boyd and Brad Bochenski?
ND: No, that's impossible. I played with Dustin and Brad for six years, we achieved a great deal of success, and now it's all done. But that's life, that page is now turned and I'm getting used to play without them. I started the season very well playing with Vey and Frattin, and we can only get better.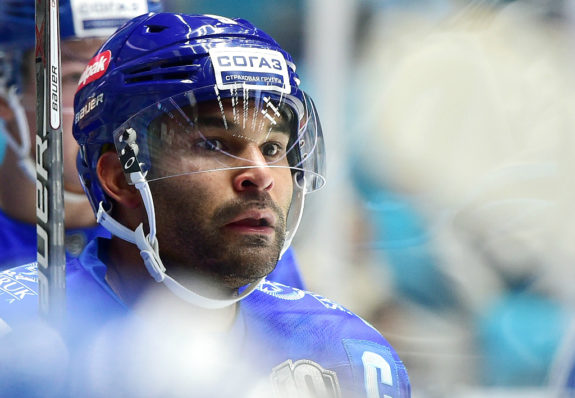 SG: Are you still in touch with Bochenski? What is he up to now? [Note: Bochenski retired during the latest offseason]
ND: He's back home with his family. He's studying now, and he will soon open his own business.
SG: Soon you'll play against Dynamo Moscow and Dustin Boyd.
ND: I'm waiting for him. We played so many years together, and now we're opponents. But I'm sure that it will be strange for Dustin to get to Astana and play with the jersey of another team. It will be interesting to see how he reacts. If you'll see him, tell him that he needs to get ready as I'll play maximally hard against him. We need to get three points in the game against Dynamo.
SG: This summer it was rumored that you could leave Barys. Were you really close to leaving the team?
ND: It was just, as you said, rumors. I am under contract, I love Barys, I love Astana, therefore I don't even think about leaving.
SG: This season will be the last one for you with Barys?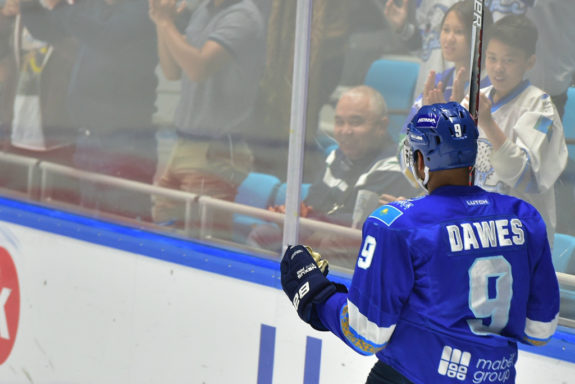 ND: Yes, my contract will be over next April, but it doesn't mean that I'll leave the team. We're trying to build a new team, we'll see what happens this season and what the board will decide. It's really too early to think about it.
SG: Last year you and Barys managed to make it to the second round of the playoffs. What are the plans for this season?
ND: First of all we need to get to the playoffs, and only then we can try and see what happens.
SG: Next January Astana will host the KHL All-Star game. Do you think you'll be the first player to be named to the roster?
ND: (laughs) The voting is yet to start. I wouldn't rush. I hope that there will be many Barys players.
SG: The whole first unit?
ND: Why not? In any case it will be a big event for Astana and for our team. Barys fans deserved it.
Nigel Dawes Playing for Kazakhstan
SG: In February the league will stop to allow players participate in the Olympic Games in South Korea. Do you regret starting playing for Kazakhstan and losing the chance to take part to the event?
ND: No, not at all. I really thought that I'd play at the Olympics with Kazakhstan. Unfortunately, we lost the chance to play in South Korea. But I have nothing to regret.