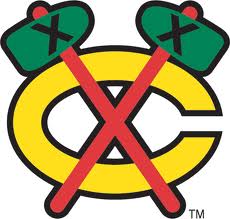 With January behind the Hawks, it's time for Stan Bowman to start thinking about how they're going to climb the playoff rope from their current sixth position in the Western Conference—wait any longer and the rope below will be on fire.  The Hawks are 29-16-7 on the season and 6 points behind the first-place Red Wings who lead both the Central Division and the Western Conference.
Launching a 9 game road trip with a three game skid while heading into Calgary creates a lot of pressure for the Blackhawks to put out the Flames tonight—particularly after last night's 8-4 loss to the Oilers who've outscored them 17-6 on the season and dealt them two drubbings in Edmonton and a loss at the United Center this season.
Adding to concerns is that the Hawks were in a skid going into the All-Star break and despite playing well in their loss to the Canucks on Tuesday night fans are beginning to ask themselves if Stan Bowman is really going to hang his playoff hat on a defense that's allowed the most goals in the Western Conference.
A current Chicago Tribune poll that asks who should be the Blackhawk's starting goal tender has 61% of the 1294 responders saying someone other than Corey Crawford or Ray Emery.  To be fair though, defense is a team responsibility and the Hawks forwards have not shown up defensively like that of a championship team.
The problem is not just around the blue line because the traffic in front of the Hawks net is like a parking lot and the Hawks aren't making anyone pay to park.  Save some help from Jamal Mayers and rookie Andrew Shaw, Crawford and Emery have had to compensate for the absence of Sami Lepisto and John Scott which could be part of the reason Coach Quenneville has allowed Andrew Shaw the most minutes of any forward on the team over the last three games—he seems to speed up the Hawks game at both ends of the ice.
Not unlike the Banks, the Blackhawks are in need of a bailout too.  Last week's deal for Brendan Morrison may help but another forward who can contribute to the Hawks defensive play and sand down traffic in front of the net would surely take some of the pressure to score off Jonathan Toews, Patrick Kane, Marian Hossa and Patrick Sharp.
Journalist, Sports Attorney and Former MLBPA Certified Agent R.A. Monaco wears thoughts and frustrations about the Blackhawks on his blog sleeves.