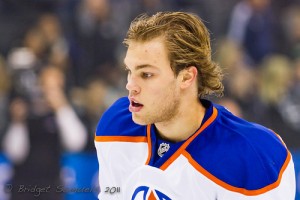 The Edmonton Oilers and Chicago Blackhawks are set to face-off tonight at Rexall Place. Two young teams full of talent, moving in what seems to be opposite directions. But they might not be as different as they appear in the standings. Oilers fans are currently suffering the pain of watching their team toil at the bottom of the league, left to wonder when all these high draft picks will translate into on-ice success. While management preaches patience as the re-build runs it's course, fans can take solace by looking at the Chicago Blackhawks for inspiration.
Fr0m 1998-2008, the Hawks made the playoffs just once. The franchise was mired in a 49 year Stanley Cup drought, and one post-season appearance in 10 years certainly wasn't going to snap that. But, thanks to their consistent futility, the Hawks were able to stockpile prospects. In 2002, they drafted defeceman Duncan Keith (who would go on to win the Norris Trophy) 54th overall. In 2003, they selected Keith's d-partner Brent Seabrook 14th overall, and power forward Dustin Byfuglien 245th overall. Shut-down centerman Dave Bolland was drafted 32nd overall in 2004, Troy Brower was taken 214th overall that year and Nicklas Hjalmarsson went 108th in 2005. In 2006, Chicago was awarded the 3rd overall pick, with which they selected future team captain and Conn Smythe winner Jonathan Toews. Then in 2007, they selected Patrick Kane, the player who scored their Stanley Cup winning goal, 1st overall.
It's easy to look back and conclude that all of those picks were solid, and the right choices for the Blackhawks, but it's so difficult to know how a player will turn out at the NHL level. Some might say the Hawks were lucky to get all those great players, but the reality is that it takes more than just high picks to win a Stanley Cup. The Blackhawks had to acquire players like Antii Niemi, Marian Hossa, Kris Versteeg and Patrick Sharp, all of whom were important to their Stanley Cup run. It takes very shrewd and sometimes difficult management decisions to build a winner.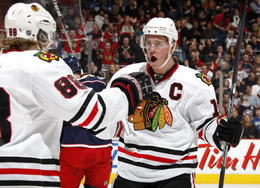 The Oilers are fortunate that their recent lack playoff appearances have resulted in acquiring strong prospects. There are no guarantees in sports, but the Oilers have to look at their current situation as positive. They are building the right way. They're being patient. Some critics feel that the Oilers keep taking one step forward and two steps back, drafting well but trading away players they might be better off keeping. But it's very likely the same kinds of critics were out in Chicago as their own playoff drought wore on. The Hawks re-build, however, resulted in exactly what the goal was all along: a Stanley Cup championship. The salary cap potentially robbed Chicago of becoming a dynasty, but they have been contenders every year since 2008-2009. Their young players are developing into superstars, and they've managed to maintain a strong roster despite the turnover. The Blackhawks core is set, and it's very talented. The Oilers can only look to a team like the Hawks as a model of a patient re-build, and hope they soon end up with the same fate.
Marcy, a former hockey player, is a hockey correspondent on CTV News and TSN radio. She began her career as a Sports Journalist in 2009 and has been part of The Hockey Writers since 2010, where she is currently a senior writer and editor.