Olli Määttä THW Close-Up:
Date of birth: August 22nd, 1994
Place of birth: Jyväskylä, Finland
Ht: 6-2 Wt: 200
Shoots: Left
Position: Defense
NHL Draft Eligibility: 1st time eligible in 2012
***
Click here for the live updated NHL 2012 Draft Preview Guide – The Next Ones – your quintessential draft resource.
***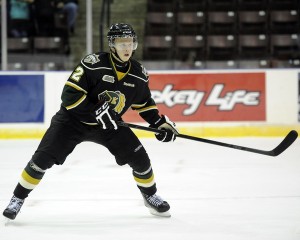 The former 1st overall selection in the OHL import draft didn't waste any time to make a strong impression on his teammates and coaches in his first season in North America. The skilled rearguard notched 5 goals and 32 assists for 37 points in 58 games with London this season. He also finished with a very good +25 +/- rating. Maatta, despite his young age, has already plenty of international hockey experience under his belt as he played for Team Finland at both the 2011 and the 2012 World Championships, making the team as a 16 year-old in 2010-11.
A solid two-way defender, Maatta exploded in the playoffs, recording 6 goals and 17 assists for 23 points in only 19 contests, to help the London Knights win the OHL Championship and participate in the 2012 Mastercard Memorial Cup that begins tomorrow in Shawinigan, Quebec.
Playing with top-quality defensemen such as Jarred Tinordi and Scott Harrington certainly helped Maatta improve his overall skills this season. The smooth-skating Maatta can contribute in both zones thanks to a great hockey IQ, excellent defensive positioning and good first passes. Maatta played with much more confidence down the stretch as shown by his surprising offensive production in the playoffs.
While most experts agree that Maatta is already very good in his own end because he's taking good decisions with and without the puck, the most underrated aspect of Maatta's play is his offensive skills. Boasting a very accurate shot, Maatta is learning to use his shot more efficiently, similar to Nicklas Lidstrom, hitting the net and creating rebounds for his team-mates, instead of trying to kill the goaltender a la P.K. Subban. His strong frame and ability to play physical when needed, help him win one-on-one battles along the boards. Maatta plays a very simple, yet efficient game, which allows him to clear the puck from the dangerous areas. He is very adept at using his stick to cut passing lanes, which compensate for his lacking foot work, which needs to be improved, especially in tight defensive spaces.
With a plethora of quality defensemen available in this year's draft, Maatta will most likely be drafted behind quality players such as Ryan Murray and Matthew Dumba. Expect him to go around the 10th pick at about the same time as Morgan Rielly, Griffin Reinhart, Cody Ceci and Jacob Trouba as Maatta is ranked 12th by the ISS (International Scouting Services).
Scout's Honour:
"Olli Maatta is a rare exception for NHL draft eligible prospects as he has already played in two WJC tournaments before being drafted. However I am sure he would have liked to forget the 2012 experience as a hit from Boone Jenner knocked him out of the tournament. Maatta took a little while to recover, missing OHL regular season action and did not look himself but rebounded nicely in the final month of the season before exploding in the playoffs to help the Knights win an OHL Championship as he finished second in defenseman playoff scoring. Maatta was used in all situations this season as both Mark and Dale Hunter trusted him. He did not exhibit much confidence in his point shot however following game three of the Conference semi-final against the Kitchener Rangers in which he scored two goals, he would take advantage of his shot the rest of the playoffs. Maatta makes an excellent first pass and find his outlets as he does not hurry his puck decisions yet is not always able to look off players. He is a good skater who can launch himself up ice however it is his wide, looping range that makes him so efficient. Maatta desperately needs to work on his pivots, as he looses his man down low far too often and get caught running around in the defensive zone. When he is forced to make a quick defensive play, his lack of pivoting ability leaves him vulnerable for big hits. The former 1st overall selection in the 2011 CHL Import draft adjusted very nicely in his first season in North America, as he was a difference maker and would play close to 40 minutes per game in the final two playoff rounds." – McKeen's Director of Scouting David Burstyn Twitter account: @DavidBurstyn
***
"Maatta is a smart defenceman who can have a positive impact in all three zones. He is extremely smart and shows good positional play in all three zones. He is effective at angling opposition defenceman way from high percentage scoring areas and into areas that limit scoring opportunities. He is strong at reading the play and making smart first passes out of his zone. He is quite effective at keeping tight gaps in the defensive zone, limiting the space for opposition forwards. He also has a nice active stick that is effective at closing down passing lanes. Although he does not use it as often as he should, he has an extremely strong shot that is effective on the point on the powerplay. He is not as consistent physically as I'd like to see, but when he does engage physically, he is effective at winning battles down low and along the boards, and good at pinning opposition forwards away from the play. Concerns with Maatta are two fold. First and foremost, I'm concerned about his long-term projectable upside. With some players, you can see them having a high ceiling based on their growth and development. My fear with Maatta is that he has played at a high level for this long, and doesn't show me a lot of development left. I'm just not sure how much better he is going to get. Secondly, Maatta's footwork and first few steps need some work. Once he is at speed his overall mobility is not an issue, however his acceleration and transitional footwork need to be addressed. Overall, his long-term projection is as a smart defenceman who will thrive in his own zone, and occasionally produce offensively. He is currently rated as a mid to late first round draft selection."  FutureConsiderations' Sean Lafortune Twitter account: @SeanLafortune
***
"Every time I saw Maatta play this year I was impressed. Not just with his defensive game, but also his offensive awareness and skill level. Everyone already knows how good he is defensively. He contains the rush so well by maintaining strong positioning and by using his stick very effectively. He's proof that you can be a very effective defensive player without being overtly physical, even if that area of his game will need to improve before reaching the next level. But it's his offensive game that is understated. Whenever I saw him, I always had to ask myself, why isn't this guy putting up more points? His OHL playoff production was no fluke. He's a strong two-way defender and not just the bland "meat and potatoes" kind of guy I've seen others suggest he is. Offensively he can skate the puck out of traffic in his own end and can start the breakout either with a strong first pass or a good rush. He jumps into the play effectively and became increasingly more aggressive in this area as the season went along. His shot on the powerplay really improved over the course of the season too. Right now, I'm having a tough time deciding on whether to rank Cody Ceci or Maatta first among OHL defenseman on my list."  OHL Prospects' Brock Otten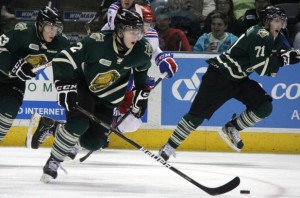 Statistics:
Bio/Interview(s)/Link(s):
• Olli Maatta's arrival with the London Knights of the OHL
• NHL.com's profile and video. Prospect Olli Maatta the next Teppo Numminen
International Tournaments:
2010-11 IIHF World U18 Championships – 6 games, 1 goal and 3 assists for 4 points
2010-11 IIHF World U20 Championships – 6 games, 0 goal and 0 assist for 0 point
2011-12 IIHF World U20 Championships – 7 games, 0 goal and 3 assists for 3 points
ETA = 3 years
Risk-Reward Analysis:
Risk = 2/5 Reward = 4/5
NHL Potential:
Top Pairing Defenseman
Strengths:
• Great skater
• Accurate slap shot
• Great hockey sense
• Excellent defensive positioning and awareness
• Excellent first pass
• Good anticipation and stick positioning to cut passing lanes
• Great endurance, can play 30 minutes per game
Flaws/Aspects He Needs To Work On:
• Not overly physical, he could add 10 pounds to fill his body to contain bigger opponents in front of the net
• Needs to improve his foot work and enhance his acceleration to start the rush
• Needs to take more chances offensively as he doesn't pinch often when he could get excellent scoring chances
Fantasy Hockey Potential:
Offensive = 6/10 Defensive = 10/10
NHL Player(s) Comparison:
– Ryan Suter
– Teppo Numminen
Video(s):

Maatta dropping the gloves versus Tyler Bertuzzi

Knocked out of the World Junior championship by Boone Jenner's thunderous hit.
Follow Fred Poulin for all your 2012 NHL Draft prospect needs and get more information on the NHL.
THW's The Next Ones prospect profile template design architect: Chris Ralph