NHL Goaltenders are a very interesting subject from an analytics perspective.  Goaltenders are highly effected by shooting percentage, in the short term, which can make an elite goalie look ECHL caliber while it can cause replacement level goaltending to look Brodeur-esque.  Over the long-term a goalie typically regresses towards his true talent but that takes a lot of time, usually around 3000 shots against.  In the short-term we can see all kinds of weird storylines evolving out of goaltenders recent play but people also seem to have a short memory of goaltenders which effects their perception and their trade value.
Devan Dubynk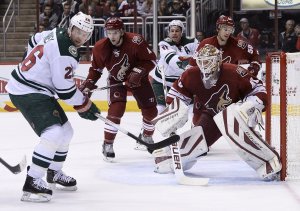 There is no better example of this perception swing than with Devan Dubnyk.  Dubnyk has consistently put up good numbers throughout his career, from back in his WHL days, to the AHL and even for 3 seasons in Edmonton from 2011 to 2013.  The next season, for whatever reason, Dubnyk had a terrible year posting replacement level numbers in 32 games and ended up being traded for a replacement level skater.  Dubnyk then bounced the league around between Nashville and Montreal before being signed in the off season by Arizona while taking a massive pay cut from $3.5M to $0.8M a year.  In his short stint with Arizona Dubnyk was back to posting league and career average numbers.  On Wednesday Arizona traded Dubnyk to Minnesota who needed immediate help with their goaltending issues.  Arizona picked up Dubnyk for cheap off free agency and were able to make a profit off this talent.
Similar to our analysis of Ondrej Pavelec we can use a Monte Carlo to simulate a goaltender similar to Devan Dubnyk's 2014 season in Edmonton.  With 250,000 iterations, a goaltender with a .910 save percentage and 885 shots-against we can see that 5.4% of the time this goaltender will produce results similar, or worse, to how Dubnyk performed in Edmonton.
Dubnyk's recent trade touches on another part of goaltenders perception: their trade value. Goaltenders typically lack any value on the trade market and Dubnyk shows this. Arizona was haggling over his value from a position of power whereas Minnesota needed goaltender help and yet the best Arizona could extract for him.
Every year fans overvalue their own goaltenders who typically ared traded for a disappointing return. This is because average goaltenders can be acquired for cheap on the free market. You do not need elite goaltending to win champion, though it does help; but you cannot win with bad goaltending. Thomas Greiss is an example of an average goalie that was cheaply available on the free market. He has posted a .915 in the NHL over his career.  With above average numbers the past two seasons Greiss was snatched up by the Penguins for the cheap price of $1.0M. Much better than the $6M the Canucks are currently paying for Ryan Miller.  Vancouver management has the perception that Ryan Miller is an elite goaltender, but his performance for the last few seasons has been nothing more than average.
Craig Anderson
Both the perception of skill and value is the same in nearly every goaltender and fluctuates daily. Fans can be just as bad as management in how they value goaltenders. Craig Anderson of the Ottawa Senators is another great example.
The fine people over at Silver Seven Sens wrote an analysis of his possible trade returns if he were to go on the market. The author start off with the reasonable action of looking up past comparables and came up with this list:
1. Ottawa trades Bishop to Tampa Bay for Conacher and a fourth-rounder

2. Buffalo trades Miller and Ott to St. Louis for Halak, Stewart, Carrier, 2015 first-rounder, Conditional 2016 pick

3. Vancouver trades Luongo and Anthony to Florida for Markstrom and Matthias. Vancouver retains 15% of Luongo's salary

4. Vancouver trades Schneider to New Jersey for a first-round pick (Horvat, essentially).

5. Los Angeles trades Bernier for Scrivens, Frattin, second-rounder

6. Columbus trades Mason for Philadelphia's Leighton, third-rounder

7. Washington trades Varlamov to Colorado for first-rounder (Forsberg) and second-rounder
While they consider packaging Craig Anderson with defencemen Marc Methot, who has been injured most of the season, they have high optimism that Craig Anderson alone could fetch a first round pick and a blue chip prospect.  This seems to be another example of the perception of a goaltender's trade value much higher than it truly is.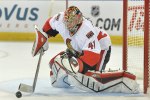 It is possible that a team could pay that price for Craig Anderson but it is unlikely. While the author point out that he is on a reasonable contract and is consistently healthy the analytics suggest he would be a bad buy.
As goalies age they continue to perform worse and worse and around the age of 35 their performance drops off a cliff. Predicting Anderson's future save percentage, based on age and using regression techniques, is likely that he is going to be below league average in the next few seasons. Currently Anderson is 33 (turning 34) and has three years left on his contract. At the NHL level Anderson is a .915 goaltender and this year Anderson is having another unsustainable year that will not likely last through the current season.
If you're in the market for a goalie you can get a younger and cheaper league average goalie from free agency.
Jacob Markstrom
Both of these goalies bring me to Jacob Markstrom, the player that inspired this piece.
Jacob Markstrom has been an excellent goalie all his life dominating nearly every league he has played in. In a short stint of 47 NHL games where he faced a mere 40% of the volume needed to evaluate his talent level, a young Markstrom has posted a .896 in the NHL causing the perception of his trade value to crash. Markstrom was traded to Vancouver, along with the 3rd line winger Shawn Matthias, in exchange for the elite goaltender Roberto Luongo again showing the low value of goalies (even when in factoring the Luongo situation).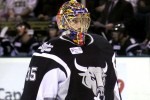 I wrote about Markstrom last summer pointing out the same facts. Now, after having only played 15 games in the American Hockey League (AHL) he is currently leading all goaltenders in Save-Percentage with a .936. In a short span of time the perception of Markstrom has suddenly gone from valueless, simply thrown in the trade as the Canucks needed a goalie, to being considered top trade bait for the Canucks at the deadline.
In a very short time the perception of Jacob Markstrom has changed: from a bust to a world beater.  Similarly his trade value has gone from one extreme to the other.  Markstrom was merely included into the trade as the Canucks needed a goaltender, with the loss of Luongo, and now he is considered the franchise's best trade chip.
—
People have very short memories when it comes to evaluating goaltenders, both in terms of their trade value and in terms of how good they view their talent. This is largely because of how much goaltenders are affected by variance within the shooting percentage. When it comes to goalies, as with everything else in analytics, you can't just look at the last 15 games, you need to view the entire picture. Jonathan Willis wrote a similar train of thought on Bernier yesterday summarizing goalie evaluations and perceptions: you don't know what you have until it is gone.