OTTAWA — The Ottawa Senators' plan to build a new downtown arena could be in jeopardy.
The National Capital Commission, the Crown corporation which is responsible for the land at LeBreton Flats, said on Thursday the Senators-backed RendezVous LeBreton Group advised the NCC on Nov. 8 that they had not been able to resolve internal partnership issues.
The NCC says it will proceed with the next steps with RendezVous or establish a new process for developing the land at their January 2019 meeting.
Senators owner Eugene Melnyk and Trinity Group executive chairman John Ruddy, also a part-owner of the CFL's Ottawa Redblacks, are the primary partners in the RendezVous LeBreton Group.
"As I said in the (NCC) board meeting, they have to get their act together plain and simple," Ottawa Mayor Jim Watson, a non-voting member of the NCC, said at a press conference on Thursday. "Otherwise, I think we're going to have to move on in January."
The Senators and Trinity Group did not immediately respond for comment.
The NCC announced in January that it had picked RendezVous for a development deal at LeBreton Flats, an area of underdeveloped land a few blocks southwest of Parliament Hill, that included a new NHL arena for the Senators as well as housing developments.
The Senators — who currently play at the Canadian Tire Centre in distant Kanata — have dealt with several executive departures in recent years, including past presidents/CEOs Cyril Leeder and Tom Anselmi.
Mark Kristmanson, CEO of the NCC, referenced the changes during the press conference.
"There's been a changing cast of characters in this project from the beginning," Kristmanson said. "We started out dealing with Cyril Leeder for example, who we admire and was a great leader. We moved on to Tom Anselmi. we've been dealing with Mr. Melnyk, we've been dealing with Mr. Ruddy and his team."
Watson said he has seen issues between Melnyk and Ruddy.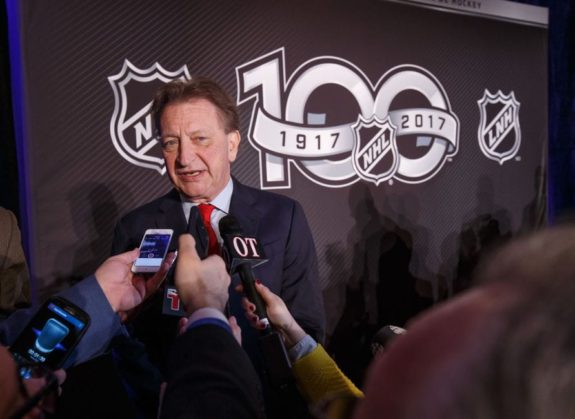 "Let's put it this way, it has been a challenging relationship that I have witnessed," Watson said. "My hope is that they come together, get their act together and bring forward a corporate governance structure that makes sense, that is workable and that is implementable so that we can break ground on this project and not be constantly mediating between the two partners."
The Senators have struggled to fill their arena in Kanata, and in December 2016 Melnyk threatened to move the team if ticket sales didn't improve. He has since stated he has no plans to move the team.
The Canadian Press