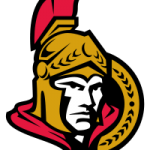 As we head into the second half of the 2011-12 season, one thing is becoming quite clear. The Ottawa Senators have ignored all the doomsayers who pegged this team as a contender for the top draft position at the end of the season
Instead, with their 25-15-6 record, they are currently a solid playoff contender, holding on to the fifth seed in the Eastern Conference standings.
What are the key reasons for this lofty ranking?
The Senators handed the coaching reins over to Paul McLean, who was deemed worthy of this role, his first head coach assignment in the NHL. McLean earned this opportunity on the strength of his no-nonsense approach that has been a personal hallmark through a 10-year playing career, when he was one of the NHL's top power forwards. He added to his hockey resume, by turning to the coaching side, at the minor league level, with Peoria in 1993. He progressed to the point where he was hired as an assistant to Anaheim's head coach in 2003, Mike Babcock. When Babcock moved on to the head coach position in Detroit, he brought McLean along as an assistant. This assignment, which culminated win the Stanley Cup win in 2007-2008, certainly provided McLean with the complete range of experiences as a player and coach to position himself for the head coach assignment with Ottawa this season.
General Manager Bryan Murray deserves a lot of credit for assembling the current roster, which has proven to be a nice blend of veterans and young players who have quickly assimilated to life in the NHL. Murray, who orchestrated a number of trades to acquire younger assets, was also well aware that last season's on-ice product was negatively impacted by injuries to the on-ice leadership of the club. He believed that a fresh start might reveal a far different Ottawa team.
That on-ice leadership begins with the long-time captain Daniel Alfredsson, a career Senator and still blessed with outstanding speed and skill, hallmarks of the best attributes of Ottawa Senators' hockey. In lockstep with Alfie, the Sens' have relied heavily on Jason Spezza for any success that this club had enjoyed in recent seasons. Spezza is that big, rangy offensive center coveted by all NHL teams.
When you speak of team toughness, that begins with rugged Chris Neil, who has taken on all comers in his career as the Ottawa policeman. For the past 10 years, he defended the honor of his teammates, dropping the gloves at the slightest threat to anyone in an Ottawa sweater.
Under, McLean's direction, all three players have redefined themselves and are producing more offense than they have in many years. They, along with long-time teammate and shutdown defender Chris Phillips, are the leadership core of the Senators.
No team goes far without solid goaltending and the Sens are certainly getting that from Craig Anderson, who has appeared in 41 games this far. His 2.96 goals against and 90.7 save percentage numbers are not among the league leaders, but any keen observer will tell you that the ability to keep a team in the game is a vital skill for any goalie and Anderson has shown that characteristic since he joined the Sens last year.
The most surprising and significant contribution to Ottawa's improvement is the number of young contributors to this success.
Erik Karlsson, the Sens' top pick in the 2008 Draft, has long been touted as a top prospect. He did produce 45 points last season (his second as a pro) but it was accompanied by an ugly (-30) rating. This year, under a new regime, he has not only raised his offensive game, with 44 points in 45 games, but he has a (+6) rating thus far. Jared Cowan is another recent first round pick who has quickly established himself as a shut-down defender with excellent size and mobility. These two young are joined on this defense corps by veteran offensive (Filip Kuba and Sergei Gonchar) and defensive acumen (Phillips) to form a consistent and balanced unit on the blueline.
Offensively, Ottawa has introduced Colin Greening, Eric Condra and Zack Smith to regular roles in the forward rotation and all three have quickly found their groove, contributing consistent secondary scoring. They have also been insulated by the improved work of veterans like Milan Michalek, Nick Foligno and the recent addition of Kyle Turris.
Not only have a number of players conspired to test career-best levels, but the team has avoided major injury issues for the most part.
That combination of superior effort and good luck has led to this surprising effort by the 2011-12 Ottawa Senators. It is looking more and more legitimate as opposed to a fluke.