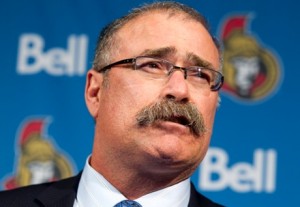 It was regarded around the National Hockey League and throughout hockey circles as a good hire when the Ottawa Senators named Paul MacLean as the new Head Coach on June 14, 2011.  The opportunity was the first for MacLean as a Head Coach at the NHL Level after successful stints in the minor leagues and more recently as a long-time assistant coach to Mike Babcock in Detroit.
You could say Ottawa was in the midst of an organizational transformation following the 2010-2011 campaign.  The team had finished 13th in the Eastern Conference with only 74 points and failed to make the playoffs for the second time in three seasons.  Late in the year Senators General Manager Bryan Murray had dealt away some veteran fan-favourites with plans to get younger and retool and many fans believed they were looking at a full-on rebuild of the team.  Certainly something the people of Ottawa weren't expecting only a few years removed from the team's only Stanley Cup Finals appearance.  Murray knew this was more than a simple coaching hire, it was a chance to change the look and feel of a franchise that had begun to decline somewhat in recent seasons.  He had a plan and believed that Paul MacLean was the right man to lead this team going forward saying, "He's been a winner everywhere he's been.  I think he brings energy, experience, expertise and people skills, most importantly."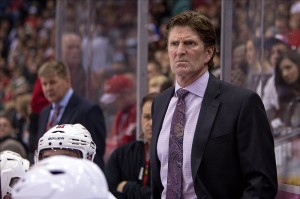 As previously mentioned MacLean had spent the prior six seasons as an assistant coach to Mike Babcock with the Detroit Red Wings, the most consistent and successful team in the NHL over that span, including back-to-back Stanley Cup Finals appearances and a Stanley Cup Championship in 2007-2008. Success is expected in Detroit and has been for some time, but like everywhere it's not a given. It's a mentality and commitment from everyone there, coaches and players, to outwork the opponent that has made them what they are. An expected level of compete from the team day in and day out regardless of their place in the standings or who is in the lineup. That combined with skill have kept them at or near the top of the league for quite some time and it's a credit to the coaching staff as much as the players. Paul MacLean has brought that mindset and attitude along with his coaching ability to Ottawa right from the start and it has paid dividends with a young Sens group, but make no mistake, despite the influence of the "Red Wing way," the Senators are winning the "Paul MacLean way."
MacLean's calm demeanor and ability to communicate with his players have been key to the team's success in Ottawa so far and it's something he was focused on from the start.  "I think it's important in the NHL today that the coach and players communicate," MacLean said following his hiring.  He continued "communication with the players is important in empowering them and having them invest in what you're trying to do and what you're trying to accomplish." As a former player himself, MacLean can relate to players, knowing what they expect from their coach while also developing and growing them within his system.  Pro hockey, like most sports today, has evolved and so to have its players and coaches.  In the modern game more than ever there are many different types of players, filling many different roles, making drastically different salaries and the ability of the Head Coach to communicate with all of them and get everyone on the same page is essential to a team's success.  MacLean has done this well so far as every player knows he is an important piece, veterans to rookies, but not more important than the team as a whole.  He speaks with humility but also confidence about his team and the players follow suit.  His system has also been a great fit and encouraged the young Sens to focus much more on puck possession and using their skills despite their lace of experience.  Watching this team you can see how MacLean's confidence in the young players has boosted their play and it's lead to some exciting moments so far.
By now everyone knows last season, the first year of the Paul MacLean era, was an outstanding one for the Senators, and their coach, as the team achieved well beyond the expectations of both the fans and the organization by making the playoffs and taking the Eastern Conference's top-seeded New York Rangers to a seventh and deciding game in the first round.  The team was led by outstanding seasons from number one center Jason Spezza, Norris Trophy winning defenceman Erik Karlsson, and top-end goaltender Craig Anderson, along with great play from a talented group of youngsters, all playing for MacLean for the first time.  The coaching did not go unnoticed around the league and MacLean was named one of three finalists for the Jack Adams Award as well.  However this year has been an even bigger test for the coach thus far.  Entering the season expectations were high in Ottawa and another playoff-birth was expected with hopes of advancing.  The Sens knew they were now playing the role of a hunted team, one that other contenders knew they had to beat out and they weren't going to sneak up on anyone.  Add to that the fact that every point is so critical with every team having an increased shot at the postseason and it was already a stiff test for MacLean and the Sens.  That was before losing their top forward and best player in Jason Spezza and their number one defenseman and offensive catalyst in Erik Karlsson to injury early on for the majority of the season.  They have also been without top six forwards Milan Michalek and Guillaume Latendresse along with depth pivot Peter Regin for an extended period of time.  Needless to say when number one net-minder Craig Anderson, who has been among the best if not the best goaltender in the league thus far, went down recently with a sprained ankle Sens fans, the organization and those in the media had to be wondering how the team would win games.
Would like to be supportive, hopeful — but this Ottawa Senators outing was no surprise. They have NO offence.

— Roy MacGregor (@RoyMacG) February 17, 2013
Head Coach Paul MacLean is still there however and he and his leadership remain the one constant for this Ottawa team.  He continues to remain positive while re-iterating that the injuries are simply opportunities for others to step-up and prove themselves and he isn't excepting any excuses or anything less than maximum effort from everyone, regardless of who is playing.  MacLean has always put an emphasis on strong defensive play but has done well to adjust his strategy with goals being tough to come by.  The Sens are finding ways to win close games manufacturing enough offense with depth and call-ups while allowing 2 goals or less in 15 of their 20 games this year.  That speaks to great goaltending obviously from both Craig Anderson and Ben Bishop but also to a team buying into what its' coach has taught.  With the Senators sitting at 12-6-2 and winning 5 straight, including 4 over teams currently in a playoff spot, it's been a great story in the Nation's Capital recently and has many talking awards for MacLean.
The Ottawa Senators have scored 10 goals in their last five games. They're 5-0 with three shootout wins. Paul MacLean for Jack Adams?

— Dan Rosen (@drosennhl) February 26, 2013
If this young group can continue to play inspired with the confidence Paul MacLean is showing in them there is no reason to expect anything less than success for the team this year.