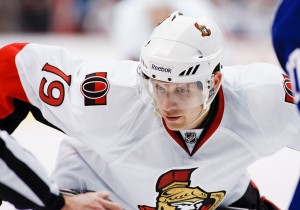 To say the Ottawa Senators surpassed expectations would be an understatement. Many hockey insiders picked them to be last in the East, as well as last overall in the entire NHL. Well, they proved all those hockey critics wrong. I remember watching an episode of TSN's Off the Record with Michael Landsberg where he interviewed Zenon Konopka. One of the questions to Z was if he actually thought that the Senators would make the playoffs. Konopka responded, yes, he truly did. Landsberg was joking about it like he heard the most ridiculous thing in the world. It seemed that most hockey insiders and media had written off the Sens before they even had a full roster in place.
For any team to be able to compete in the NHL they need solid offence, good coaching, and great goaltending. Ottawa hit the trifecta this season. Jason Spezza produced a comeback year, scoring 84 points, good enough to take 4th overall in league scoring. Erik Karlsson took the league by storm, scoring a total of 78 points, tops for all D-men in the league. He also tied for 4th in assists among all skaters. It was a heck of a year for Karlsson, who also earned a nomination for the Norris Trophy along with Zdeno Chara and Shea Weber; Not bad for a player in just his second year in the league. Throw in 35 goals by Milan Michalek, and 27 by Daniel Alfredsson (who looked great after an injury filled season last year), and you get a total of 243 goals scored, and 9 players with 10 or more, which put them in 4th place in the league.
Cory Clouston was fired after a terrible season in 2011-2012, and the search was on for a coach that was a players coach that just knew how to win. Paul Maclean (a former assistant for both the Detroit Red Wings and Anaheim Ducks) was the man who fit that bill. He had been to the finals on 3 separate occasions, winning once back 2007-08. This was not only someone who was respected around the league for his coaching, but also for his NHL career. Scoring over 25 goals in consecutive seasons, he knew what it took to be a winner. Realizing that the team was relatively young, he found a way to push buttons. Yet in doing so he still made everyone happy and seem like they were a contributing factor to the team's success. There were some nights where the team didn't play his system, and those were the games that they were laughed out of the building. The team got what he was teaching them, and it took off from there. Hard work, skating, and playing more of the puck possession game inherited from Mike Babcock and the Red Wings was the system Maclean brought in. That new system brought them to game 7 in the quarter finals against the Eastern Conference Champion New York Rangers. Not to bad for one year behind the bench as a head coach.
Last but not least, the goaltending was on point. For a team that is known as a graveyard for goalies, they sure found a gem in Craig Anderson. After being drafted not once, but twice into the NHL, he has finally found a home. After a few years bouncing back and forth with Chicago, he had a few years in Florida, and then moved on to Colorado. There, he had one great season that led them to the playoffs, which was followed with a sub-par year that saw him traded to the Sens for Brian Elliot. It's safe to say that trade worked out for both players. Anderson became a star on a team that had no confidence and hope. He finished the 2010-2011 with a record of 11-5-1 in his last 18 appearances. That run showed enough to GM Bryan Murray that he signed him to a 4 year $12.75 million contract. In return, he decided to put the team on his back and go for broke. His record was 33-22-6 as he led them to the playoffs.
Even though they fell short of the ultimate goal of winning the Stanley Cup, they definitely surpassed all the expectations of all those hockey insiders.