Talk about putting your money where your mouth is.  Amid all of the past lockout talk of looking out for the "best interests" of the fans, the Florida Panthers have made good on that promise.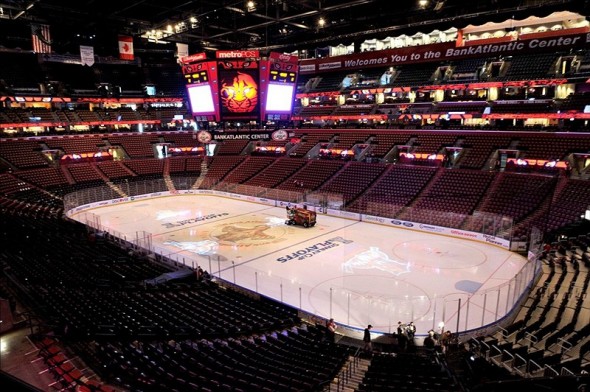 Yes it is easy to take shots at a franchise that has made the playoffs just once since the 2000 season.  It is almost equally as easy to mock the fair weather fans of virtually any Florida team in any sport.  Although to be fair, if you lived by South Beach, I can see why you'd be hard pressed to head for Sunrise or any other sporting venue in the state.  Yet finally a professional sports team has come to the realization that the economy is still horrible for a lot of folks and they are adjusting in kind.
What the Panthers package looks like is this: $7 season tickets, a free jersey, free parking, four free concerts at the BB&T Center and a $25 dollar Duffy's gift card.  How insanely, ridiculously good is that?  Mind you they're in the 500 level but still, if you're in any other NHL building, you're probably throwing down around $20 bucks for nosebleed seats.
The NHL regular season schedule was released on Friday. Check out our partners at TiqIQ for the best deals on Florida Panthers tickets for all 2013-14 games.
You don't have to tell me twice that hockey is a business but what the Panthers are doing is what I've been saying for a long time and that is: Put fans in the seats.  It works from a macroeconomic standpoint where fans will undoubtedly use money they're saving on tickets, to buy other concession and merchandise items in the arena.  Plus you're getting fans in the building and possibly hooking some who would've stayed away because of said prices and maybe they like the sport so much that down the road they'll look to upgrade their seats.
According to the Team Marketing Report's 2013 Fan Cost Index, the average NHL ticket price increased by 5.7 percent or what amounts to an average of $61.01.  The report, which lists every team average for ticket prices, shows the Toronto Maple Leafs atop the list at $124.69 per ticket and conversely the Dallas Stars are the lowest at $36.09.  The Florida Panthers fell in just below the league average at $55.75 per ticket.  In all, 14 teams were above league average and 16 clubs were below.
I know there are also probably a lot of fans in NHL and AHL hockey hotbeds looking at this and shaking their heads, wishing they too could get a bargain like this.  Still though I love it from the standpoint of goodwill and attempting to re energize a fan base.  My first NHL game was when the Florida Panthers hosted the Atlanta Thrashers in December of 1999.  At $7 dollars a pop, I'd be inclined to attend a great deal more.  Stick tap to the Panthers organization on this one.