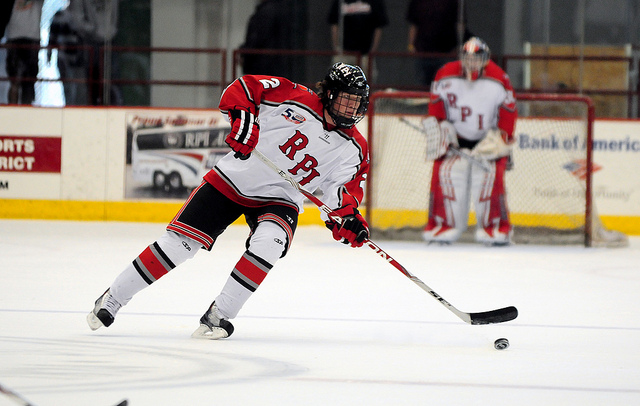 Fans of the Rensselaer Polytechnic Institute Engineers should be incredibly optimistic about the team's bright future. At the forefront of that future is draft eligible defenseman Patrick Koudys. Koudys helped the Engineers reach the NCAA finals for the first time in six years this season. The big defenseman will be a very appealing pick to a team looking for a big strong defenseman outside the first two rounds.
The Smithville Ontario native stands at a towering 6 feet and 4 inches, with room to grow. He has the frame of an NHL defenseman already at the age of 18, weighing in at 210 pounds according to the RPI website. Koudys can add an invitation to the NHL draft combine this year, to his already impressive Résumé. Two years ago he was invited to participate in the NHL Research and Development Camp.
Despite being drafted in the 7th round of the CHL draft, Koudys decided to forgo playing in the OHL and go the college route. Koudys committed to RPI because he thought it would be best for his development, "With College you can develop your game overtime, instead of being rushed. And it was important to get my schooling."
What makes the RPI defenseman such a special player? RPI Head Coach Seth Appert believes it's his vision and hockey IQ. In a phone interview Friday night Appert explained, "He sees the game at eye level."
Pat however believes it's his work ethic. He thinks he could bring hard work and determination to the team that drafts him. In a telephone interview he explains, "I really want it, every day I just try and try to get better."
A great character is always important when determining if a player is right for your franchise, and Koudys has a very positive attitude.  Just by to talking Pat, you can tell he has a good head on his shoulders, and wants to make it the NHL. Usually when a player is that determined at young age it's a good sign that he will become a heck of a hockey player.
When asked about his ETA, Coach Appert thinks he is about three to four years away from making the jump to the NHL, just like most collegiate defenseman. This does not mean he is a project pick however, the Coach explained. Appert just believes he will need to fully develop his game while in college.
Much like the RPI faithful, Appert is excited to watch Koudys develop into an NHL caliber defenseman. When asked about his expected progress, Appert stated, "I think Pat will have a real strong second year at RPI."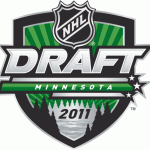 Like any other player at his age there are things Pat needs to work on, but they are very few. At only eighteen years old he is already a well rounded prospect. And this lack of a very big flaw should certainly help his draft stock.
Pat will need to work on his overall foot speed to make him a more attractive prospect. Footwork, speed, and pivoting are commonly the things that defensemen need to further develop in the later part of their junior or collegiate careers, and he is no different. Pat agreed that he needs to improve his footwork and will work hard on that during his summer training program.
Koudys would be a great pick for a team looking for a big defenseman. Teams lacking defensive depth could look at him as a very solid third or fourth round selection. Teams like the Columbus Blue Jackets, Carolina Hurricanes or New Jersey Devils will certainly have some interest in him. They are teams that need defensive help, but will likely, based on previous trends, draft forwards earlier in the draft.
Fans of the team that drafts Koudys will be happy to hear he tries to model his game after another big Ontario defenseman. After some thought he stated, "I would have to say Chris Pronger, a bigger defenseman, a solid guy you can rely on."
In 1982, Pat's father Jim Koudys was drafted with the last pick in the 1982 NHL Entry Draft by the New York Islanders. While Jim never made it to the NHL Pat is hoping for a different fate. Pat however has the advantage of being almost six inches taller than his father, which will be incredibly valuable to his draft stock.
Finally, Pat discussed his Stanley Cup prediction and Canucks fans would be happy to hear he believes this will be their year. When asked for his prediction he said "Vancouver, I think they've got a real shot."
Despite being ranked somewhere between 70th and 100th by most scouting services, Pat still has the potential to be an impact player. He could sneak into the latter half of the second round, but will likely be selected in the third round. Pat could be one of those players that years from now, announcers always bring up what a steal he was in the 2011 NHL Entry Draft.
You can follow Patrick Kearns on Twitter @THWpkearns for prospects info and updates, or just to talk hockey.